Your courtyard can be the perfect source of serenity and relaxation. With the right courtyard landscaping, you can successfully bring in the outdoors and yet maintain the privacy of a regular room within your home. Courtyards offer you the comforts of an indoor space and the freedom of an outdoor room!
Interestingly, courtyards have been an element of both domestic and cultural architecture for thousands of years. It's the area between two buildings or between contiguous buildings. Courtyards are probably one of the most comfortable and fun spots in the house — offering you a creative liberty to design it your way.
If you opt for a courtyard landscaping, it can easily become the most celebrated place in your house. Whether you have a large or a small courtyard, a great landscape design will provide you with an attractive outdoor living area. In fact, a functional and a practical courtyard design, can make the area look more spacious, no matter how small it is. And in the same way, you can create a spectacular space for your house which is inviting, warm and hospitable.
So, here are some great courtyard landscaping tips that will help you create the most stylish outdoor space.
Read more: 12 Front Yard Landscaping Ideas on a Budget
1. Enclose your courtyard garden
Courtyard gardens — enclosed on all sides by walls or fences — are a great landscaping idea that can transform your yard into an oasis. Such a garden design provides privacy while letting you enjoy the sunlight. Most importantly, it makes even the smallest of homes feel larger.
So, the first thing that you'd want to consider for courtyard landscaping is to decide if you'd want to enclose it with fences, walls, or just plants? Your choice depends a lot on why and how you want to use the courtyard. And, of course, how much natural light space receives.
You can alter the level of privacy by altering the height of the enclosure. It is not usually important to enclose it on all four sides since you would want the outdoor feel to be present. 
Read more: Enclosed patio ideas on a budget
2. Invest in good courtyard furniture
The courtyard is a space that offers a variety of opportunities for you to design it. You can select the furniture and the other features depending on the size of the space available and how you want it to look: over the top or minimalistic?
Consider keeping a few antique-looking furniture pieces, including a rustic center table for entertaining your guests in this outdoor living room. The seating area will be the perfect quaint place for you to relax with a hot cuppa.
3. Create a focal point with a fireplace or water feature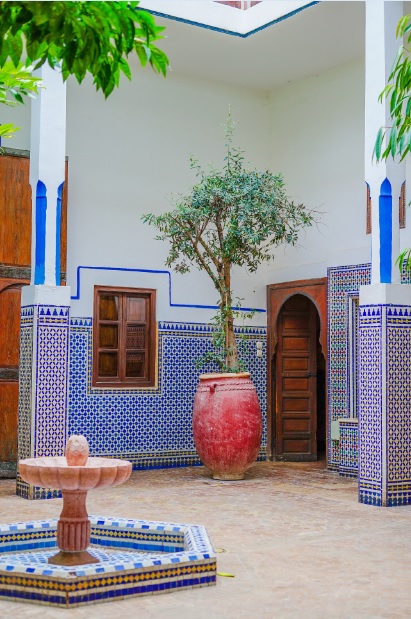 In case you're blessed with a big courtyard, a garden fountain or even a fire pit in the center of your courtyard is always a tempting idea. Use mosaic tiling around the fixture and let the bold courtyard landscaping become the center of conversations.
Read more: Stunning Backyard Landscaping Ideas
4. Decorate your courtyard with plants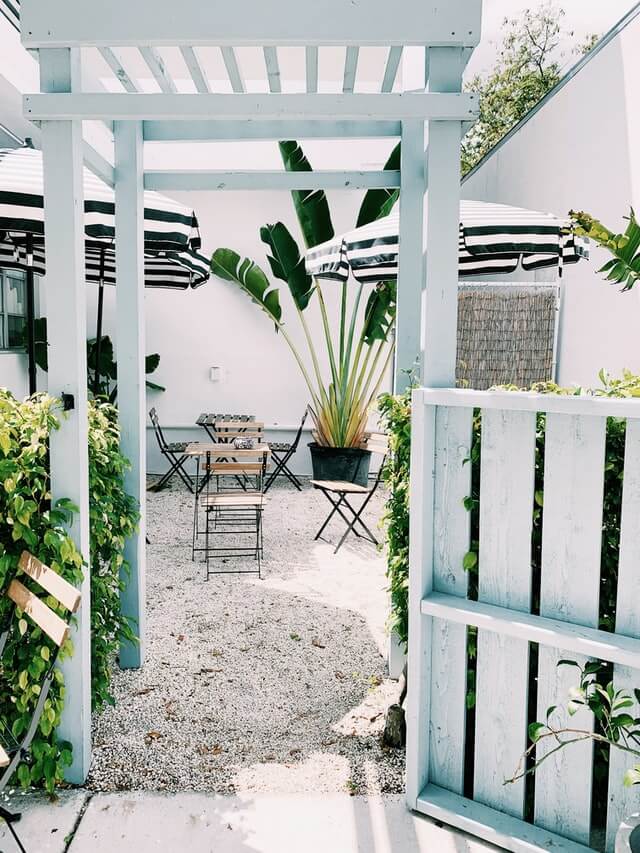 Even if your courtyard is relatively smaller, you can opt for a few rustic benches and a few potted plants along with wind chimes — of course, leaving sufficient space for movement. You can add some ornamental grasses too. The greenery and the open-air ambiance will lend an exotic look to your yard — while having a calming effect on you.
5. Brighten up the courtyard with outdoor lighting
Every courtyard needs proper lighting to spice up the ambiance. The pathways and garden should most definitely be lit to ensure safety. You can add fairy lights, sparkling lights, or even lanterns for a more exotic effect after dusk. If your courtyard has a water feature, lighting it up is a fantastic idea for courtyard landscaping.
6. Give attention to the courtyard floor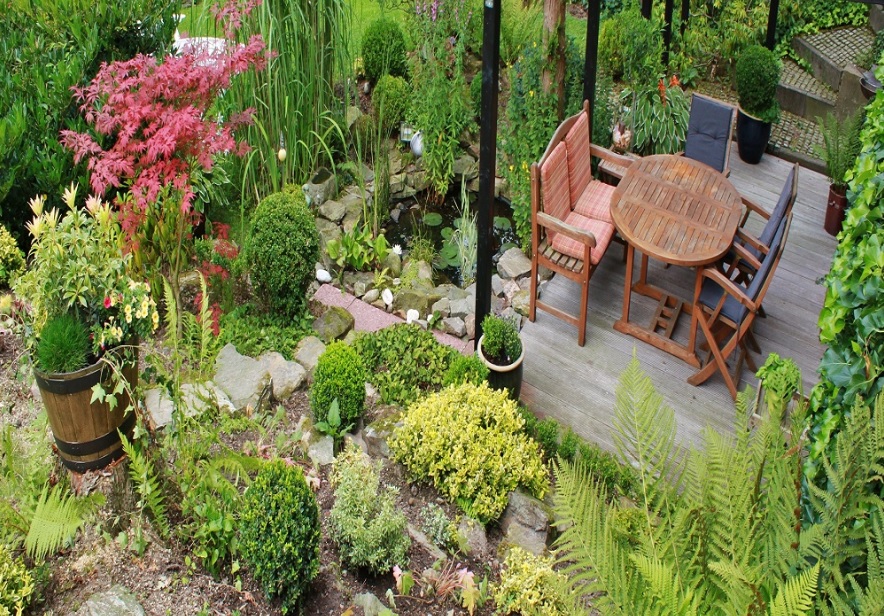 Investing in the right kind of floor design will make your courtyard look fancy and posh with minimum effort. It's an important part of courtyard landscaping besides testing your creativity as well.
Take into consideration the floor material, pattern as well as the color, making sure that it goes with the theme you have in mind for your outdoor landscaping.
You can choose between brick pavers, cement, slates, bluestone, or even natural stone flooring options. You should also keep in mind the area of the courtyard to gauge the total landscaping cost.
Read more: Bluestone steps
Planning a home renovation? Try our free remodel cost estimator for instant and reliable results!
Last words
The right courtyard landscaping can help you create the most intimate, intriguing, and inviting yard garden. The outdoor space will serve as a beautiful change from the chaos of the outside world to the serenity of your garden and home.
Read more: Landscaping Trends That Increase the Value of Your Home
6 Useful Tips for the Perfect Courtyard Landscaping
was last modified:
November 24th, 2022
by
Recommended