Courtyards have been an element of both domestic and cultural architecture for thousands of years. It is the area between two buildings or between contiguous buildings. When it comes to courtyards, they are probably one of the most, comfortable and fun spots in the house where you have all the creative liberty to design it your way. Usually, courtyards are the perfect place to just relax with your family. It has the comfort of an indoor space as well as the freedom of an outdoor space. If you opt for a courtyard landscaping, it can easily become the most celebrated place in your house. As for public places, courtyards are synonymous with plazas, atria, and roof gardens, which can extend the functional landscape if built in accordance with the environment.
If you are asking yourself how you do provide an attractive outdoor living area in a small space, along with a distinguished design for your home then landscape design is your answer. With a functional and a practical landscape design, no matter how small space is, you can always make it look more spacious. And in the same way, you can create a spectacular space for your house which is inviting, warm, and very hospitable. 
Tips to Remember for Courtyard Landscaping:
1. Enclosing the Courtyard
The first thing that you want to consider for courtyard landscaping is the practicality of the courtyard and answer the following question: how do you want to enclose your courtyard? Do you want to enclose it with fences, walls, or just plants? Remembering why and how you want to use the courtyard. You can alter the level of privacy by altering the height of the enclosure. It is not usually important to enclose it on all four sides since you would want the outdoor feel to be present. Your fencing will also depend on the direction of the wind and how much light space receives.
2. The Decoration – Adding Plants, furniture, or Water Features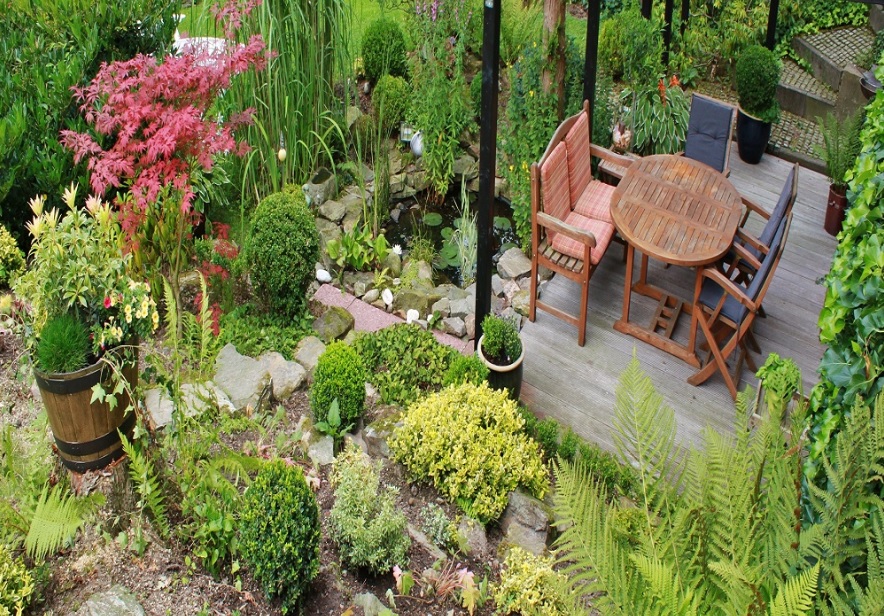 Pixabay
The courtyard is a space that offers a variety of opportunities for you to design it. You can select the furniture and the other features depending on the size of the space available and how you want it to look: over the top or minimalistic? In case you are blessed with a big courtyard, you can consider keeping a few potted plants, a center table for entertaining your guests, and even a feature a fireplace. Besides, a fountain at the center is always a tempting idea. However, if your courtyard is relatively small, you can opt for a few rustic benches and a few potted plants along with wind chimes in a color theme to make it look planned and leave space for movement as well.
Finally, every courtyard needs proper lighting to spice up the ambiance. The pathways should most definitely be lit to ensure safety. You can add fairy lights, sparkling lights, or even lanterns for a more exotic effect after dusk. If your courtyard has a water feature, lighting up is a fantastic idea for courtyard landscaping.
3. The Floor
Investing in the right kind of floor design will make your courtyard look fancy and posh with minimum effort. They are an important part of courtyard landscaping besides testing your creativity as well.
You should always keep a few things in mind before you go ahead and zero in on one:
Take into consideration the material and pattern as well as the color of the floor, making sure that it goes with the theme you have in mind for the landscaping.
If you live in a place where it rains a lot or doesn't rain at all, should influence your choice. Even though brick pavers, cement, slates, bluestone and natural stone are all fantastic options, you should also keep in mind the area of the courtyard to gauge the expenditures.
Beautify Your Outdoor Space With Courtyard Landscaping
was last modified:
May 13th, 2019
by