When you update your master bedroom, one of the important factors to consider here is its illumination — a task which we often overlook in our rush of picking furniture, furnishings, and color schemes. But proper choice of lights is necessary. It forms a notable aspect of your interior design. Not only this, it also plays a prominent role in defining your mood, reflecting your style, and enhancing the ambiance of the room as a whole. However, your lighting design should be such that it fits into your estimated bedroom remodel cost and budget. Therefore, to create a functional and stunning lighting plan, follow the below clever and creative bedroom lighting ideas, along with the various types of available lights. And we bet, after implementing at least one of these tips, you will be the owner of an interior that shall be the talk of the town!
Combining Reading and Overhead Lighting
Photo by home space on Flickr [CC BY-SA 2.0]
In order to achieve the best bedroom lighting effect, you need to combine good reading lamps by the nightstands with a clear and pleasant general light. A ceiling fixture or a hanging pendant light is recommended to light up the entire room, preferably with indirect lighting (pointing to the ceiling and reflected from there). This will bathe your room in soft illumination without shadows.
Placing Floor Lights
Photo by bizmac on Flickr [CC BY 2.0]
A floor lamp or table lamp, can also be used for general light, but keep in mind that it should be turned on from the entrance of the bedroom. It's not convenient to have to walk around in the dark to turn it on. Moreover, if you have a comfortable chair, just place a floor lamp beside it, creating a cozy reading nook for yourself.
Replacing Reading Lights with Wall Sconces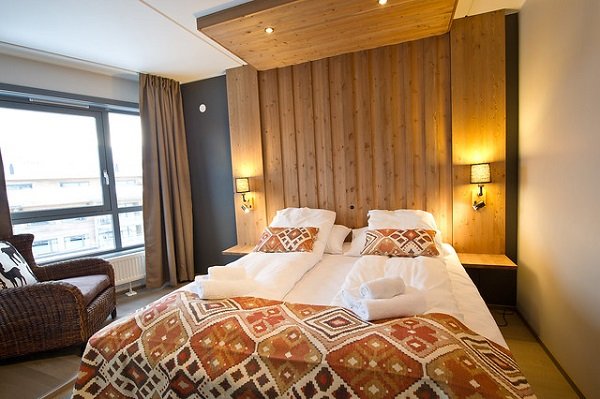 Photo by Trysil on Flickr [CC-BY-2.0]
The reading light is usually placed on the bedside table, but it can also be placed on the wall (over the bed or beside it) or left hanging from the ceiling. This allows the nightstand to remain clear for books and other objects. Nightstands can get crowded, so determine what are your bedtime must-haves, and decide which options works best for you.
Bedroom Lighting Ideas for Kids' Rooms
Photo by jinkazamah on Flickr [CC BY 2.0]
Children's rooms may need a more general light and perhaps a light on the desk or reading area. Reading lamps with articulated arms and screens are more flexible than fixed lamps. Moreover, if more than one person sleeps in the same bedroom, you should be careful to choose a type of lamp and a location that will not disturb others.
Bathing Your Bedroom in the Soft Glow of Ambient Lights
Photo by Robin Corps on Flickr [CC-BY-SA 2.0]
One of the most common bedroom lighting ideas, installing ambient lights will cover your space in a soft glow — allowing you to carry out all your tasks without having to cringe at harsh glares. Also termed natural light, this category of illumination works the best when you opt for a flat, simple, minimal, and nature-inspired design.
Considering Recessed or Track Lights
Photo by Cagona on Flickr [CC-BY-SA 2.0]
You can use a series of recessed light sources throughout the bedroom. It creates a formal or warm, cozy environment as per your choice. You can fix them as ceiling lights on all types of ceilings. However, if your room height is low, ensure that the lights are not too bright or harsh. Also ensure to never overcrowd the room. Installing recessed lights is one of the preferred bedroom lighting ideas. This is mainly because they lend a dramatic effect, while playing with shadows.
MORE: Thinking of Installing Recessed Lighting in Your Bedroom? Use our Real-Time Remodeling Calculator and find out in minutes.
What About Accent Lighting?
Adding accent lights is a wonderful way to enhance the style and drama of your bedroom. They will help you in showing off pieces you want on display, while shadowing dull areas. You can install accent lights to transform your wall washing, artwork, bookcase displays, pieces of furniture, and collections into beautiful focal points.
Conclusion
Each one of us has our own preferences when it comes to the perfect bedroom lighting plan. However, a few elements are always universal in every home. For example, your bedroom needs to radiate a relaxed, inviting, and warm feel. It should be bathed in calmness and tranquility — making it a cozy sanctuary, worth retreating into after a hard, weary day. Therefore, to achieve all of this, follow our checklist of the best bedroom lighting ideas above. Then choose one that shall enhance the overall decor and atmosphere of your interiors.
Read more: 20 Living Room Lighting Ideas That Are Stylish And Beautiful
Bedroom Lighting Ideas and Types to Add Some Shimmer & Shine
was last modified:
April 18th, 2019
by