Work from home is the new mantra. And, we couldn't be happier. When your "morning commute" is just waking up and walking a few steps across your bedroom, who wouldn't be? Whether you're working full-time or need a dedicated place to read your mails, a home office is a great solution. The trick is to utilize good bedroom office ideas that limit your distractions while getting you (and your brain) into work-mode.
Truth be told, not everyone is fortunate enough to have an extra room for a home office. But, that's nothing a little creativity cannot fix. With the right home office design, you can create a workspace right in your bedroom or a guest bedroom!
We admit, most of us would prefer a separate office room over an office-bedroom combo. Many argue that the bedroom is no place for keeping computers, TVs, and work materials as space should be made clutter-free and relaxing. But, if space comes at a premium, what can you do? Come up with great bedroom office ideas that help you achieve a balance between work and home, that's what.
Surprisingly, if you plan your small home office space well, your bedroom can be a peaceful spot that enhances your productivity and efficiency at work. It offers a much more tranquil space than say having a home office in your living room or dining room.
So, let's get ready to work with seven ways to create a comfortable and stylish bedroom office.
Read more: Essential Office Renovation Ideas
1. Utilize multipurpose furniture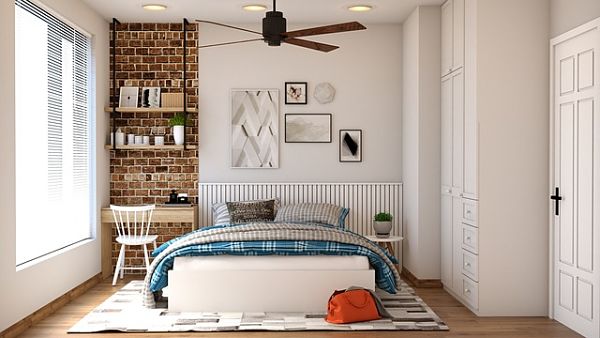 You can create a cozy corner office nook, with a desk doing double duty as a bedside table. This bedroom office idea will save you precious space. However, do remember to keep the table mess-free, or else both your work and sleep will suffer. For instance, after finishing your office work, turn off your computer, and remove all work-related items.
We also love how the tiny home office area is demarcated through an accent wall of bricks and other clever interior design hacks, including a wall-mounted storage solution.
By the way, you can save some more space with a built-in desk instead of a regular work table.
Instantly estimate the cost of your remodel...
...or take your time to personalize dozens of choices to transform your house into your dream home.
2. Keep the office visually separate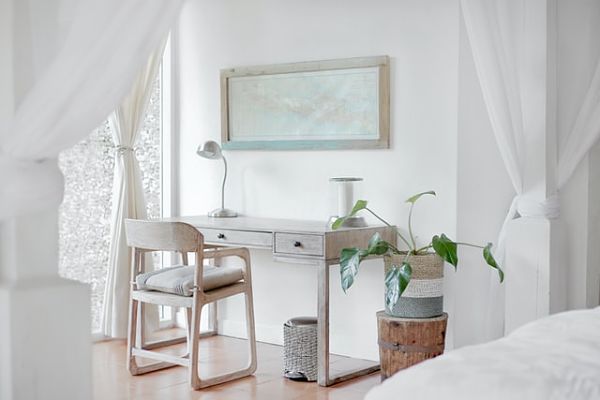 Keeping a visual distinction between your work and the relaxation area is crucial. You can begin by maintaining the physical distance between your bed and work desk.
If you have limited square footage, you can always use smart bedroom office ideas and strategies to create different zones for work and play. For instance, a curtain or screen is a handy solution. Once your work hours are over, simply close the curtain to signify the end of your workday. And, that's that!
And, here's another superb space-saving design idea for you. Install a Murphy bed. When you're working, simply put the bed up into the wall. Not only will this make the bedroom or guest room feel like a typical home office (instead of a combined space), it will also help you avoid using your laptop in bed.
Thinking about a home office desk? Get the best estimate with us.
3. Let the home office add to the bedroom decor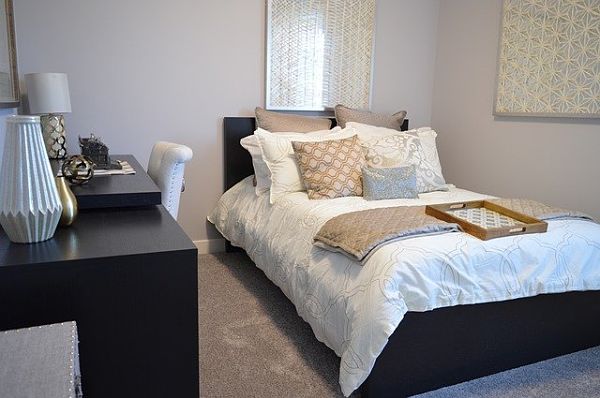 While the aim is to keep the two areas separate, your home office should match the feel and aesthetics of your master bedroom. That is to say, when opting for office furniture, make sure it doesn't contrast too much with the decor of the rest of the living area. The idea is to create a sense of cohesion.
The first step is to use colors that tie the room together. This color scheme of beige, black and white helps to unify the flow of the room while adding an elegant vibe. A sure way to create a conducive work-bedroom environment.
Read more: Practical, efficient home office floor plans by an architect
4. Choose a well-designed, ergonomic office chair
When it comes to office furniture, comfort should be your priority. Since you're working in a small space, and that too for long hours, you'd want to make sure that the chair you sit on is ergonomically sound.
Trust us, your choice will make a huge difference to your health and comfort. Of course, aesthetics are also important but nothing beats comfort.
5. Ensure good office lighting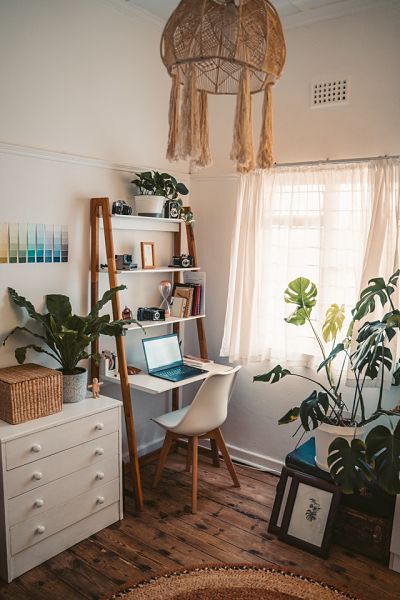 The right bedroom-office lighting is important not just for enhancing the ambiance of the space but also your productivity. A well-lit office space with a lot of natural light streaming in, can be a morale booster and pleasing to the eye. Conversely, there's nothing more depressing than trying to work in a dark, dingy area with inadequate lighting.
If you have a bedroom window, try to place your desk near it. And, if there isn't a window, get bright overhead lights, floor lamps, and desk lamps for task lighting. Place the light fixtures behind your computer screen to avoid any glare.
6. Keep your back to the bed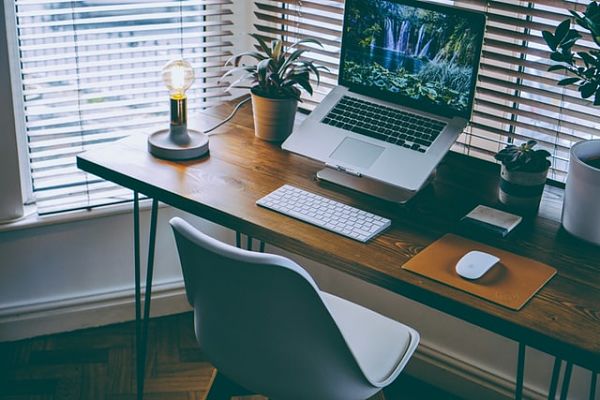 Try to face your desk toward a wall or a window. It's a smart move as that way, you'll be less distracted by the sight of your bed, and will be able to successfully keep away any thoughts of a nap while trying to work. Moreover, if you place a desk in front of a window, you get to enjoy the outdoor view! But, of course, you will need to monitor your viewing time — unless you want to keep looking out and daydream your working hours away.  
Your home office ideas are important. Get the best estimate with us.
7. Get sufficient storage
A home office needs storage, what with the number of office files, stationery, and other work-related papers. Of course, your storage needs will depend on the kind of work you do.
Strategically place a combination of cabinets and file storage to keep everything organized. The office items will be easy to locate and the storage solutions will keep your bedroom neat.
Shelves notwithstanding, the best way to store data these days is to scan all your important documents to your computer so that you can minimize the paperwork. Use technology to your advantage!
Looking for a licensed professional for your remodel? Let Kukun help you hire the best.
Last words
With the work from home trend gaining momentum, you need to have great bedroom office ideas in place. Even if you have a small area, you can still carve out enough room for a tiny workspace.
We hope these clever home office ideas will help you create a stylish, small home office that lets you enjoy a fine balance between work and play.
Read more: How to Create a Productive Home Office Environment
7 Impressive Bedroom Office Ideas and Tips
was last modified:
August 29th, 2022
by
Recommended