Home staging is one of the most powerful tools you have at your disposal when your home is on the market. So much so that a study showed that 83% of all real estate agents claim that a well-staged home helped prospective buyers visualize themselves living in that home, thus making selling the home itself easier. A study conducted in 2019 by the National Association of Realtors declared that the master bedroom was the second most important space buyers looked at. Here are some bedroom staging tips to impress prospective buyers that should come in handy.
Declutter and deep clean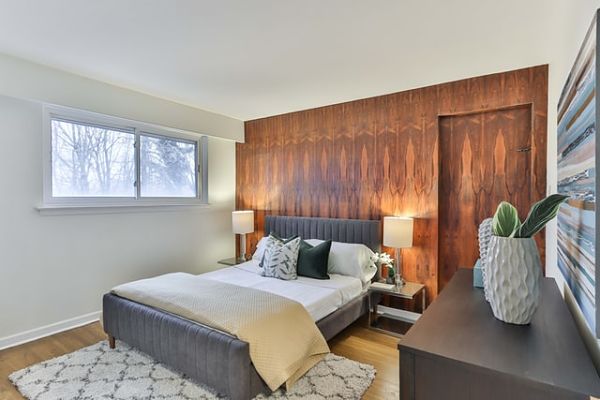 Begin the process of staging your master bedroom by decluttering the room. Remove laundry baskets, family pictures on the walls or on your dresser, personal items on your nightstands, Move out your workout equipment and any unnecessary furniture. The point is that your bedroom should feel like the ideal bedroom for any potential buyers. Remember, less is more in these cases.
Next, clean your bedroom like never before. This doesn't just mean vacuum cleaning the floor. Pay attention to room corners, curtains, upholstered beds, and anywhere else you think dust might get into. If your room has window blinds, use equal parts of vinegar and water to wipe them down. This is no time to spare the elbow grease!
It's all about the bed
Your bed should be the focal point of the room and should be the first thing prospective buyers see when they open the door. Here's how you can dress your bed up like a pro!
Choose the largest size beds that can fit comfortably depending on the size of the room: double, queen, or king-sized. Make sure you leave enough space for a bedside table on either side.
Get rid of old pillows and bed covers. Invest in new ones.
Always choose neutral colors for bedding instead of bright colors. Neutral colors are better for evoking a sense of relaxation. For example, white bed linen is the preferred choice at a lot of luxury hotels.
Make sure you choose soft pillows, duvets, down blankets, duvets, and comforters. Layer as many throw pillows as you can to make the bed look more luxurious. An on-trend fabric headboard is a great way to finish things off.
Read more: About winter bedding
Home Renovation Cost Estimator
Sorry, we currently don't have that project at our disposal.
---
You can take a look at our most popular ones:
Water Heater Installation
Exterior Door Replacement
Install Recessed Lighting
Exterior Door Installation
Interior Door Installation
Interior Door Replacement
Get a fresh coat of paint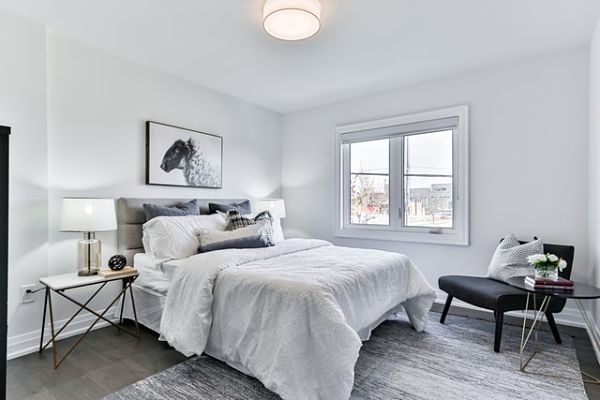 A fresh coat of paint is a great way to breathe new life while staging the room. If you're handy with a paintbrush, you could give your bedroom wall two coats of paint for between $100 and $300. If you're hiring professional painters, expect to spend $650 and $1,400.
Avoid bright colors while choosing a color for your bedroom wall. Choose a neutral palette to give your bedroom that serene, spa-like look.
Accessorize the room
A bare floor can be a boring thing. Add area rugs to add some texture to the room.
Add a couple of comfortable chairs with floor lamps, creating a cozy reading nook if you can afford it and have space.
A small bench at the foot of the bed to sit and wear footwear on wouldn't be amiss either.
Add a pop of color with a brightly colored accent pillow. Other accent pieces like a large painting behind the headboard of your bed and reading lamps on your nightstands will all go a long way in helping prospective buyers visualize themselves living in your home.
Read more: Master bedroom add on
Light it up
A well-lit bedroom is bound to make a better impression than a dull, dark room will.
Keep your windows and curtains/blinds open during showings.
Place a mirror on the wall opposite your bedroom window. The mirror will make the room look larger while effectively spreading natural light around the room.
Swap out your old light fixtures for new ones. Install LED bulbs with dimmers for maximum effect.
Dressing the dresser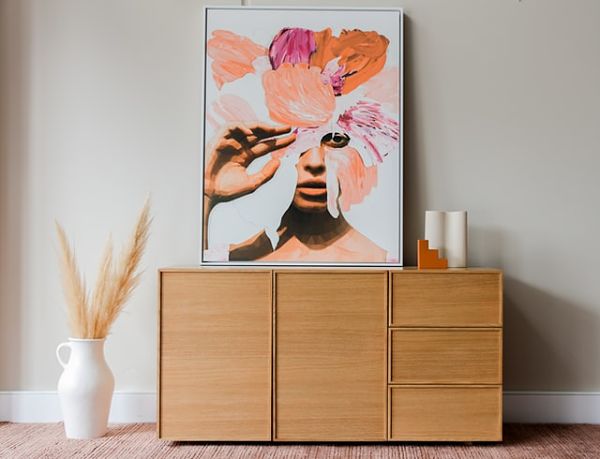 While a lot of interior designers feel dressers are old-fashioned and should be taken out of a bedroom before staging it, here are some helpful tips on how to stage a bedroom dresser to bowl visitors away.
Clear the top of your dresser and clean it thoroughly. Polish the dresser if required.
The wall above the center of your dresser needs something large to create a visual balance. If your dresser has a window above it, you have nothing to worry about. Otherwise, you might want to add a mirror or a painting to the wall.
Make sure the mirror or painting is at least half as wide as the top of the dresser.
You need something tall on one side of the mirror. Tall houseplants, tall pillar candles, tall table lamps, and decorative baskets are some of your choices.
Add a small decorative tray with perfumes, colored pebbles, or even maybe some spare change to make a statement when you style your dresser.
Create balance by adding either a couple of hardbound books, candles, a potted indoor plant, a jewelry box, or a couple of decorative vases on the other side of the mirror.
Read more: Master bedroom floor plans by expert architect
Bedrooms without beds
While you may have finished staging your master bedroom, what are you going to do with that small bedroom that you've been using as a storeroom? Well, here are some tips on how to stage a bedroom without a bed.
Create the illusion of a bed using an air mattress on a low table, or just by using a few boxes and bed linen. The point is to let the buyer imagine a bed in that space. Even just a mattress on the floor will serve the purpose.
If a bed cannot be managed, create an alternative focal point. For example, a couple of armchairs or a loveseat in a section of the room will help your buyers visualize how much space the room has.
Scale whatever furniture you put in the room to fit the size of the room, especially while dealing with small rooms. Make sure you use light-colored curtains and keep the room well lit. This will make the room feel airy and spacious.
Add colors to the room to make it feel alive and vibrant. An indoor potted plant, wall colors, a mural, the choice is yours. This will help potential buyers imagine how they will utilize the space better.
Read more: Small bedroom organization ideas to beat the clutter
Bedroom staging tips to impress prospective buyers
was last modified:
December 7th, 2022
by
Recommended