Bathroom time in the morning has been a source of contention for many a household. With limited time to get up, get ready, and get out the door, it can be difficult to make sure each person in the family has enough time to use the bathroom. And we all know every family has that one person who doesn't know the meaning of hurry…
A Jack and Jill bathroom solves this problem for many families. A bathroom shared between two bedrooms (or other rooms) with doors entering from both rooms, a Jack and Jill opens up the possibilities for time management in families.
Considering a Jack and Jill bathroom? You could enjoy these many benefits.
They Save Money and Space
Rather than build multiple bathrooms to accommodate multiple bedrooms, a Jack and Jill bathroom can serve two bedrooms at once. If you're considering a remodel to create more bathrooms, a Jack and Jill bathroom provides the access and accommodations you need without building a whole new bathroom. You can often turn an existing bathroom into a Jack and Jill.
TIP: Use Our Real-Time Bathroom Remodeling Calculator and Find Out the Remodeling Cost in Minutes.
Multiple People Can Use The Bathroom at Once
A well-designed Jack and Jill bathroom will have doors blocking the separate areas of the bathroom, like the toilet and shower. This allows for multiple people to be getting ready at once. Someone can be brushing teeth while another is showering. And because of the doors, privacy doesn't need to be compromised.
If your Jack and Jill bathroom does not have these separate doors for the separate areas of the bathroom, make sure both entrances from the bedrooms lock to provide privacy. You'll still get the benefit of multiple people being able to brush teeth, do hair and makeup, and other non-private routines at the same time.
Easy Access
Being able to access the bathroom directly from the bedroom is ideal for children, especially when they're young. Waking in the middle of the night and walking down a hall can be disorienting, and even scary, for some children. Having a bathroom entrance directly from the bedroom can eliminate that fear — and also ensure small children make it to the bathroom on time!
Double Up
Most Jack and Jill bathrooms double up on the amenities. Two sinks, two mirrors, two linen closets, and two medicine cabinets is a perfect way to remove crowding. While sharing is caring in most cases, sharing in the bathroom can lead to screaming matches (or worse) amongst siblings. Take away the need to share by doubling up, and provide a much smoother flow in the morning and bedtime routines.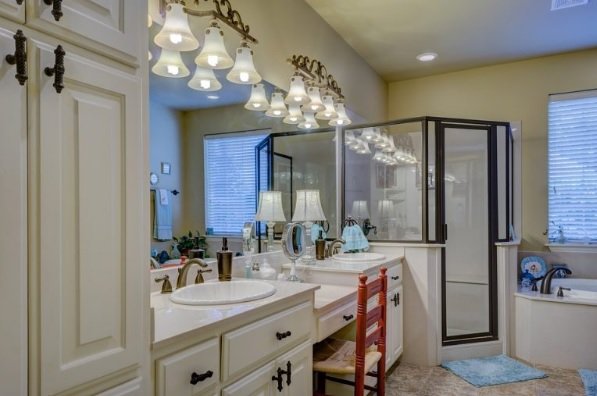 Photo by maxpixel
Privacy for Bathroom Users
Since the bathroom is typically only accessible through bedrooms, it affords an amount of privacy for those who use it. Without a hall entrance, guests and family members who don't use one of the adjoining bedrooms will use a different bathroom. This means you can keep the bathroom as you like it, and don't have to worry about guests seeing clutter.
The Problem Solver
A Jack and Jill bathroom solves many common problems families have, especially in large houses. It won't help at homework or chore time, but it will certainly help your family get along better during those crucial morning routine minutes. If you're considering a remodel, find a qualified contractor who has experience building Jack and Jill bathrooms.
MORE : How to Design a Bathroom (By Avoiding These 10 Rookie Mistakes) 
Jack and Jill Bathroom and Its Various Benefits
was last modified:
January 8th, 2019
by