Thinking about a new flooring installation for your beachside abode? While there are many flooring design options on the market these days, vinyl flooring is one that should not be overlooked.
Thanks to vast improvements in flooring technologies, vinyl flooring is no longer the cheap-looking variety that was once prolific in the 1940s. Modern vinyl flooring has become an increasingly durable, stylish, and cost-effective option for homeowners.
Is this versatile flooring option right for your beach house? Let's take a look at some of the benefits of installing vinyl flooring in your coastal retreat.
1. Water-Resistant
One of the biggest factors to consider when choosing flooring for your beach home is how well it holds up against water. Even if your beach home is not right along the ocean, make no mistake. It can still receive damage by the coastal climate.
Many vinyl flooring products are designed to be 100 percent waterproof. This makes them ideal for kitchens, bathrooms, basements, and just about anywhere in a beach home. Specifically, stone plastic composite (SPC) and wood plastic composite (WPC). These are the two types of waterproof flooring that offer the best water-resistance for beach homeowners.
Although both options offer superb water-resistance, SPC vinyl flooring has a slight edge over WPC. SPC vinyl is the new kid on the block and is more durable than WPC. As it boasts better sound absorbency.
2. Low-Maintenance
According to a 2016 study published in the journal Health & Place, living by the ocean can have some powerful stress-relieving benefits. But, when you're stuck inside all day performing routine maintenance on your floors, what good will these benefits do you?
Unlike hardwood flooring, which is notorious for its difficult upkeep, vinyl floors are a breeze to maintain. All you need to keep your floors clean and in good condition is a regular sweep. A vacuum and mop job while using a non-abrasive cleaner formulated specifically for vinyl floors.
Read more: Top Wood Flooring Types for That Perfect Interior
3. Durable
We all know that kids and pets can be tough on certain types of floors. Add salt, sea, and sand into the mix, and you can expect your beach home floors to take a serious beating.
Fortunately, a new vinyl flooring installation will hold up spectacularly well against high-traffic summer days and Mother Nature alike. While the backing of the vinyl plays a role in its enhanced durability, the true resilience of vinyl flooring depends on its wear layer.
The wear layer, or the top layer of your vinyl flooring, can be designed to protect against scratches caused by sand, pet claws, kid toys—you name it. For the best performance, look for a thick wear layer with an enhanced, urethane-based coating to protect your beach home against wear and tear.
Read more: Laminate vs hardwood flooring better option
4. Cost-Effective
It's no secret that living on the coast can come with a high price tag. Between the cost of regular beach home upkeep and the rising cost of flood insurance, owning a beach house can quickly become an expensive endeavor.
With its affordable price tag and ease of install, vinyl flooring is one of the more cost-effective flooring options on the market today. Before you associate cost-effective with cheap, keep in mind that vinyl flooring today is not the same as your grandmother's vinyl flooring—far from it.
You can rest easy knowing that modern vinyl floors will be on par with natural stone or hardwood style-wise. It will even outshine them in terms of performance. You can put the money you save on your flooring installation into other areas of your beach home—like reinforced windows.
Read more: What Are The Benefits of Vinyl Windows
5. Diverse Array of Style Options
While cost and durability are some of the most important factors to consider in a new flooring installation, let's not pretend that style doesn't matter in a beach home. Fortunately, vinyl flooring now comes in an endless number of styles and colors to mimic the look of natural stone and wood.
For a typical beach flooring design, consider opting for wood-look vinyl plank flooring in a lighter hue. You can pair your lighter, wood-look floors with nautical-inspired décor such as blue-striped throw pillows and distressed furnishings.
If you prefer the stylish appearance of natural stone, installing slate-look vinyl flooring in your beach home can give it a beautifully sleek appearance. With its attractive surface textures, luxury vinyl flooring in particular can help you achieve a textured stone look without the exorbitant cost.
Is Vinyl Plank Flooring a Good Choice? Let's find out!
6. Looks and Feels Good Underfoot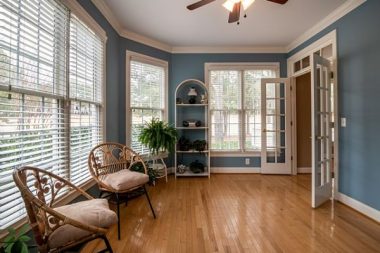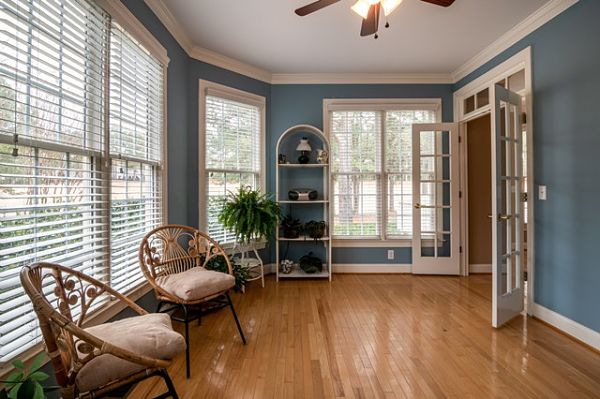 Whether you rent your beach home during the summer or you live in it for most of the year, both you and your renters will no doubt appreciate how vinyl flooring feels and sounds underfoot. Quality vinyl flooring comes with a foam backing that allows it to muffle noise, resulting in a quieter floor.
This cushioned surface also makes it more comfortable to walk on, especially during chilly mornings. Unlike natural stone tile, which can be uncomfortably cold, vinyl flooring is warmer and softer underfoot.
7. Easy to Install
Vinyl flooring is one of the easier types of floors for a DIY installation. Unlike hardwood and engineered wood flooring, there are no power tools necessary for your vinyl flooring installation.
Many vinyl flooring products come with self-adhesive so homeowners can quickly lay down and install their new flooring. If you opt for click-lock vinyl floors, you don't have to mess with any adhesive whatsoever. Just click each vinyl plank into the next until you have a beautiful floating floor.
Stylish and Functional Vinyl Flooring for Your Coastal Abode
At the end of the day, your beach home should be a place where you can put up your feet and relax. That's difficult to do when you're stressing over the cost and maintenance of your beach home's flooring.
With the enhanced durability, style, and affordability of vinyl flooring, you can instantly refresh your coastal getaway without worrying about the cost or longevity of your floors. After installation, you can sit back, breathe in the salty air, and admire your beautiful floors for years to come.
Read more: Flooring Materials: How To Pick The Best For Your New Home?
7 Benefits of Using Vinyl Flooring in Your Beach House
was last modified:
May 26th, 2022
by
Recommended