Barn Door Design Ideas: For The Perfect Farmhouse Look
Did you think barn doors were only meant for farms and countryside homes, tucked in the midst of wilderness? Well, no. Barn style doors are becoming increasingly popular in houses, even in urban and suburban areas. There are so many beautiful barn door design ideas — ranging from sliding doors to attention-grabbing entryways, space-saving solutions, and room dividers. Now, if you are thinking of replacing your doors in the next living room or bedroom renovation, you might want to give these door types a try. Moreover, go through the below ideas to shortlist which style shall suit you best.
The Rustic Reclaimed Wood Barn Door
This is the most common type of barn door design ideas. Carved from salvaged wood, this rustic door shall complement a wide range of home styles — be it contemporary, cottage style, French country style, or industrial. Check the above image. See how the rough edges of the sliding door contrast perfectly with the modern, all-white layout and airy ambiance of the dining room.
Read more: Designing with agrarian-style architecture
The Space Saver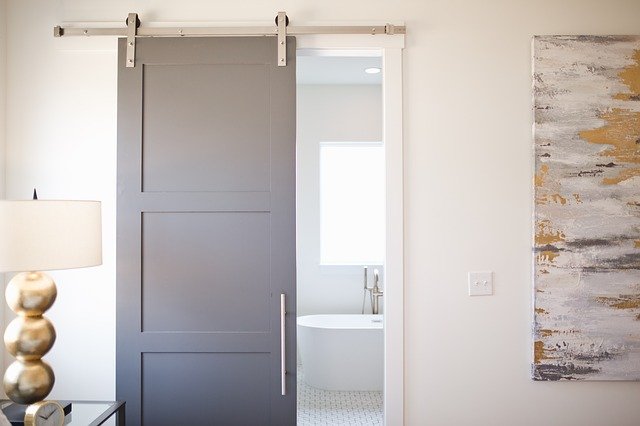 Pixabay
Does your home lack the required space to fit in a swinging door? Then you can go for no-fuss sliding barn doors. See the set-up above. The designer has installed a simple, grey barn door that separates the bathroom from the bedroom. A wonderful utilization of tight space, we must say!
See-through Magic
Another one of our favorite indoor barn door ideas in this see-through yet concealed cabinet. A partly transparent and sliding barn door can be moved to display items in the cabinet and it can be closed off when required.
Double Sliders
Double sliding barn doors can be installed anywhere. They not only act as spacious room dividers but also minimize the swinging space.
Glassy Elegance
We love the interior design of this home that has a tiny guest toilet — separated from the rest of the house by a sliding door. The designer has opted for a glass barn door — with wooden edges — which goes really well with the wooden furniture. The final mash-up between modern chic and classic rustic style not only saves space but is also appealing to the eye.
The Classic French Door
Give your home a grand makeover with all-while French barn doors. These paneled pieces add to the traditional touch of your house and shall enhance its vintage, aged appeal.
Getting Creative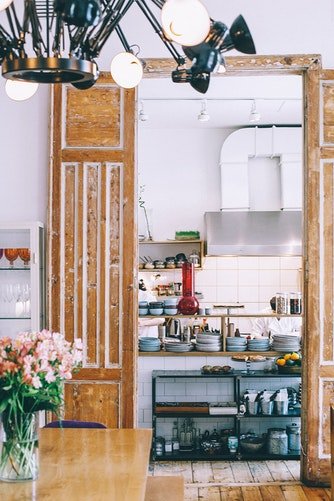 Photo by Orlova Maria on unsplash
Implementing barn door design ideas need not be limited only to the main entryways. You can get creative and install them in other areas as well — such as a salvaged wood kitchen door, a baby gate, or a sliding chalkboard pantry door. You can use the hardware to cover bathroom cabinets or carve it into a bed headboard. Whenever you need to add a rustic touch to any of your spaces, this is a wonderful idea!
The above barn door design ideas can be executed anywhere — in your outdoors, in your bedroom, kitchen, bathroom, living room, and even the laundry room. We hope our tips shall inspire you enough to consider them for your next home remodel.
Read more: Interior door installation cost
Barn Door Design Ideas: For The Perfect Farmhouse Look
was last modified:
May 22nd, 2022
by
Recommended