Bedroom is the most personal space in your home, and how you decorate it says a lot about your preferences. Whether it's a striking room with bold colors and patterns or a chic low-key retreat with neutral shades of decor — it's totally your call. Whichever style you go for, the flooring will make a huge impact on the overall look of your room. So, which are the best bedroom flooring ideas to choose?
Relax! We will help you select from some of the most popular and beautiful flooring designs there are. We're sure, your final choice will be practical and aesthetically appealing. After all, your bedroom floor is the first thing your feet touch as you get up and the last feel you get as you climb into bed for a peaceful slumber. No wonder designing a floor is particularly important.
And, there's another factor to consider too: attractive and high-quality flooring adds immense value to a house if you ever consider selling it in the future. And, if you're designing a new home, or remodeling it, you need to keep all your flooring options open and then go for a floor that suits your home, and you.
Best Bedroom Flooring Ideas To Pick From:
Carpet Flooring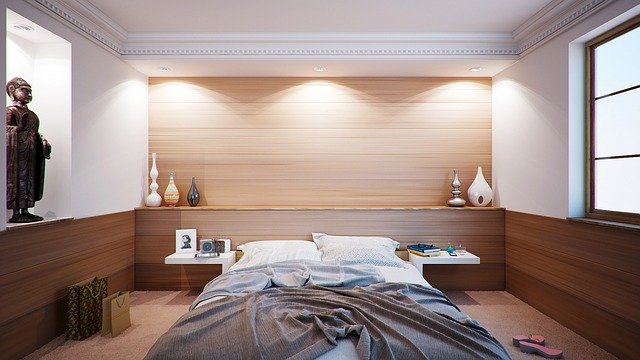 Pixabay
Carpeting is the most popular choice for bedroom flooring. And there are many reasons. It's comfortable, creates a warm and inviting atmosphere, and is affordable too. Who wants to feel the cold floor on a misty winter morning? Not us.
The soft, cushioned underfoot feel makes the bedroom a cozy haven. A carpet is especially a boon for homeowners with small children or frequent guests. The reason is simple: it dampens sound. The bedroom noises do not transmit easily.
Carpets are available in a number of colors and textures and blend well with any decor. A bold statement-making piece can easily brighten up the space.
Some of the ideas that are trending include the funky yet classic tartan, the formal super soft with closely-packed yarn, the textured and rugged loop and cut pile, the saxony with twisted fiber, and the hard-wearing sisal. There are more textures and finishes available. Pick a style that goes with the aesthetics of your place or your practical requirements.
Be aware that a carpet is hard to clean. Despite frequent vacuuming, dirt, stains, and even unpleasant smells may be difficult to remove completely. Also, carpets tend to attract dust and microorganisms. So if you are prone to allergies and sensitivities, carpeting may not be such a hot idea. In such a scenario, it's better if you go for area rugs.
Hardwood Flooring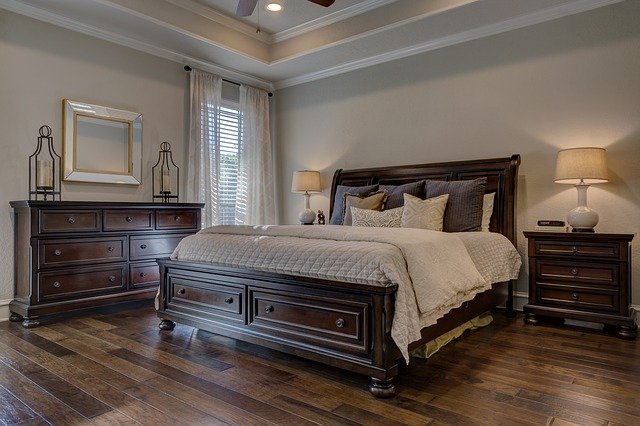 Pixabay
Hardwood floors are the second-most popular choice of homeowners. The class and character such a floor adds to a room is unparalleled. The look achieved is elegant and chic. Throw in area rugs and your floor is ready to enamor.
You can achieve this timeless style by choosing from various options available in the market — all of them elegant and sturdy. Parquet, solid wood, or engineered wood.
If traditional is more your style, you can enhance the decor with authentic wood knots and grains. In case you follow modern interior design trends, white wash coverings and light oak will suit the decor more and elevate the entire room. Whichever the type, a hardwood floor is guaranteed to impress you for years to come.
Vinyl Flooring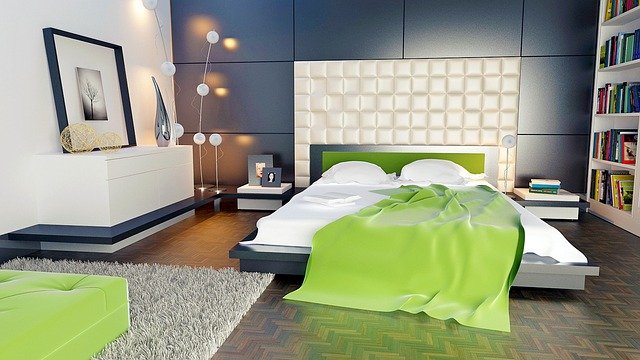 Pixabay
Vinyl floors are a great option for those are looking for a hardwood or stone finish, but are on a tight budget. Don't worry, the final look that you achieve is very much like the look you desire. When combined with underlayment padding, vinyl floors can be soft too.
There are varieties to choose from: hardwood, tiled, marble, and mosaic — imitation designs that look as real as the original. You have modern technology to thank for this wonderful alternative. The quality of the print is incredibly realistic, picking up on the smallest of grains or color fluctuations.
If imitation is not your style and you like being unique in terms of design, even then, vinyl will offer you a chance to be different. You can choose from bold scenes, patterns, and graphics. Go all out and yet stay in budget.
Read more: Benefits Of Using Vinyl Flooring In Your Beach House
Cork Flooring
Want a flooring that gently cradles your feet with every step you take? We are serious! If yes, then a cork floor is what you are looking for. The soft floor is great for keeping in warmth — due to the millions of tiny air bubbles in the cork. These bubbles also help in insulating the flooring; it absorbs sound.
It's durable and extremely comfortable to stand on. And don't worry if you're stepping onto cork flooring with heels. The shoe will make an indentation, but as soon as you take your feet off the floor, the cork particles quickly resume their original positions. However, keeping and moving around heavy furniture is not a great idea.
This kind of floor is eco-friendly and available in a wide range of colors. One downside is that cork flooring is more expensive than the other kinds.
Laminate Flooring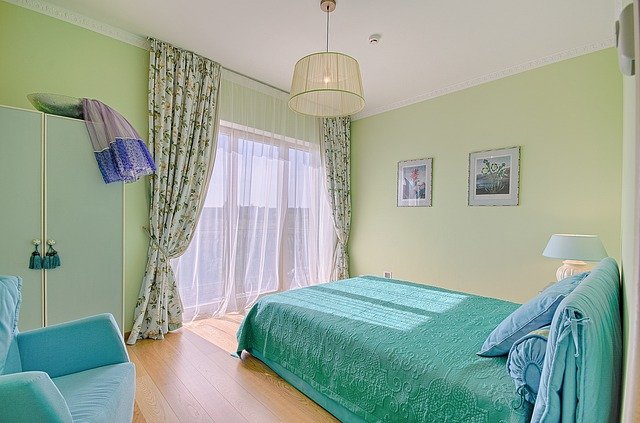 Pixabay
A laminate floor, just like vinyl, can reproduce the look of hardwood. It's the perfect solution if you're looking for durability and design. How does a laminate work? In simple terms, a high-density fiberboard, or a thin piece of natural material, is covered on a floor by an invisible wear layer. It safeguards against stains and damage too. And if you combine laminate with an underlayment padding, your flooring will be soft and insulated.
The versatility laminate flooring offers is amazing. From authentic oak to luxurious marble tile effects — lamination is an affordable way to mimic expensive styles. Light or dark, wide or narrow planks, wooden or rustic, with depth or grooves — your choice. Most people won't be able to even tell that it isn't real!
Luxury Vinyl Tiles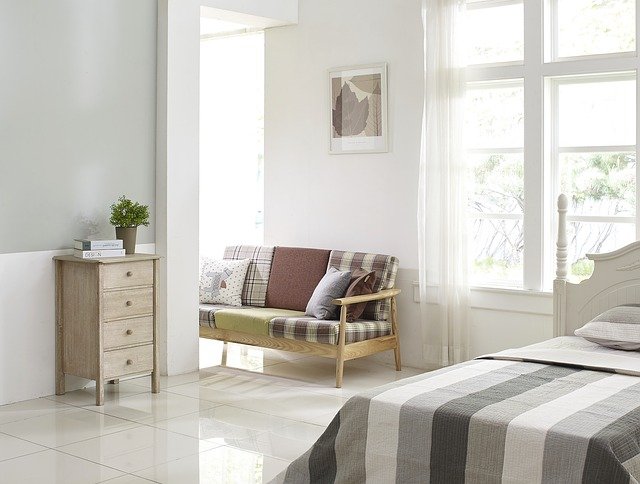 Pixabay
If you're looking for a versatile and practical alternative to Italian slate tiles and hardwood flooring, luxury vinyl tile floor is your solution. It has an uncanny ability to replicate their design and texture with intricate detail. For instance, when it comes to wooden vinyl tiles, they display the character, look, and grain of solid wood beautifully. Same goes for the texture and feel of Italian slate tiles.
What's more, these tiles boast brilliant moisture and slip resistance too. They are the ideal choice for your bedroom as they are extremely tolerant in challenging environments and climates.
You can choose from the sizes available in the market. The emphasis is now on larger tiles for a cleaner look. While 12×24 inch tiles are still popular, there are tiles as large as 24×48 inches. As far as the texture and tone is concerned, you can opt for marble, limestone, travertine, wooden, porcelain, subway, stone, or even glass.
Read more: Marble flooring costs
Conclusion
No matter what flooring you go for, we suggest you compare quality, texture, and aesthetics of the one you are considering. The best solution would be to order different samples and create a mood board first.
You will get a better idea about how your room will eventually look like. This step is important before you go ahead with the final transformation. Floor designing can be an expensive affair, and you certainly do not want to regret any of your choices.
This article gives you the best bedroom flooring ideas to choose from. Pick a style that is practical and timeless. After all, a floor can elevate and accentuate the best features of your bedroom. And since we spend one third of our lives in there, we might as well create a spectacular space to cherish forever.
Best Bedroom Flooring Ideas Not To Be Missed
was last modified:
May 20th, 2022
by
Recommended