Cabinetry plays an important role in the way a kitchen looks and functions. From concealing appliances to keeping the space organized, cabinets go a long way in making a kitchen convenient and inviting. They even add to its glamor quotient.
From rustic to traditional to contemporary, we can choose a cabinet style that suits any design. Read through the article and explore some of the most popular cabinet styles and trends and see which one will look best with your kitchen decor.
There are basically three broad categories of kitchen cabinetry styles: modern, traditional, and vintage. Within each of them, there are various designs and finishes — according to the look, they reflect. That said, there are no hard and fast rules of a kitchen design style when it comes to cabinetry, you can always combine the three to create a spectacular mix that is practical as well as beautiful to look at.
Let's give you a glimpse into some of the best kitchen cabinet styles and trends.
Modern Cabinetry
Modern cabinets are sleek, colorful, and practical in terms of storage and looks. This contemporary design may feature European-style sheet glass fronts, lacquered wood, veneer, or even stainless steel. You may also opt for laminate cabinetry if you're on a tight budget. The look achieved is modern as well as chic. Let's explore some of the ways we can create a clean, modern kitchen.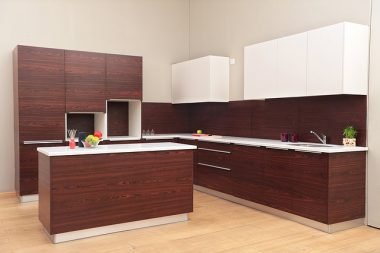 Veneer wood cabinetry has witnessed immense popularity in the last decade and there's good reason. There's a growing trend towards natural products and bringing back a bit of nature home. Veneer slabs are a treat for nature lovers. They showcase the wood grains so clearly that they seem to tell a tale about the tree they originated from. An aesthetic, warm sight to behold!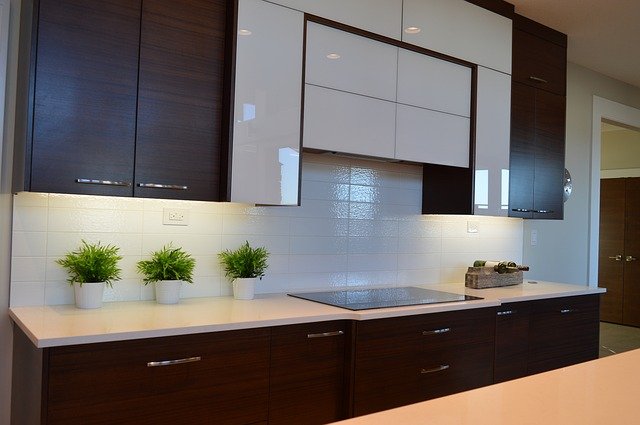 Bright, shiny and rich — that's lacquer cabinets for you. Their manufacturing process involves applying numerous coats of lacquer, followed by polishing and waxing. The end result is spectacular. The sleek aesthetic of the high-gloss shine of lacquer cabinets is unmatched.
If installed properly, lacquer finishes can be durable and scratch-resistant. Just make sure you opt for a good quality finish, lest they chip. Lacquer cabinets come in all colors, so take your pick and match your cabinets to the rest of your kitchen decor. Be aware that in order to maintain their perfect sheen, you must clean them properly. Without using chemicals.
If you want a sleek and modern look for your kitchen, opt for stainless steel cabinetry. Your kitchen will look stylish and chic.
Not only that, they are environment-friendly, easy to clean, extremely sanitary, and durable. The only downside is that they show fingerprints easily and have the potential for scratches. In case, solid stainless steel cabinets are out of your price range, then there are options of MDF cabinets that are layered with steel on top.
Traditional Cabinetry
Traditional cabinetry creates a homey, cozy ambiance. There is no denying the aesthetic value of a traditional kitchen with its roomy, spacious feel. Remember, spending most of those Christmas holidays in your Grandma's kitchen? If you loved the good-old vibes, you can create the same in your new kitchen — or if you're planning a kitchen remodeling project.
Typically, such cabinetry features more detail, sometimes in the form of raised-panel doors or bead-board designs. Colors range from crisp whites and creams to reds, tans, and woody hues.
Styles such as Shaker, cathedral and arched cabinets, and raised or recessed panels are viable options if you want to go for traditional cabinet design.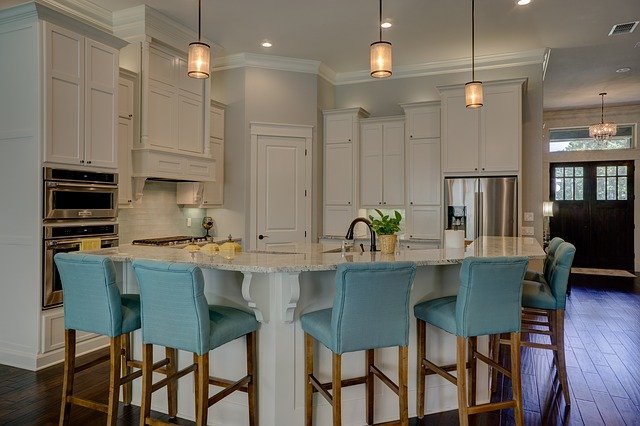 Shaker cabinets are one of the most popular choices when it comes to kitchen cabinet styles. The simple, square-paneled doors look flawless with any hardware. They are defined by five-piece doors with flat recessed panels. The construction, aka frame and panel, provides a clean, classic look.
This cabinet door style is generally found in natural wood finishes such as oak, maple, cherry, or similar wood species. They usually come with striking yet practical handles and make the space look elegant.
These rounded cathedral-style cabinets are hugely popular. They are generally solid wood cabinets which have single or double arches. The grooves form a beautiful, deep profile — giving the doors a pronounced shadowy effect.
When wrapped with a thermofoil surface finish or natural wood finish, such a cabinet doesn't even need painting. If you have budget constraints, you can go for MDF instead of natural solid wood.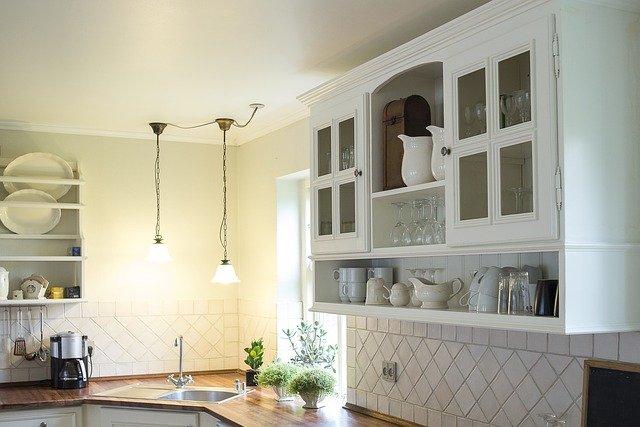 These window-like cabinet doors fit in well with any traditional style kitchen. They allow for the placement of glass for a beautiful look. The stiles act as additional support for the cabinet door and as protection against glass breakage.
Read more: What is a mullion
Vintage Cabinetry
Want to add some historical gravity to your kitchen design? Opt for a vintage cabinet style that will transport your kitchen to the era gone by. Think Victorian designs, Georgian antiques, and the understated elegance of Edwardian decor. Decorative moldings and beaded boards are best to give your kitchen an old-world vibe.
Crown molding originated during the Renaissance, when people would use them to cover up mistakes or imperfections in their decor! Can you imagine? Today, it's used to accentuate the details of a room or the depth and design of kitchen cabinets.
Take a look at our guide on Types Of Molding And Architectural Elements For Kitchen Makeovers
Nothing brings back the age-old charm of the golden days than a color palette that has lots of pastels. The soothing color theme in cabinetry is not only pleasing to the eye but can be well-coordinated with the rest of the kitchen decor.
Bead-board detailing in cabinetry can bring a lot of difference in the way a kitchen looks. Its old-world style is pronounced through the beautiful lines on wood. Such a cabinet perfectly complements an all-white kitchen that has a wooden floor. And if there are contrasting textures of brick and stone – you have lucked out!
Mixed-Style Cabinetry
There is endless scope for cabinetry that combines the different styles. By mix and match, you can achieve a look that is uniquely you. But, be sure to plan such a mixture well. You don't want your kitchen to be a messy amalgamation, do you?
Choose from a myriad of finishes such as paint, glossy lacquer, melamine, or veneer — combine them with different styles. Here are some ideas from our side. Try white lacquered upper cabinets with wood ones in the lower shelves. Or, veneered walnut cabinet side panels with shiny lacquered faces. Or, stainless steel with wooden flat panel cabinets. Like we said, the possibilities are many.
Whichever combos you choose, make sure you end up with a simple, yet beautiful, kitchen. It may be best to consult an interior designer or a professional cabinet maker.
Here are some more trending kitchen cabinet ideas: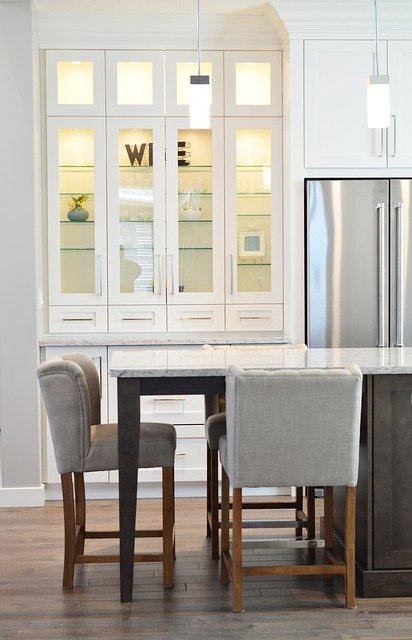 The classic glass-insert doors provide a glimpse into the contents of the cabinet. They are usually found in natural wood styles and are airy, open — displaying your tableware or crockery beautifully. Glass-framed cabinet doors typically do not come with the glass; you need to purchase them separately and then fit.
Floor-to-ceiling Cabinets
When you need plenty of storage space in your kitchen, such kind of cabinets meet all your pre-requisites. They keep the clutter away and give a clean, streamlined look to your space. Generally, they are better suited for open-concept kitchens.
If you love to keep things simple, a white kitchen may be the best choice for you. No matter what the style, all-white cabinets make the area look clean and beautiful. You can easily pair them with different styles of drawer pulls too. What's better than crisp-white cabinets, that reflect the sunshine of your home? Nothing.
Conclusion
Whether you're designing brand-new kitchen cabinets or refurbishing existing ones, the range available in the market is huge. But, don't get overwhelmed with all the choices. Keep our helpful pointers in mind and explore the most practical, viable options. Choose the best kitchen cabinet style that's right for your home. Happy shopping!
Read more: Ways To Turn Your Kitchen Into A Hub Of Luxury
Best Kitchen Cabinet Styles That Will Make a Statement
was last modified:
May 20th, 2022
by
Recommended