Best neighborhoods in Asheville NC you can choose to live in
Asheville, located in western North Carolina, amidst the beauty of the Blue Ridge Mountains, is a great city to live in. With four distinct seasons, a high safety quotient, a relatively lower cost of living, and a quality of life, living in Asheville can be quite exciting. If you're looking for a place to settle down with your family, we have some of the best neighborhoods in Asheville NC for you.
Downtown Asheville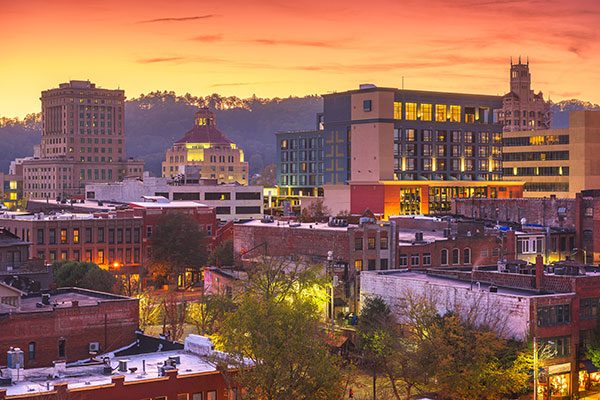 Downtown Asheville is the heart of the city and is quite historic. Moreover, it's walkable. This bustling commercial business district, with a mountain vibe, is ideal for those who prefer leading an exciting life. With great artisan shops, specialty food stores, restaurants, cocktail bars, boutiques, art galleries, music venues, and historic buildings as well as sites – there's never a dull moment here for the locals.
The advantage of living in this part of the city is the convenience it offers. Since it's centrally located, everything is within a few square miles.
The only downside is that real estate prices are on the expensive side in comparison to some other Asheville neighborhoods.
In terms of housing options, you can choose from newly built and renovated apartments, condos, or single-family historic homes. This is definitely one of the best neighborhoods in Ashville, NC, for families, single people, and young professionals.
Montford
This Ashville neighborhood is home to some of the most affluent residents and is considered one of the safest areas in the vicinity. The prestigious Montford area is absolutely beautiful and even features on the National Register of Historic Places. You'll find gorgeous historical homes here – some of them built between 1890 and 1920. The houses exhibit architectural styles such as Victorian, Queen Anne, Neoclassical, and Colonial Revival along beautiful sidewalks.
Since it's located close to Downtown Asheville, this neighborhood is great for young working professionals, families, and retirees. You have easy access to the main city and yet are slightly away from the hustle and bustle. Locals can enjoy Hazel Robinson Amphitheatre which hosts North Carolina's oldest Shakespeare festival.
Grove Park-Sunset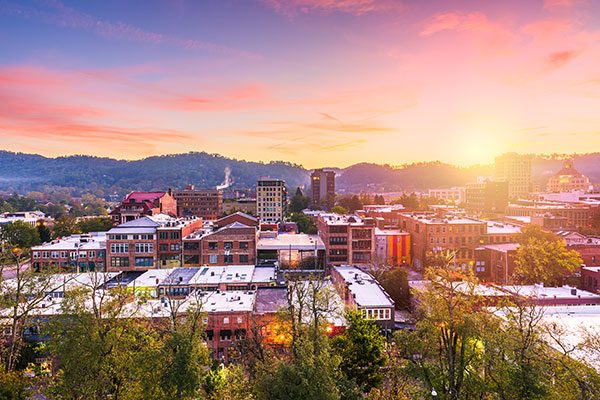 This upscale Asheville neighborhood is known for its surrounding wooded hills, picturesque mountain views, and beautiful architecture. In terms of housing, residents may choose from oversized historical Tudor Revival or Prarie-style homes.
If you're looking for a great neighborhood to raise your children, Grove Park-Sunset is the place to be. You can experience the cultural vibe of the place, the lovely curving streets, and the friendly neighbors. Residents can enjoy the various shops, art studios, the antique car museum, and the famous Omni Grove Park Inn with its golf course, spa, restaurants, and indoor pool. Living here is a unique experience indeed.
Biltmore Forest
Built-in the early 1920s, this neighborhood features houses that meet a good standard of luxury. The small and tight-knit community comes with a high price tag but loads of amenities. If you're looking to buy a home here, you can find a good mix of vintage properties and new construction. With tree-lined sidewalks, high safety ratings, shops, cafes, restaurants, and the popular Biltmore Village – it's a haven for residents and tourists alike. And, the area has some top-rated schools that can be a blessing for those with young children. Moreover, this neighborhood is home to the largest privately-owned house in the United States – the famous Biltmore Estate which was built originally for George Vanderbilt. It's a visual treat for tourists.
The River Arts District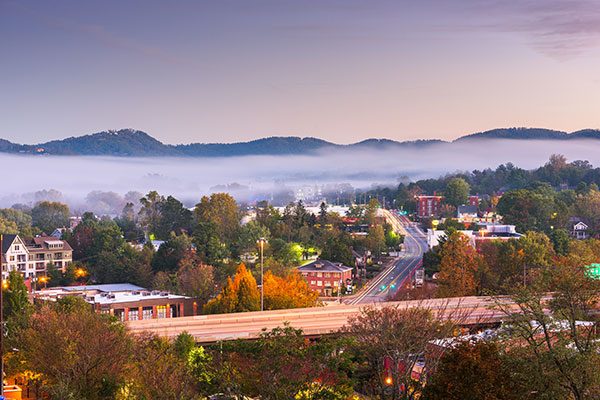 Located near the French Broad River, this place has a creative spirit that's quite palpable. No wonder, the place attracts many artists and creatives. The best thing is that you can pay cheaper rent for larger spaces here. Most of the former industrial buildings and warehouses have been converted into residences, art studios, and bed and breakfast lodgings.
You can choose from a mixture of historic homes as well as new houses and apartment complexes. And, you'll find great restaurants, coffee bars, and breweries with outdoor seating around every corner.
Lakeview Park
This Asheville neighborhood has an undeniable elegance and beauty. The historical residential area features a wide range of architectural styles including Cape Cod and Tudor Revival. It's one of the best neighborhoods in Asheville NC – and one of the most sought-after areas. Ideal for young families, professionals, and retirees – the place offers good amenities, green spaces, a distinguished school system, picturesque views of the mountain parkway, and proximity to Beaver Lake. Residents can enjoy outdoorsy activities, walking trails, fishing, boating, and other popular watersports. Besides, there are some great restaurants, ice cream parlors, and breweries to visit. 
Kenilworth
This quiet community offers peaceful living – despite being only a short distance away from Downtown and major employers. There's a variety of home styles found in the historic residential neighborhood – ranging from attractive Craftsman bungalows and old Spanish-style villas to Tudor Revival cottages. With good elementary schools, middle schools, and high schools – it's a great place to raise a family. Children will especially enjoy Kenilworth Park which has tennis courts, a playground, and basketball courts.
Last thoughts
If you're looking for good local amenities, safe residential areas, fun activities, and a healthy work-life balance – it's time to move to Asheville, North Carolina. With a high safety rating, low crime rate, good quality of life, and family-friendly neighborhoods, Asheville is a great place to live with your loved ones. You can peruse the best neighborhoods in Asheville, NC, and choose the one that fits your lifestyle and needs.
Best neighborhoods in Asheville NC you can choose to live in
was last modified:
January 24th, 2023
by
Recommended