The best neighborhoods in Denver, Colorado
Moving to Denver, Colorado is a wise decision. The Mile High City is as lovely as it gets — thanks to the sunny weather, a good socio-cultural scene, and the Rocky Mountains offering one of the most beautiful backdrops. But, where exactly should you live in Denver? Well, we've listed the best neighborhoods in Denver for you in terms of livability, safety, accessibility to shopping centers, and recreational activities. But, first, let's understand a little bit about Denver — the most populated city in Colorado.
Because of the proximity to the mountains, there's an abundance of fresh air and great weather. Plus, you get to enjoy nature at its best, good craft beer, great local restaurants, and a snazzy cultural scene. Moreover, the city has some really good educational institutions, including 220 private schools, 157 public schools, and nine universities. Most importantly, the people are friendly and welcoming.
Here are some of the best neighborhoods in Denver. If you're looking to work and raise a family in this city, you'll know where to head to.
Why is the Kukun iHomeReport the best CarFax for homes? Let's find out!
Golden Triangle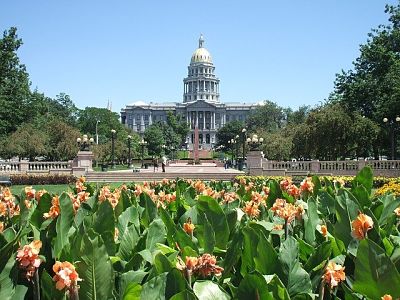 The reason this place is called so is because it forms a triangle between Colfax Avenue, Speer Boulevard, and Broadway. The neighborhood boasts spectacular museums (such as the Denver Art Museum and the Clyfford Still Museum), the Colorado State Capitol building, the Curious Theatre Company, the flower-filled Civic Center Park, and artisanal coffee shops. It's a haven for artists and an ideal neighborhood for young professionals looking for non-traditional homes. There are also multi-family complexes and condominiums to accommodate people.
Central Park
Central Park, once called Stapleton, is a suburban haven. As you drive past this neighborhood, you can see picture-perfect cookie-cutter houses, a wildlife refuge, and convenient jogging paths. Plus, the area gets a beautiful view of the mountains.
City Park
This neighborhood has the biggest and the best green spaces — right in the heart of the city. The 330-acre park boasts a zoo, trails, picnic lawns, and lakes. Moreover, the place is home to the famous Denver Museum of Nature and Science and the Sie Film Center. This neighborhood has fantastic retro dive bars with live music. Summertime is especially a good time with some great music at the City Park Jazz concert series.
Park Hill
Park Hill is one of the city's oldest and most diverse residential neighborhoods with a liberal, community-focused vibe. And, it's just 10 minutes east of Downtown Denver. You can visit cool coffee shops, bars, restaurants, and parks. This safe neighborhood is family-friendly and has some picturesque tree-lined streets featuring original Victorian-era architecture.
LoDo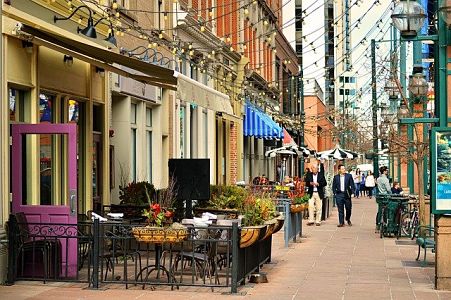 LoDo, aka Lower Downtown, is famous for its trendy eateries, artisan cafes, boutiques, and vintage shops. Larimer Square will offer you good local fashion brands, restaurants, and bustling nightlife.
The place has a good mix of historic and modern construction. It's close to Coors Field (a boon if you're a baseball fan), the Pepsi Center, and the Elitch Gardens Amusement Park. No wonder, the place is a popular destination for events and tourism. Plus, there's good access to public transportation.
RiNo
The River North Art District, popularly called RiNo, is Denver's unofficial art capital. You'll find some amazing street murals, art galleries, and art studios. The vibrant neighborhood is home to many warehouses and old factory buildings turned into cool music venues, restaurants, and breweries.
Capitol Hill
The historic neighborhood is home to many turn-of-the-century mansions with amazing architecture. A great place to raise a family, the area has good parks, restaurants, bistros, coffee houses, and bars along Colfax Avenue. It's also a great area to walk around.
Uptown
Uptown is a hip living area — with the perfect mix of modern structures and historic properties, including Victorian homes. You can visit any of the restaurants, coffee shops, or take a stroll across blocks. Plus, you can enjoy various outdoor recreational activities.
Five Points
This is the oldest and perhaps the most diverse neighborhood in Denver. In fact, this is where famous jazz legends such as Billie Holiday and Miles Davis frequented. Today, the area is witness to various urban revitalization projects that have given the neighborhood a new life while keeping its rich cultural history intact. Five Points offers some of the best Caribbean cuisine, soul food, and barbecue in the area.
Highlands
The Highlands is a largely residential neighborhood — undoubtedly one of the best places to live in Denver. Apart from the several up-and-coming restaurants and chic bars, there are trendy boutiques, coffee shops, art galleries, and picnic spots. This place offers an interesting life while being slightly away from the main downtown area.
Washington Park
Washington Park has a beautiful family-friendly green park by the same name. The park is 165 acres — with tree-lined pathways for dog walkers and morning joggers, two lakes, and lovely flower gardens. Wash Park is a hotspot for local restaurants, art galleries, and boutiques. What's more, you can visit the South Pearl Street Farmers' Market from May to November.
Baker/South Broadway
South Broadway or SoBo is one of the major transportation routes in and out of Denver. This diverse neighborhood has a lot to offer, including unique restaurants and bars, thrift and craft shops, antique stores, quaint movie theaters, and some cool live music venues.
Cherry Creek
This neighborhood is a high-end shopping and dining district. It's one of the fanciest Denver neighborhoods. The place has some popular brand stores and huge malls. There's an interesting outdoor shopping area with several art galleries, boutiques, and upscale dining options.
Art District on Santa Fe
The largest art district in Colorado, this area has more than 30 galleries and art studios. Plus, it offers interesting restaurants, shops, food carts, and other festivities. There's also Stranahan's Colorado Whiskey distillery that offers tours and tastings. It's a great place to chill with friends.
Denver weather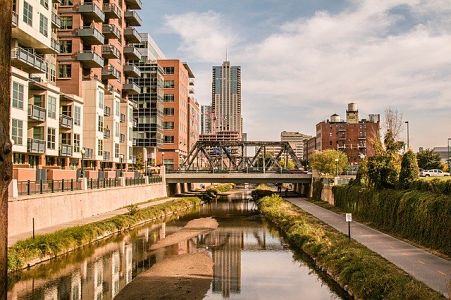 Denver has a hot but arid summer season. And, more than 300 days of sunshine a year! No wonder Denver residents enjoy their terrace drinks, outdoor events, and lots of adventure activities. The city experiences chilly but mild winters with almost no snow despite a 5,280-foot elevation. The mountains provide gorgeous views and there's no shortage of fun activities in and around Denver.
Getting around in Denver
The traffic is definitely a pain point, but not as much as in major cities such as Los Angeles, New York, or San Francisco. If you can manage to skip the rush hours on weekdays (between 8 a.m. to 9 a.m. and 4 p.m. to 6 p.m.), it's quite maneuverable.
Even if you don't want to keep a car in Denver, that's fine. There are good public transportation options and decent walking as well as biking areas, depending on your neighborhood. The city's RTD bus and Light rail service offer convenient local and regional routes throughout the city and to the nearby suburbs.
Cost of living in Denver
For years, living costs in Denver were relatively lower. However, due to its rise in popularity, the living costs and housing prices have been on a rise. Today, they are about 12% higher than the national average. This is mainly because of the higher real estate costs.
According to reports, Denver is 11th on the list of expensive homes among all the big metropolitan cities in the whole United States. Moreover, Denver home values have gone up 10.8% over the past year due to the supply-demand imbalance.
The price of a 2,000-square-foot home runs between $554,628 and $700,559. Living in Denver is 7.9% more expensive than in Austin. Of course, there are some variations. For example, Denver housing is 15.5% more expensive than Austin housing costs but health expenses are 2% cheaper in Denver.
Read more: Best neighborhoods in Atlanta
Last thoughts
The Mile High City offers the best of all worlds — a bit of mountain, a bit of old-world charm, lots of green spaces, and plenty of sunshine. Most importantly, Denver is a far safer city than most other cities. In fact, it's one of the safest cities in the U.S.
So, if you're planning a long-distance move to Denver with your family, know that you'll be making a good decision. Apart from the many cutting-edge companies, good high schools, superb restaurants, and bars, the city remains connected to nature — thanks to its proximity to the Rocky Mountains.
Read more: Neighborhood etiquette: How to be a good neighbor?
The best neighborhoods in Denver, Colorado
was last modified:
October 10th, 2022
by
Recommended