Best neighborhoods in Las Vegas that promise a great life
Thinking about buying a house in Las Vegas? This area has witnessed one of the largest population growths in recent times — thanks to an increasing number of people gravitating to Sin City. Needless to say, the Las Vegas real estate market is also on the rise. If you're planning to settle down here, you need to shortlist some of the best neighborhoods in Las Vegas that meet the requirements of your lifestyle. And, we're here to help you with just that.
Las Vegas offers its newcomers high-end hospitality and world-class entertainment. In fact, it gives much more than that. It offers safe, affordable living.
Having said that, like any other city in the United States, Las Vegas too is home to many impoverished areas. And, a lot of disparity — giving rise to higher crime rates in some parts, especially areas such as downtown Las Vegas, Meadows Village, North Las Vegas, and Huntridge. If you're a tourist or have recently moved here, it's best to stick to the best neighborhoods in Las Vegas.
A little about Las Vegas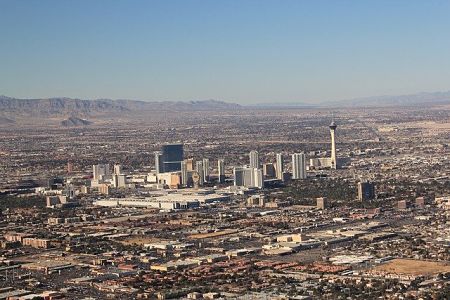 Geographically speaking, Las Vegas is a large circle with the Las Vegas Strip running vertically through the middle. In the East, you'll find the Green Valley, the Henderson area, and Lake Las Vegas. And in the West, you'll find Summerlin, Southern Highlands, and Mountain's Edge. The notorious North Las Vegas and the downtown area lean more toward the eastern side of The Strip.
As far as the living costs of Las Vegas go, in order to live comfortably in a rented house, you'll need to make around $2,500 per month or $30,000 annually. The rent would be $1,100 to $1,200, utilities would cost you $200, and you'll need around $400 to cover your grocery bills, car insurance, and gas money. Keep in mind that the house rent in Las Vegas is much less than the national average when compared with other major cities of the United States.
As far as the house prices go, the median Las Vegas home price (for a huge house) is around $400,000. Buying a condo or a townhome is more affordable at $171,250.
This blog explores the best neighborhoods in Las Vegas to live in. The list is based on the cost of living, neighborhood safety, and local amenities, and is not sequenced as per preference.
Summerlin
Average house price: $328,923
Popular with: Singles, young professionals, families, and empty nesters
Summerlin is one of the best places to live in Vegas. This tight-knit, master-planned community offers its residents cleanliness, safety, and great opportunities for enjoyment.
Furthermore, some of the things you can do in Downtown Summerlin include participating in community parades, watching baseball games, and visiting farmers' markets, movie theaters, or restaurants.
Homebuyers can choose from multi-bedroom houses, single-family homes, or luxury condos depending upon the house style they prefer and the home purchase price points. Average home features form this area are high quality. 
Apart from the fact that this neighborhood is just 20 minutes from The Las Vegas Strip (the world-famous entertainment zone) and the Red Rock Canyon National Park, it offers amazing opportunities for local dining and nightlife. And, if you're an avid golfer, you can participate in tournaments at the famous Angel Park Golf Club.
Why is the Kukun iHomeReport the best CarFax for homes? Let's find out!
Green Valley South, Henderson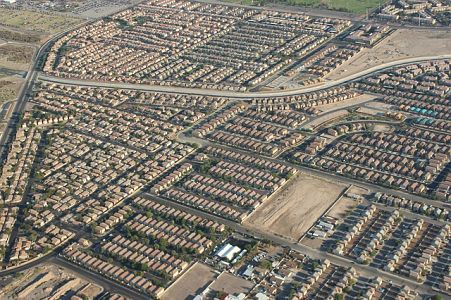 Average house price: $221,486
Popular with: Singles, retired persons, young professionals, and families
Green Valley South in the suburb of Henderson is one of the safest neighborhoods in the Las Vegas valley. There's no dearth of housing options, including newly-constructed single-family homes, townhomes, and upscale apartments — ideal for working professionals. The area also has spacious Mediterranean-inspired houses, well-maintained lawns, friendly neighbors, and great homeowners association amenities.
The area is known for being extremely family-friendly with fantastic schools, and good options for eating, shopping, and hiking. Besides, you can walk around the 31-acre lake, play your favorite ball game, or host a picnic at a park. Although it's a short commute into the heart of the city of Las Vegas, the options for outdoor recreation, the mountain views make Henderson a lovely neighborhood to live in.
Read more: Myths about moving to the suburbs
Centennial Hills
Average house price: $216,567
Popular with: Families with young children, retirees
If you're looking for a neighborhood that allows you ample space to roam about, this place is it. This neighborhood is ideal for homebuyers who're looking for sprawling properties, spacious condos, or single-family houses. With some top-rated schools such as Arbor View High School and O'Roarke Elementary School and lots of recreation opportunities, this area keeps its young residents happy. There are some seriously fun splash pads, amphitheaters, and parks in the vicinity. And, you get some of the best cakes, cookies, and cupcakes here. What else do kids want?
Rancho Charleston
Average house price: $160,581
Popular with: Singles, young professionals
This Las Vegas neighborhood has a lot of options for affordable single-family homes, mostly beautiful vintage Mid-Century Modern homes. No wonder, it appeals to most first-time homebuyers and professionals. The proximity to Downtown Vegas, The Strip, and the Las Vegas Arts District gives Rancho Charleston that edge.
Moreover, the place is home to unique botanical gardens, museums, bars, and restaurants.
Tule Springs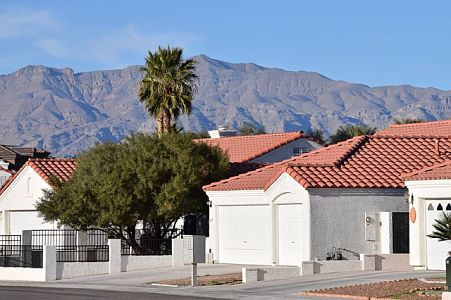 Average house price: $253,160
Popular with: Working professionals, retired people, and young families
The community has great avenues for shopping, recreation, and education. Moreover, homeowners have access to convenient amenities, including swimming pools, picnic areas, and barbecue pits.
Basically, this neighborhood offers you a reprieve from the humdrum of city life and provides lush green spaces. You can jog, play, and enjoy the small lake in the vicinity. It's one of the best neighborhoods in Las Vegas for renters. The majority of rental properties are detached houses with multiple bedrooms. If you're looking for tranquil streets, a quiet neighborhood, and proximity to nature, this area is a perfect fit.
Whitney Ranch
Average house price: $151,662
Popular with: Frequent travelers, young families, and retirees
This Las Vegas suburb is a good choice if you want to buy a house with a low price tag. Whitney Ranch has affordable Mediterranean-style houses with attached garages, newly-constructed condos, as well as interesting townhomes with tile roofs and stucco exteriors.
The best features of this area include safe streets, friendly neighbors, and easy access to Henderson. Moreover, it's close to the McCarran International Airport too. You can visit shopping centers, restaurants, cafes, fitness centers, and golf courses to live life to the fullest.
Last thoughts
Thinking about buying a home in Las Vegas? Before you begin your home buying search, it's important that you know which areas to shortlist. Many factors can influence your choice of place to live in Las Vegas. These could be different for different people. Some may consider schools and colleges important while others may be interested in the local amenities or demographics.
Keep in mind that moving to Las Vegas is more than being near the casinos. The city offers a family-friendly, safe living thanks to some of the best public schools, parks, restaurants, and houses.
If you're making Las Vegas your next destination, we hope this blog will help you zero in on the most perfect Las Vegas neighborhood to suit your lifestyle.
Read more: Neighborhood etiquette: How to be a good neighbor?
Best neighborhoods in Las Vegas that promise a great life
was last modified:
January 24th, 2023
by
Recommended