Best neighborhoods in Philadelphia to live in with family
Thinking of moving to Philadelphia with your family? The first question you should ask yourself is, "'Which are the best neighborhoods in Philadelphia to live in?".
And, that's exactly what we'll try to answer for you in this comprehensive guide. But, first, a little more about Philadelphia.
Did you know, Philadelphia is among the most affordable major cities on the East Coast? Moreover, the place offers good employment as well as educational opportunities — besides its amazing historic and cultural scene, sports facilities, and music venues. Most importantly, you can get a lot more, and a lot better, for your dollar than if you move to New York or Washington, D.C. No wonder, Philly attracts a lot of settlers and is the sixth most populous city in the United States.
In terms of residences, the best neighborhoods in Philadelphia offer a good housing scheme — right from urban communities to family-friendly neighborhoods with top-rated amenities.
How to choose the best neighborhoods in Philadelphia
When looking for great Philadelphia neighborhoods, you need to consider a few factors that'll help make your tenure safe and happy. These include:
Distance from your workplace: How long will it take you to get there? What type of transport would you take?
Outdoor spaces and activities: Is the community easily walkable? Are there sufficient green spaces such as parks and trails for you and your family? Will you get to enjoy good outdoorsy fun?
Your budget and living expenses: How much can you afford and the type of housing you're looking for.
Your lifestyle: Are you looking for vibrant nightlife or a quiet and peaceful Philly neighborhood?
Crime rate: Does the crime rate data of a particular living area indicate that it's a safe neighborhood? Are you familiar with the general crime rates in each neighborhood?
Once you've taken all these into consideration, it'll be easier to choose the best neighborhoods in Philadelphia. For your convenience, we've listed the best, safest Philly neighborhoods.
Read more: Questions to ask a moving company before your big move
Old city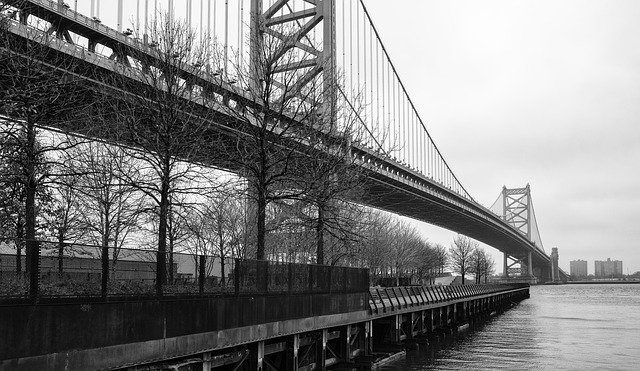 You'll witness a lovely 18th-century charm here, thanks to the cobblestone streets and historic sites such as the Liberty Bell, Penn's Landing, and the Benjamin Franklin Bridge.
Apart from these, there are trendy boutiques, restaurants, pubs, galleries, and theaters to enjoy. Basically, you'll have a pleasant daylife and fantastic nightlife, especially on weekends.
Read more: Best neighborhoods in Orlando
University City
There's a surreal art and cultural vibe in this neighborhood — mostly due to the presence of college students, university staff, and young adults. This place is home to the famous Drexel University, the Institute of Contemporary Art, the Penn Museum, the University of the Sciences, and the Walnut Hill College.
There's no dearth of international eateries, dive bars, and interesting food stalls.
Chestnut Hill
This upscale neighborhood is where most of the affluent Philadelphia residents live. If you're looking for a place to settle down after retirement, this is one of the safest places to live in Philadelphia.
You can find beautiful Victorian townhomes, mansions, and spacious apartments. The place has easy access to shopping centers, restaurants, and convenient parking. Moreover, the garden district offers attractions such as the Morris Arboretum, famous galleries along the beautiful Germantown Avenue, antique boutiques, and weekend farmers' markets. And yes, it hosts the popular Harry Potter Festival each fall.
Bella Vista
The open-air markets will mesmerize you with the choicest bakeries and authentic eateries — ranging from Italian markets to Asian restaurants. And, this is where you'll find amazing cheesesteak and the popular Vietnamese cuisine. No wonder, Bella Vista is a foodies' paradise.
Fitler Square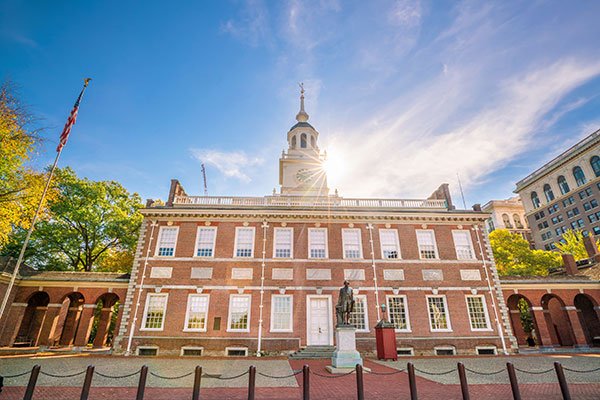 This residential neighborhood is situated along the Schuylkill River in southwestern Center City, the heart of Philadelphia. Interestingly, Center City is home to the famous Independence Hall where the Declaration of Independence was signed. You can also explore the Franklin Institute — a favorite haunt of Science lovers.
Fitler Square has quaint brick townhomes, parks, wine bars, and cafes. In fact, the beautiful century-old Fitler Square park houses the famous Victorian-era fountain with bronze turtles.
Queen Village
This neighborhood is situated near the Delaware River waterfront and South Street. Queen village's old-world charm is undeniable. You'll find an interesting mix of the old and the new. You'll see beautiful colonial homes alongside trendy eateries, art galleries, retail shops, boutiques, dive bars, and even tattoo parlors! It's a haven for those who love live music and galleries. By the way, it has Philadelphia's famous Magic Gardens.
Society Hill
This is an upscale neighborhood featuring cobblestone streets, tree-lined walking paths, Franklin street lamps, and Greek Revival architecture. One of the oldest residential areas in Philadelphia, it's also one of the most expensive and desirable neighborhoods. You can find plenty of trendy restaurants, taverns, and picnic spots.
Fairmount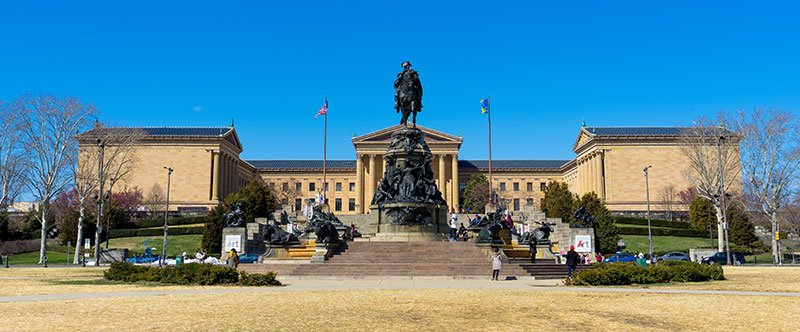 If you're a lover of art and culture, and like visiting museums, Fairmount is your kind of place. The famed Philadelphia Museum of Art and Eastern State Penitentiary Museum will keep the artist in you happy. For children, the Philadelphia Zoo can be a delight. And, for young professionals and city lovers, there are plenty of cool cafes, bars, eateries, and bistros to visit after a long day at work.
Manayunk
Manayunk is located on the banks of the Schuylkill River and features vibrant bars, eateries, and shops. The trendy place is among the safest neighborhoods to live in Philadelphia. In fact, it has one of the lowest crime rates per person. The hilly streets are lined with lofts, rowhouses, and old Victorian homes.
Washington Square West
Also called Gayborhood, this Philly neighborhood is the epicenter of the LGBTQ community. And that's why you'll see a lot of rainbow flag street signs here. The place offers a vibrant nightlife, LGBTQ+ friendly bars, picnic spots, quirky boutiques, and restaurant-lined streets. Besides the walkable streets, there are plenty of public transit options available. You can easily reach the suburbs and the Philadelphia International Airport in a short time.
Northern Liberties
Once an industrial area, this neighborhood is now considered extremely hip. Interestingly, in the 90s, the area began attracting creative locals and entrepreneurs who were looking for decent yet cheap apartments. As time passed, newer luxury apartments too were built to accommodate more people.
Today, the hub features smart residences, urban art venues, boutiques, breweries, restaurants, and shopping areas.
Logan Square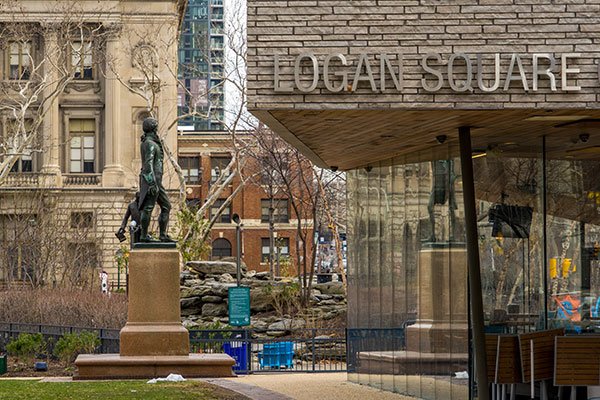 There's a good mix of modern amenities and old-world charm — with both historic buildings and Philadelphia high-rises existing side by side. The place attracts young professionals and tourists — mostly because of its convenient location.
It's also home to interesting museums, fountains, and libraries. And, of course to the Academy of Natural Sciences of Drexel University.
Bustleton
Did you know, Bustleton is so named after an old tavern that was established before the American Revolution? The tight-knit working-class residential community is one of the safest neighborhoods with a crime rate lower than the national average. There are great-looking apartments, condos, single-family homes, and duplexes. Ideal for young families, there's scope to enjoy tons of great amenities.
Fishtown
There's a young vibe to this Philly neighborhood — thanks to the art galleries, live music venues (especially indie music performances), gastropubs, and culinary hotspots. On any given day, you'll find young professionals, college students, and young families enjoying themselves here.
Graduate Hospital
The name comes from a large medical institution that's now defunct. There's a good mix of condos and single-family homes here. The place feels almost like a suburb despite its proximity to the City Center.
And, it's a kid-friendly neighborhood too. Almost half the population has kids. So, if you too have children, they're sure to find friends in this neighborhood. The area is pedestrian-friendly and is peppered with handmade art shops, restaurants, gastropubs, and boutiques.
Read more: Myths about moving to the suburbs
East Falls
If you're looking for a slower-paced neighborhood, then East Falls will fit the bill. The biker-friendly place has a small-town vibe and features green lawns, open spaces, and urban parks. And, you can find interesting Art Deco style buildings, apartments, offices, and retail shops here.
Cobbs Creek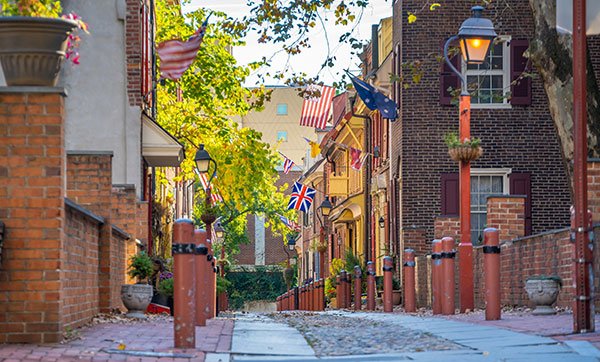 This West Philadelphia neighborhood boasts historic charm due to several vintage buildings. You can find distinct kinds of architecture such as Tudor Revival, Colonial Revival, or Bungalow/Craftsman architecture.
North Central
This North Philadelphia area has an urban vibe. The neighborhood is known for its ethnic and cultural diversity — with a lot of African American and Puerto Rican residents. The apartments, usually situated in older buildings, offer updated kitchens and modern amenities.
South Point Breeze
This residential neighborhood is ideal for young families, thanks to the many trails, playgrounds, parks, and other open spaces. Moreover, there are opportunities for tons of outdoor activities. The tight-knit community will make you feel right at home with friendly neighbors.
Rittenhouse Square
This area around the famous Philadelphia public park by the same name is known for its upscale residences and luxury shops. You can find exclusive retail shops, expensive hotels, fine dining restaurants, and high-end bars. The area is also popular with tourists who're looking to enjoy the various seasonal as well as cultural events.
Somerton
Apart from the handful of shops and eateries, you'll not find too many distractions here. The neighborhood is known for its quiet, suburban feel. The residence comprises apartments in smaller complexes, duplexes, or private homes.
Roxborough
Here's another place that offers peaceful living. This suburban neighborhood on the northeast axis of Philadelphia is slightly away from the main action scenes but the quiet life makes it worth it. You will need to commute to other areas to find shopping, dining, and urban amenities. But, since the Temple University Hospital is here, you needn't worry about basic health requirements.
East Passyunk Crossing
This area is easily one of the most popular food hotspots of Philly. You name a food or beverage and you'll get it here — right from good gastropubs, dive bars, chef-owned restaurants, sushi bars to Mexican eateries.
No wonder the place has a youthful, dynamic vibe, and is hugely popular with college students and young professionals. You'll find a lot of resident associations and community involvement — with locals joining bi-annual clean-ups, planting trees, and helping out in the mixed-use community garden.
Read more: The best neighborhoods in San Antonio
Philadelphia neighborhoods to avoid
While the above Philly neighborhoods are great for those who're looking to buy a house and settle down with their families, there are some areas that one needs to avoid — primarily because of the higher crime rates. Some of these include:
Philadelphia Badlands are known for gang and drug-related violence.
Hunting Park with a poverty rate of almost 50% and a high crime rate.
Kensington for its high rates of heroin use and high unemployment.
Last thoughts
Living in Philadelphia comes with a lot of plusses. You can find great historic sites, an old-world charm, and a reasonable cost of living as compared to the national average. Wherever you decide to buy an apartment, you'll have easy access to the city's cultural and food scene.
The City of Brotherly Love is walkable, bike-able, and has a convenient public transport system too. Once you settle down in any of the best neighborhoods in Philadelphia, you'll love the place even more.
Best neighborhoods in Philadelphia to live in with family
was last modified:
November 29th, 2022
by
Recommended