A guide on some of the best neighborhoods in Richmond VA
Richmond is the Commonwealth of Virginia's capital city – home to a rich history and a thriving culture as well as creativity. It's no surprise that many entrepreneurs, IT or financial professionals, and even retirees are willing to move to this great place. If you too are looking to buy a house in this urban area, we'll help you choose from some of the best neighborhoods in Richmond VA.
Whether you're looking to live in the main city of Richmond or a suburb slightly away from the hustle and bustle of city life – depends on your preference. Richmond offers something for everyone – right from students, creatives, and young professionals to growing families.
We've listed out the best Richmond neighborhoods by factoring in the places' popularity, local amenities, location, and the general vibe.
Keep in mind that all of these have a unique charm. So, which of these best neighborhoods in Richmond VA will be perfect for you? Let's find out.
Read more: How COVID has changed housing market perceptions.
Scott's Addition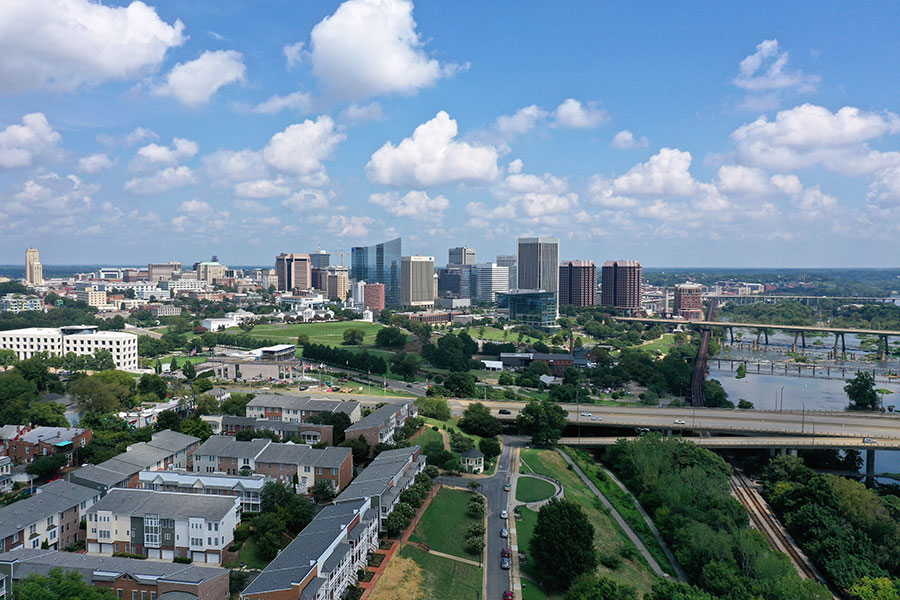 Average home value: $217,000
Average rent: $1,130
Scott's Addition is one of Richmond's fastest-growing neighborhoods. Interestingly, the land was owned by Major General Winfield Scott, a hero of the War of 1812 and the Mexican War. It was later annexed to the city as an addition and hence the name.
Today, the historic neighborhood district is home to a variety of businesses such as marketing and advertising companies, private businesses, film studios, and architectural firms – apart from several breweries, cideries, and distilleries.
If you love good food, craft beer, and video game arcades, you'll love this place.
Young families can choose from good schools such as Open High School, Richmond Community High School, and William Fox Elementary School. What's more, you can get convenient access to Interstates 64, 95, 195, and the Powhite Parkway.
You'll find a few historic houses and many row houses, apartments, and condos here. Its residents work hard to preserve the area's history while giving it a strong economic foundation for the future.
Bon Air
Average home value: $ 314,000
Average rent: $1,915
This Richmond neighborhood is close to the Westover Hills and Stratford Hill which sit along the bank of the James River. The home prices are less expensive than the US median and yet the neighborhood maintains a good quality of life – making it a perfect place for those with young children. You'll find houses with mature trees and brick capes, good options for dining and shopping. What's more, your kids will have a great time at the Sky Zone Trampoline Park. And, there's easy access to four major roadways: Huguenot Road, Midlothian Turnpike, Chippenham Parkway, and Powhite Parkway.
Read more: Buying a home as new parent
Lakeside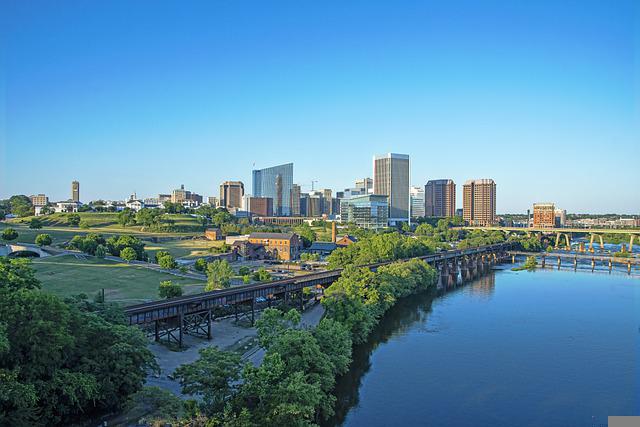 Average home price: $173,100
Average monthly rent: $1,014
This Richmond suburb is a great place for families. Despite the tree-lined streets and single-family homes with big lawns and garages, buying a house here is surprisingly affordable.
The best part is, even though it's only minutes away from the city center, there are enough opportunities to commune with nature – thanks to the Joseph Bryan Park and the Lewis Ginter Botanical Gardens.
And, there's no dearth of good dining and drinking options.
As far as schools go, this neighborhood is part of the Henrico County Public School System. There are good local schools such as Trevvet Elementary School, Moody Middle School, and Tucker High School.
Manchester
Average home value: $159,482
Average rent: $937
Interestingly, Manchester – located south of the James River – was a separate city in the 18th century but later merged with Richmond in 1910. The place offers urban convenience along with outdoorsy fun. It's bike-friendly and has access to the river as well as small islands. The place has a mix of single-family homes and apartments – with more modern housing projects coming up in the future.
Young artists and new entrepreneurs frequent the area's art galleries, cafes, and the Dogtown Dance Theatre. The local schools include Open High School, John B. Cary Elementary School, and Franklin Military Academy.
The Fan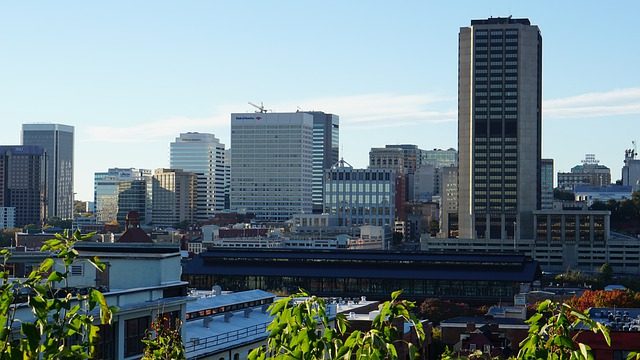 Average home value: $579,000
Average rent: $1,544
This residential neighborhood is perfect for millennials and young professionals. It also comprises local businesses, restaurants, bars, coffee shops, boutiques, wellness studios, and shopping centers. It's a Victorian-inspired area that has a unique charm of its own. Plus, it's walkable as well as bikeable. Moreover, Downtown Richmond is just two miles away!
The reason this area is called so is because of the tree-lined streets that branch out like a fan as you head from east to west.
You'll find historic architecture in the houses here. Most of them date back to the late 19th and early 20th centuries and exhibit a variety of house styles such as Italianate, Beaux-Arts, Bungalow, Tudor, and historic brick row houses. There have been real estate developments too, with modern-style houses and townhomes.
Short Pump
Average home value: $398,000
Average rent: $1,300
There was an old tavern by this name during the Revolutionary War. And that's where this family-friendly neighborhood gets its name from. You can find older as well as modern single-family homes, apartments, and townhomes here.
The affluent neighborhood is home to some of the top names of Richmond – including Capital One.
The residents can enjoy great shopping and dining options – besides an interesting open-air mall with upscale department stores and boutiques.
You can choose from the seven elementary schools, three middle schools, and two high schools for your kids.
Carytown
Average home value: $500,000
Average rent: $1,457
If you love shopping or being at a convenient location, you'll love this walkable area. There are great places to shop and dine expanded over nine blocks. Apart from the businesses, you can find single-family homes on the side streets.
With an expensive cost of living (13% higher than the U.S. average), the vibrant place is home mostly to affluent residents. However, you may be able to find some reasonably priced small homes, apartments, or multi-family units if you look hard enough.
And here's an interesting fact about Carytown, the Annual Watermelon Festival is one of the most fun places to be in, with exhibitors, musicians, and a kids' area.
Chimborazo
Average home value: $412,000
Average rent: $1,104
The Richmond neighborhood has a rich history, a scenic view of the James River, and historic architecture. Mostly, you'll find single-family brick homes – ranging from Late Victorian to Queen Anne and Colonial Revival.
There's so much you can do as a family here. You can explore Libby Hill Park, visit the Chimborazo Medical Museum (once a Civil War military hospital), or visit Broad Street for its variety of restaurants and coffee shops.
And, you can choose any of the good public schools for your children.
Last thoughts
Any of these best neighborhoods in Richmond VA can be your new home! With an affordable cost of living, convenient location, and the stunning James River, it's interesting to live in Richmond, Virginia.
And, here's another brownie point: buying a house here is definitely a good real estate investment as the area is growing every year with relatively lower property taxes.
And, you can find the most interesting options for dining, art, culture, sports, outdoor activities, and education. What more could you want!
A guide on some of the best neighborhoods in Richmond VA
was last modified:
October 10th, 2022
by
Recommended