Some of the best neighborhoods in Sarasota for families
Thinking about moving to Sarasota, Florida? Good decision! The Circus City has great year-round weather, affordable housing, family-friendly neighborhoods, a great school system, and access to the Gulf Coast. All in all, it's a great place to raise children. So, if you're looking to settle down with your family, this guide has the best neighborhoods in Sarasota.
However, before you start looking for the right Sarasota neighborhood, you must weigh your priorities – whether you prefer a particular school district or proximity to a beach. Or, need a quiet area with plenty of space. Once you have the answers in place, your choice will become easier.
Sarasota has some fantastic world-class white sand beaches and a laid-back vibe. No wonder the place attracts tourists and settlers alike. And, the booming economy and its eclectic culture are the reason many young professionals and families settle down here.
So, let's explore some of the best neighborhoods in Sarasota that are perfect for a home.
Arlington Park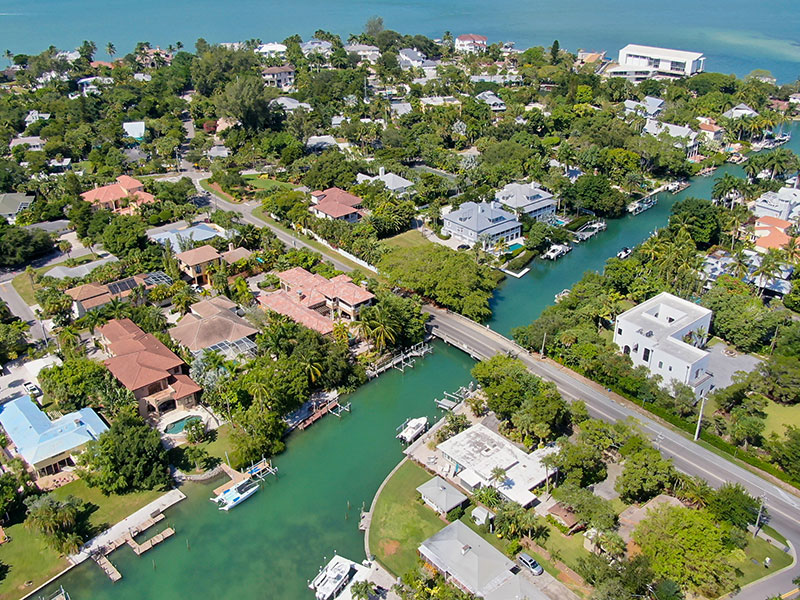 This family-friendly neighborhood offers a variety of housing options – right from bungalows, and modern constructions to mid-century houses. The best part is that this area is just 15 minutes from world-famous beaches such as Lido Beach and Siesta Key.
Moreover, Arlington Park is home to good schools for children. Besides, there are great opportunities for sports such as tennis, basketball, and swimming. The children will also love the aquatic center, dog parks, and bike trails. And the adults will love the lovely walking trails and parks.
Laurel Park
If you love the authentic Sarasota Downtown ambiance, while staying a bit away from the hustle and bustle, this single-family neighborhood is for you. It's a National Historic District where the streets look stunning thanks to the Craftsman bungalows and revival cottages. With houses as old as 1920, this affluent neighborhood is one architectural treasure.
Thanks to the relaxed feel of the place and its convenient location, it attracts people of all ages – young professionals, singles, families, as well as empty nesters. The area enjoys proximity to parks, cafes, restaurants, shops, and art galleries.
Read more: Best neighborhoods in the Bronx
Indian Beach Sapphire Shores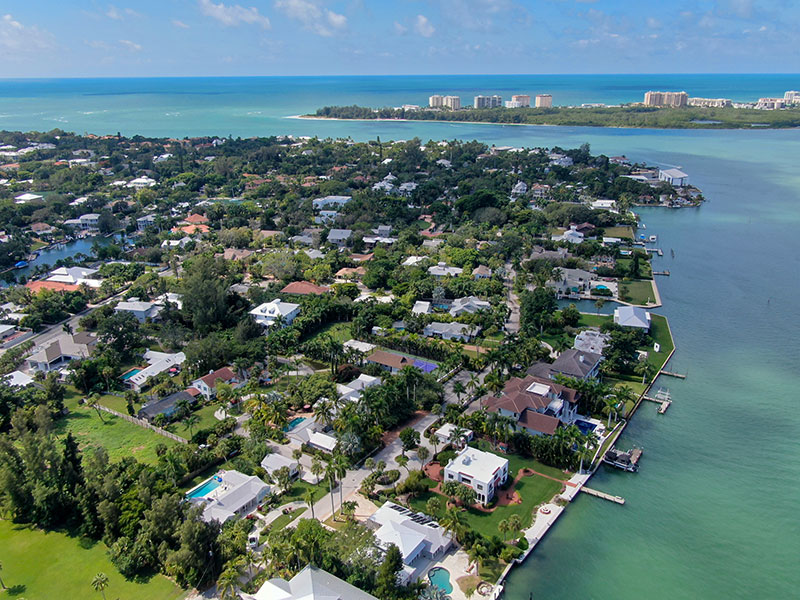 This neighborhood is where most of the wealthy Sarasota residents live. Located near the Ringling College of Art and Design and New College of Florida, the bay-front community is home to young families, professionals, college students, and professors.
It boasts historic houses such as Moroccan, Mediterranean, and Italianate architectural style homes, modern mansions, as well as a few moderate-budget properties. It's indeed one of the best neighborhoods in Sarasota to live in – provided you have good money to buy real estate here.
Southside Village
The main reason families love this West of Trail neighborhood is because of its eclectic mix of homes along tree-lined streets. You can choose from bungalow-style homes, classic Florida ranches, and contemporary white-box residences – depending on your requirements.
This place is extremely popular with good public schools, proximity to Downtown Sarasota, fantastic beaches, interesting boutiques, restaurants, and gourmet markets.
Manatee River District
This established neighborhood along oak-lined Riverview Boulevard features large older homes on oversized lots. Today, these houses are very much in demand in the real estate market – with people from Washington, D.C., New York, and Connecticut rushing to snap them up. 
Basically, the place is a haven for those who can work remotely. They get good schools, good outdoor spaces for their children, and all modern amenities.
Grand Palm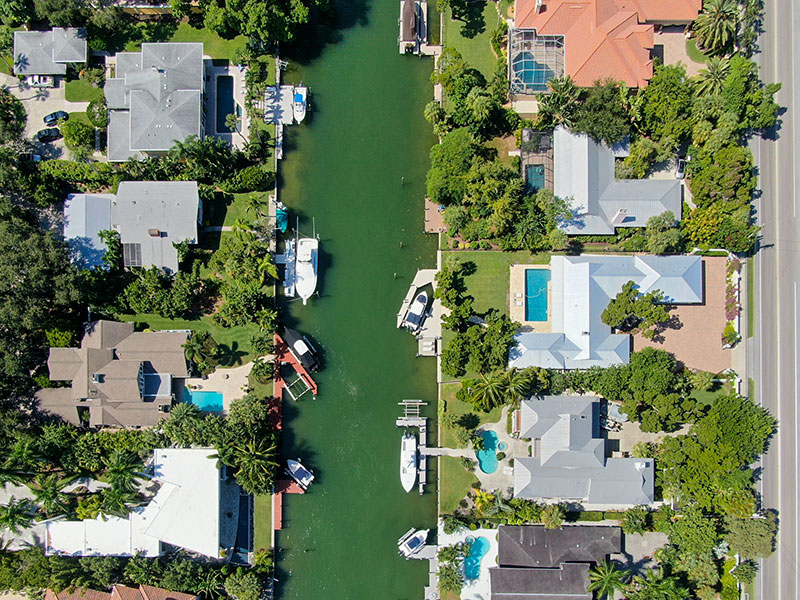 This Sarasota neighborhood draws young families – thanks to its many amenities, great schools, playgrounds, resort pools, fitness centers, biking trails, walking paths, and sports courts. With beautiful villas and single-family homes, the place is one of the best areas in Sarasota.
South Gate
This neighborhood is perfect for small families and young professionals. Also, the place is just minutes away from the main Sarasota areas such as Siesta Beach, Lido Key, St. Armands, Downtown, and Sarasota Memorial Hospital.
You can find aesthetically pleasing houses in the classic ranch style with modern upgrades. In fact, the houses can be easily renovated to your liking. Many homeowners buy a home here and remodel their kitchen, living room, dining room, and even outdoor patio to suit their spatial requirements.
The Landings
There are good reasons why this is one of the best neighborhoods in Sarasota county. The well-kept landscapes, variety of houses, good schools, convenient location, and a close-knit community are some of them.
This beautiful neighborhood is a sight for sore eyes with its gorgeous trees, green spaces, and winding streets.
In terms of housing, you can choose from single-family homes, estate homes, villas, luxurious Sarasota bay-side condos, and multi-level townhouses that are nicknamed 'treehouses'.
Besides the lush greenery, you can enjoy amenities such as swimming pools, fitness centers, tennis courts, and dock access for kayaking and fishing.
Gillespie Park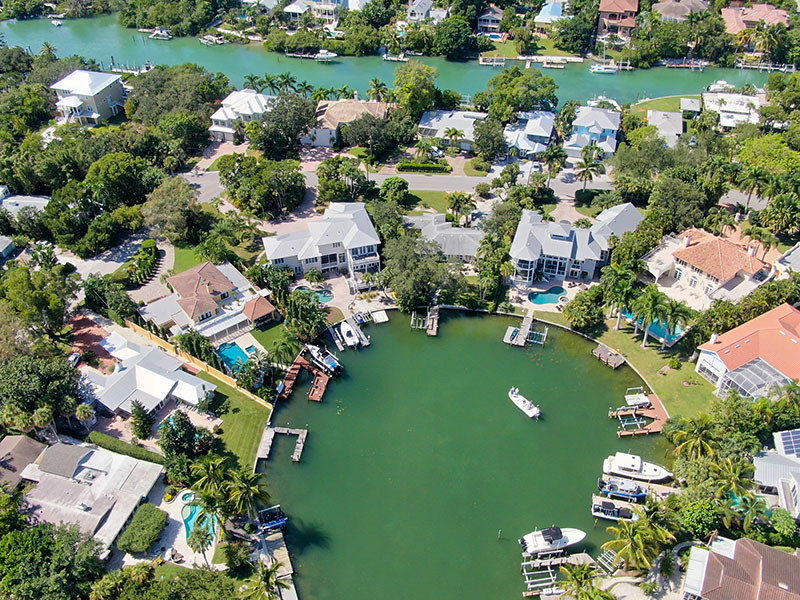 This neighborhood gets its name after John Gillespie, the first mayor of Sarasota. It features a huge park with a lake. You can buy any of the renovated bungalows, ranch-style houses, apartments, or townhomes.
Since it's close to Downtown, you'll be able to easily walk or ride a bike to popular shops, restaurants, and theaters.
The Rosemary District
This energetic and lively neighborhood has witnessed some new constructions such as apartment buildings and condo complexes.
Residents can enjoy amazing restaurants, pubs playing live music, shopping stores, yoga studios, modern furnishing houses, and art centers.
It's especially a great place for young professionals and singles.
Lakewood Ranch
This is one of the most sought-after areas of Sarasota. You'll find young families and retirees enjoying themselves in the sprawling planned neighborhood.
You can take your pick from the charming townhouses, single-family homes, or massive estate homes.
Lakewood Ranch offers lots of open spaces, hiking trails, playgrounds, pools, dining options, and shopping centers.
McClellan Park
If you're a fan of vintage Sarasota houses reflecting old Florida architecture, this place is for you. You can find numerous 1920s cottages, upgraded to meet modern standards, bungalows, Spanish-Mediterranean style homes, Tudor revivals, and some newly constructed properties.
Another advantage is the proximity to Southside Village, Downtown Sarasota, and some of the best beaches in the world.
Palmer Ranch
Palmer Ranch is a large planned community with varied home styles and real estate prices. You can buy a condo, a luxury home, or a million-dollar estate – depending on your home-buying budget. If you're looking to build a family, this will be the perfect spot for you.
And, your children will get a quality education with some top-rated elementary schools, middle schools, and high schools.
With a splendid golf course and easy access to shopping spots, restaurants, and entertainment centers – this is truly a fantastic community.
Longboat Key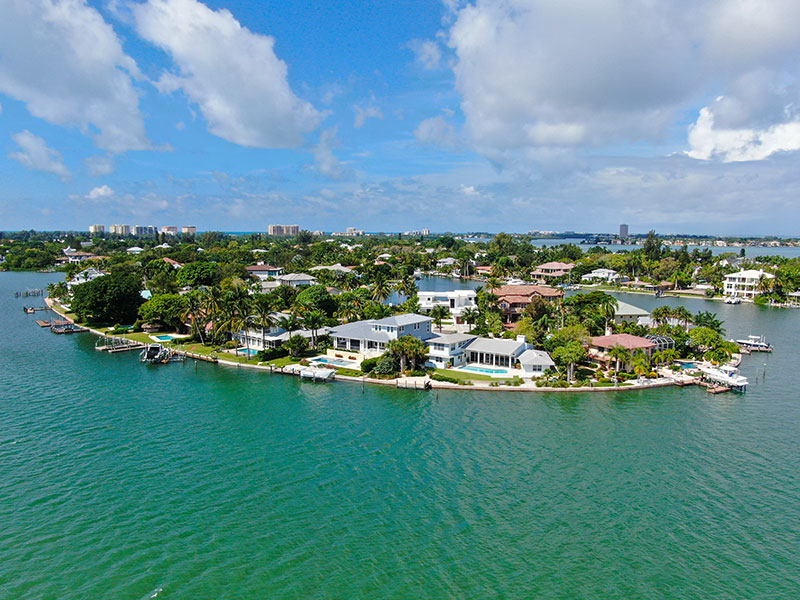 This barrier island has boomed suddenly as more and more people joined the work-from-home culture post the Covid-19 pandemic. Furthermore, some of the most affluent families and individuals (the world-famous Michael Kors, for example) have also started buying houses here for their vacation retreat. No wonder the home values have seen a record high these past few years.
Siesta Key
Siesta Key has a relaxed and family-oriented vibe. You'll always feel like you're on a vacation – thanks to the world-class beaches and a lively village restaurant scene. Did you know, Siesta Key Beach has been voted the No. 1 beach in the entire United States?
The housing is relatively affordable. However, the home prices vary hugely according to the type of house and location you want. For example, a one-bedroom beachfront condo may cost you $400,000, while a waterfront mansion price can go as high as $10.5 million.
Gulf Gate Estates
If you're looking for tranquility and convenience, this friendly and safe neighborhood is for you. It's loved by its residents. You'll find young professionals, singles, active retirees, and families charmed by this place.
And, most of the houses are affordable despite being close to Siesta Key, trendy shops, restaurants, pubs, and yoga studios.
Last thoughts
Located south of the Tampa Bay area, Sarasota is a bustling cultural and business center today. Fortunately, it retains its old-world charm. An eclectic community, stunning beaches, and vintage houses make this place a joy to settle down with your family.
If you're planning to live in Sarasota, one of the loveliest beach towns in the U.S., we hope this guide on the best neighborhoods in Sarasota will help you find your dream home.
Some of the best neighborhoods in Sarasota for families
was last modified:
November 29th, 2022
by
Recommended