Planting colorful flowers and green foliage are the easiest ways to enhance your home's curb appeal. If you're an avid gardener who loves growing things in your yard, we have some of the best plants for curb appeal that are easy enough to maintain. They add an instant charm to your façade with their pops of color and beautiful green leaves. The idea is to mix annuals, perennials, and shrubs to ensure year-round interest.
Boosting curb appeal becomes even more crucial when you're planning to sell your home. These plants add considerable value to your property in the eyes of prospective buyers. And, who doesn't love a beautiful yard with bright flowers and vivid foliage?
Growing these plants is the simplest and the most inexpensive way to add instant appeal to your façade.
The best way to identify the plants that will grow well in your area is to make use of the USDA hardiness zone website and enter your zip code. It will determine your zone – helping you select the best plants for curb appeal in your specific area.
Having said that, there are some plants in general that are beautiful additions to a house. Let's list them down.
Colorful shrubs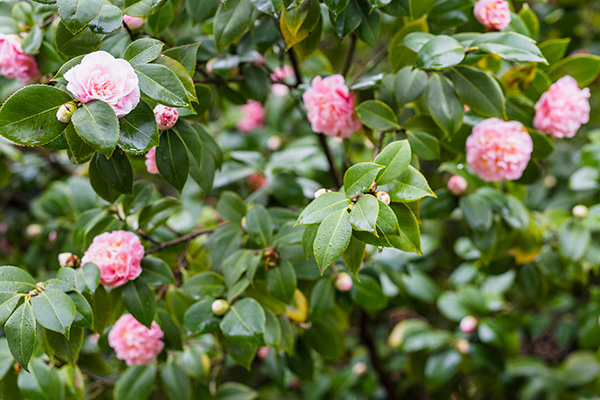 There's no doubt that flowering shrubs give your front yard lovely pops of colors besides making your property stand out.
Rhododendron: This flowering shrub grows best in areas of partial shade. The plant has different species – ranging from low ground covers to tall trees. You can identify the clustered beautiful flowers easily. The woody shrub usually has tubular-, funnel-, or bell-shaped flowers that may be yellow, purple, red, pink, or white.
Hydrangeas: This shrub produces fragrant blooms that resemble fluffy poms in blue, pink, purple, red, or white. The flowering shrub prefers filtered sunlight and moist, well-drained soil.
Knock out roses: When compared to typical tea roses, this rose variety is noted for its ease of care, extended blooming season, and greater disease resistance. The compact, fast-growing deciduous shrub can be grown alone or in groups.
Bougainvillea: Also known as paper flower, the shrub grows tiny, colorful flowers surrounded by bright bracts. Grow the plant in the front corner of your house and over time it will cover a good part of your yard with its beautiful green foliage and bright flowers.
Trumpet vine: This flowering vine blossoms with orange or scarlet flowers. The plant is considered invasive in nature and can grow as high as forty feet.
Green showstoppers
If you're looking for foundation plants that are perfect visual showstoppers for your yard, you should consider the following plants.
Aruncus dioicus: These are also called goatsbeard or bride's feathers due to the tiny, cream-colored flowers that grow in feathery spikes. The attention-grabbing plant can grow as high as six feet tall.
Littleleaf boxwood: If planted properly, boxwood shrubs can be drought-tolerant. They can grow in full sun or half shade. You can place potted boxwood on either side of your front door for a beautiful entrance display. Boxwood shrubs are much easier to maintain than seasonal annuals.
Osmundastrum cinnamomeum or cinnamon fern: This non-flowering plant is known for its long, beautiful green fronds. Given the right soil and care, it can grow up to 2 to 3 feet tall and wide.
Ilex glabra or inkberry: This evergreen shrub in the holly family is very easy to grow and works well as border plantings. It has glossy, sparingly-toothed leathery foliage that's great for your curb appeal.
Chionanthus virginicus or fringe tree: The plant is so called because of its cascading white flowers, resembling cottony clouds. Although it can grow in partial sun, it blooms best when planted in full sunlight. The small tree can be easily trained as a shrub.
Read more: Outstanding benefits of landscaping
Fast bloomers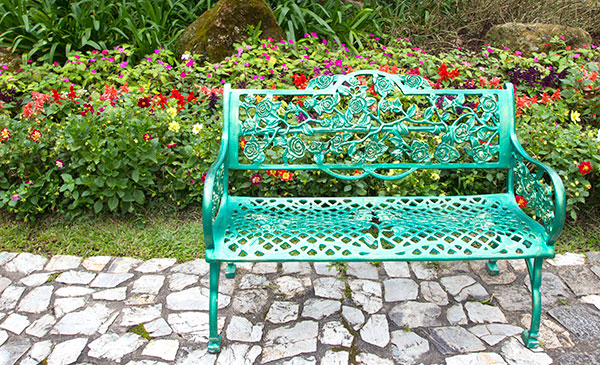 For an instant pop of color, you can consider these flower beds to create an array of colors throughout your yard.
Salvia indigo spires: You can spot the non-stop bloomer by its 12- to 15-inch-long spikes of dark violet or blue flowers. It starts to bloom from early summer all through fall.
Rudbeckia fulgida var. sullivantii or black-eyed Susan: The beautiful herbaceous perennial plant with yellow-orange flowers and bold purple-brown centers thrive in full sun.
Portulaca or moss rose: This low-growing plant looks best in containers or hanging pots. It especially suits patios and decks. The fleshy succulent leaves with red stems produce colorful cactus-like flowers in a variety of hues such as red, orange, yellow, purple, white, or pink flowers. It requires full sun and sandy soil to thrive.
Chrysanthemums or mums: The herbaceous perennial is easy to grow and blooms over many years. It grows anywhere between 6 inches tall to 2 feet. The plant grows in circular mounds in a variety of colors and flower styles. You can find mums in hues such as burgundy, lavender, orange, pink, or white.
Leucanthemum x superbum or Shasta daisy: This herbaceous perennial is known for its abundant floral display. The white flowers with golden yellow centers and dark green leaves can make your yard look like a cottage garden or a meadow.
Read more: Budget friendly landscaping projects
Low-maintenance plants to enhance curb appeal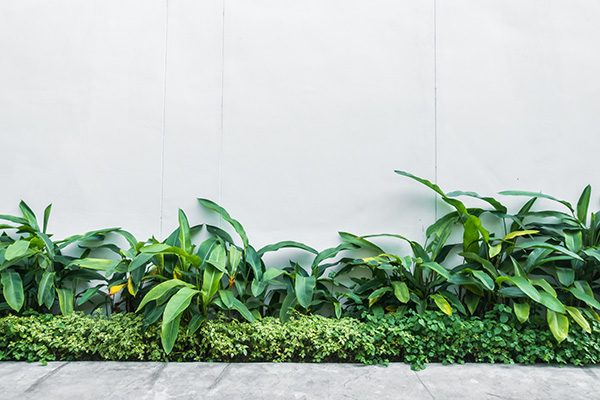 If you're a busy homeowner who isn't looking to take on a lot of gardening work and maintenance, these hardy plants will be easy to care for.
Ribes sanguineum pursh: The red-flowering currant is as hardy as it gets. Not only is the plant drought tolerant but also resistant to insects and pests. And, the bright flowers make your yard look absolutely spectacular.
Convallaria majalis or lily of the valley: This flowering plant might look delicate – thanks to the tiny white bell flowers – but it provides a tough groundcover for your yard. Plus, it's not prone to insect or disease problems.
Aloe barbadensis or aloe vera: Known mostly for its medicinal benefits, the succulent plant provides good greenery as well. The easy-to-maintain heat- and drought-resistant plant needs very little watering.
Variegated arboricola or variegated schefflera: There's something charming about this pretty plant with its bright yellow and green leaves. You can use the tropical plant as an accent, foundation planting, or in a garden bed. It grows well in both full sun or shade and doesn't require daily watering.
Read more: Easy maintenance evergreen bushes for your home
Last thoughts
If you're really passionate about plants and want to use them to beautify your living spaces, this list of some of the best plants for curb appeal will be perfect for you. When you grow the right kind of plants, you'll ensure a great front yard landscaping and a fantastic façade. There's no doubt that your yard will go a long way towards improving your home's beauty and value. And, if you're planning to sell your home in the near future, your beautiful yard will return your real estate investment manifold.
Read more: Best trees for the front yard
Best plants for curb appeal
was last modified:
October 14th, 2022
by
Recommended