A modern home garage is an extension of a house. It can house vehicles as well as store your tools and equipment. A home garage also doubles as your work area in doing any DIY project. Indeed, you can transform your home garage from a boring extension to a functional workstation.
Transform Your Home Garage
You can transform your home garage into a DIY workstation. There are factors you need to consider.
One, consider what the best tools to have in your home garage are. Since your garage has to be multifunctional, you should equip it with tools. The best tools to buy for your home garage include automotive, woodworking, electrical, and storage.
Two, you should ensure that your garage has proper lighting and a workbench. These two components are not tools, but they are essential in having a well-maintained garage.
Three, clean and organize your home garage. Remove the clutter. Install additional storage and cabinets.
Four, you can DIY the transformation or ask the help of an expert. Either way, the outcome is the same.
You get a multifunction home garage where you can do anything you want. Park your car. Create a woodwork project that you can use at home or sell online.
Now, it's time to discuss the tools and improvements in detail so you can begin transforming your home garage.
Read more: Turn garage into gym
1) Lighting and Workbench
Proper lighting helps you finish a DIY project in the fastest time possible. It aids you to find the tools you need or prevents accidents because of dim light.
The recommended light level depends on the kind of work you do most of the time. If your projects involve precision, you'll need to install lights that are brighter than regular lightings or simply purchase a LED work light..
Whether you use a workbench for machinery works or woodworking, a multifunction one is a great addition. A workbench keeps you organized while you work on a DIY project. Alternatively, you can have separate workbenches for machinery works and woodworking.
Whether you buy or make your workbench, quality is essential. An excellent workbench should be durable and multifunction. It can withstand a heavy pounding and can hold heavy tools.
2) Automotive Tools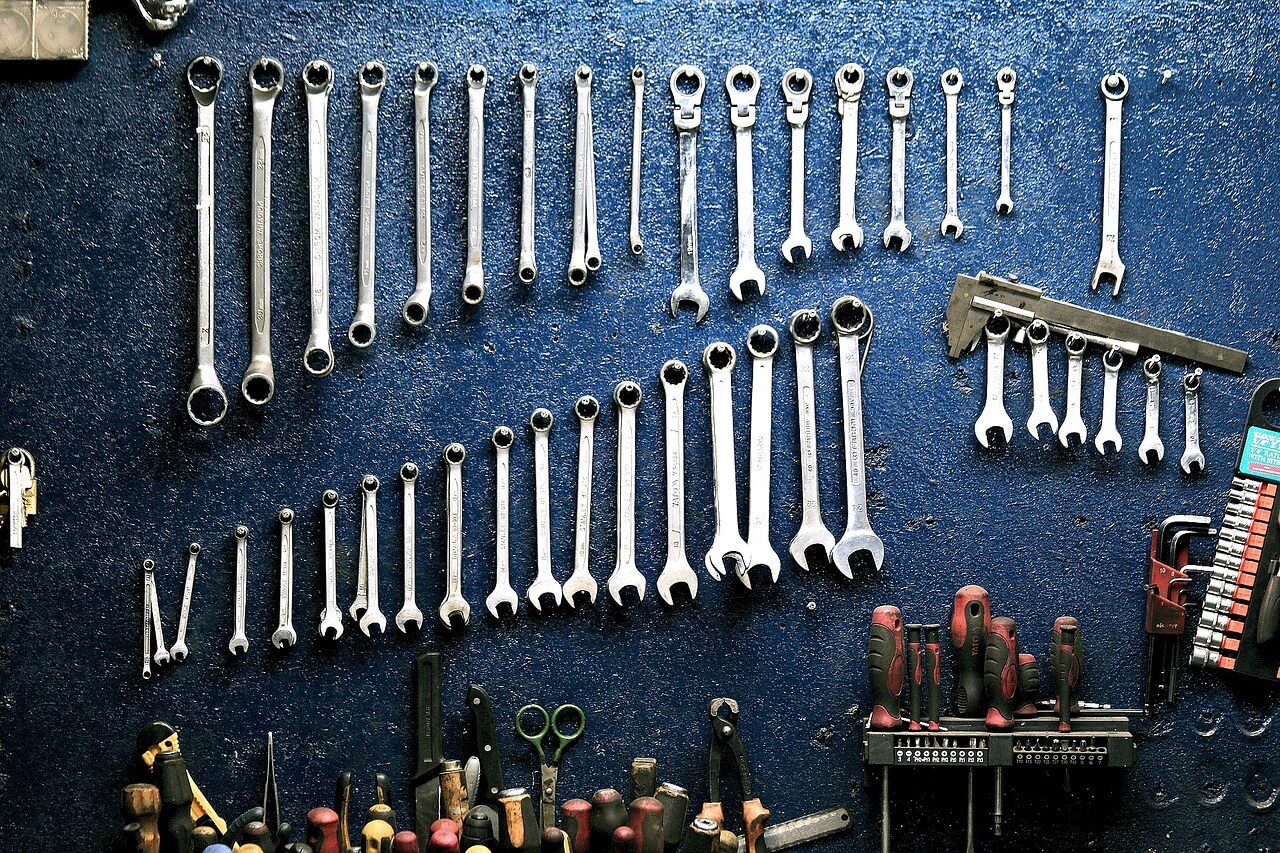 The primary objective of a home garage is to accommodate your vehicles. Sometime, you'll troubleshoot problems with your car rather than bring it to an auto shop. Troubleshooting vehicles require automotive tools.
The essential tools you need are screwdrivers, jack with stands, wrenches, pliers and a set of a ratchet. With these tools, you can fix any car problems without spending thousands of dollars on repairs.
Invest in a set of quality screwdrivers. Nowadays, you can buy a set of screwdrivers with different sizes at an affordable price. Having multiple sizes of screwdrivers makes an automotive job easier and faster than having one medium sized screwdriver.
Jack stand is an essential tool if you need to get under your car to repair something. A jack stand with a 2-ton rating is enough for a regular car. However, if you're using a pick-up truck, you'd need a pair to lift one corner.
3) Woodworking Tools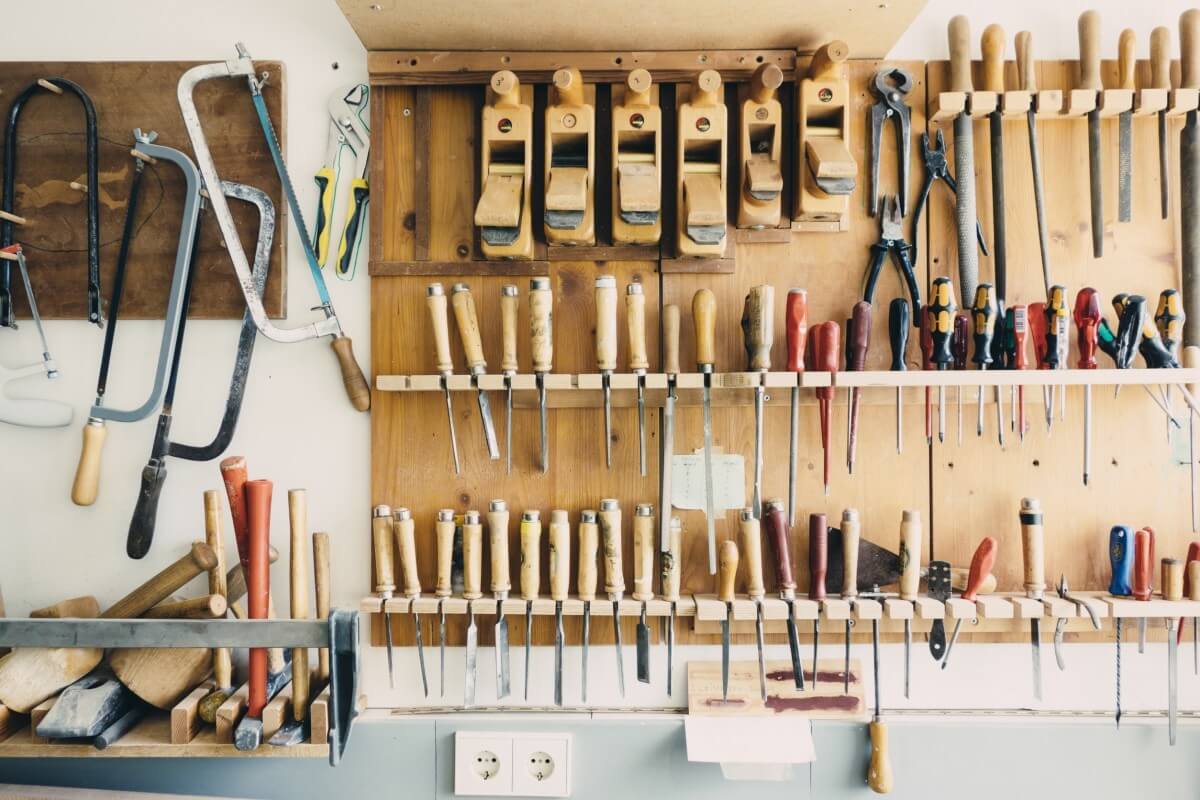 Pxhere
Many Americans love do-it-yourself projects in the comfort of their garage. Some people have a separate work shed apart from their home garage. But, if a different woodworking station is not practical, you can always use the extra space in your garage.
Equip your garage with woodworking tools for a fully functional workstation. Given the limited space, it's essential to have an organized workstation.
These woodworking tools depend on the projects you do. But the basic ones include clamps, saws, power drills, planers, chisel and mallet, and hammers. Another great addition to these tools is wood filler.
You'll need this filler to seal gaps for new woodworks and furniture repairs. An excellent wood filler doesn't crack and is paintable.
Read more: Handy tips to choose the best chop saw
4) Storage Boxes and Other Miscellaneous Tools
Storage boxes keep your tools organized. You can group your tools based on their function or their general category. This storage can be a built-in cabinet or a movable box.
For hand tools such as tin snips and screwdrivers, a movable box will do. Putting heavy tools in a built-in cabinet is more practical than storing them in a portable box. Built-in cabinets are sturdier and more durable than storage boxes.
Buy a sturdy pair of work gloves to protect your hands from scrapes and scratches. Two, toolboxes are still important. Even though you have movable storage or cabinet to store away your tools, a portable toolbox is necessary.
Read more: How to remove a stripped screw
Final Thoughts
Home garage transformation doesn't take a day. The first step is to clean and organize it. You can also DIY the transformation if you're not up to talking to strangers about your plans.
The second step is collecting those best tools for a functional workstation. It may take long before you can complete all the tools you need. The key to success is patience, lots of research, and consultation with friends or an expert.
Having the best tools for your home garage can be fulfilling. You get to create any DIY project. You get to fix house repairs immediately. Most importantly, you save money on repairs.
Read more: Your Woodworking Workshop – Not a Garage Anymore
Best Tools to Have in Your Home Garage
was last modified:
May 18th, 2022
by
Recommended