Having great under cabinet lighting will not just brighten up your kitchen, bathroom, or any workspace for that matter, but also offer functionality and style. Under-cabinet lighting, especially in a kitchen adds warmth, illuminates the countertops, and beautifully highlights your backsplash or kitchen cabinets.
Simply put, under cabinet lights provide task lighting just where you need it. The discreet light source allows you to turn off the bright overhead lights for the perfect dimmer and moodier ambiance.
Under-cabinet lighting can also provide accent lighting — it doesn't just enhance the way a room looks, it instantly improves the value of your home. If installed correctly, this type of lighting can make your living space shine.
Interestingly, under-cabinet lights are easy to install, and you can choose from a variety of options such as pucks, strips, or LED tape/rope lights. Keep in mind that these lights can either be a plug-in or connected through direct wire lighting. Also, they may run on batteries.
Home Renovation Cost Estimator
Sorry, we currently don't have that project at our disposal.
---
You can take a look at our most popular ones:
Water Heater Installation
Exterior Door Replacement
Install Recessed Lighting
Exterior Door Installation
Interior Door Installation
Interior Door Replacement
3 Popular under cabinet lighting ideas
1. Light bars
Under-cabinet light bars provide an even, bright, uniform light — perfect for all your kitchen tasks. You may link the sleek lights together using connectors. This way, you can conveniently operate your entire lighting system on the same switch or dimmer.
2. Puck lights
Puck lights offer a more targeted illumination. You can place the adjustable lights strategically throughout the room. If you're looking for a dramatic ambiance in your space, cabinet puck lights are your best bet. You can put battery-powered models in your pantries, cupboards, closets, and bookcases.
3. Tape lights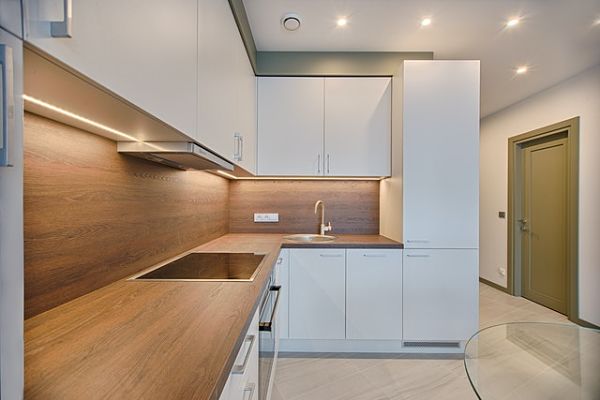 Tape lights, aka strip or rope lights, are an affordable, easy-to-install lighting option. They work really well as runners along the entire length of your under-cabinets. The low-level light source will help you find your way in the dark and beautifully reinforce the overhead lighting scheme.
Moreover, you can easily cut them to the size you want. Simply adhere them to the underside of the kitchen cabinets and the installation is complete!
Now that we've explored some under cabinet lighting ideas, it's time to execute them through the different light sources used for such illumination.
Types of light bulbs
LED under cabinet lights
Thanks to advancements in lighting technology, we've got energy-saving LEDs. They have a slim profile, good dimming capabilities, and stay cool to touch. More importantly, they offer low operating costs, energy efficiency, and lasts really long. Did you know, the average life of an LED is 50,000 hours? For best under cabinet lighting and illumination, you should use undercabinet LEDs that put out at least 400 lumens per foot. 500 lumens is even better!
Xenon bulbs
These light bulbs offer the bright and warm illumination of incandescent bulbs. Plus, the boost from xenon gas helps intensify the light and prolongs the bulb's life. No wonder, they're one of the most popular incandescent under cabinet lights. They are available in both linear as well as puck form. Also, in hard-wire and plug-in varieties.
CFL and fluorescent lights
Fluorescent lights are extremely energy efficient and give out a cool, greenish-blue hue. The best part is, they are long-lasting and low heat.
How to plan your under cabinet lighting?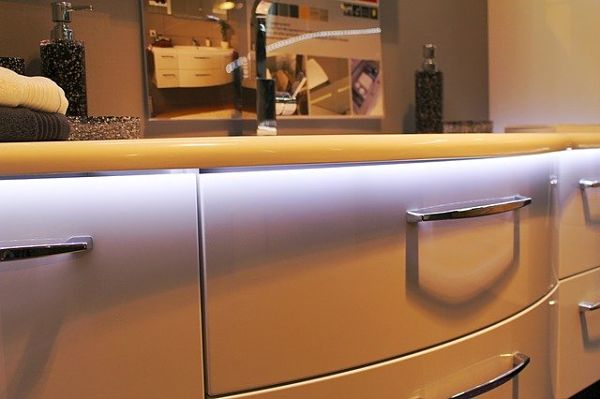 Want more help zeroing-in on the most convenient types of under cabinet lighting ideas for your space? Here are some factors to keep in mind:
Decide on the power source for your lighting. You could choose under cabinet lighting that's a plug-in, direct wire, or battery-operated.
Note that you'll need a transformer to step down the high 120V voltage into a lower 12V or 24V voltage for your under cabinet lighting. It's usually installed inside the cabinet or along the circuit.
Keep in mind that you might need fixture lenses. They create a uniform light distribution and minimize bright reflections on the counter as well as reducing glare.
Make sure the light fixtures you choose are shallow enough to stay well-hidden on the underside of your cabinets.
To hide your cables, it's a good idea to install your lighting at the back of your cabinets — right up against your kitchen wall.
One of the easiest ways to hide unsightly under-cabinet cords and wires is by using a cable protector.
Choose a finish that resembles your upper cabinets closely.
Go for under-cabinet lighting with motion sensors if energy saving is a priority with you.
Consider using dimmers to control your under cabinet lighting. Make sure you consult a professional light installer. Some LED lighting may not be compatible with every kind of dimmer.
Last words
Installing under-cabinet lighting correctly is important. Not only does it help you see the task at hand clearly but also gives a unique style and feel to your space. A great lighting design adds a lovely glow to focus light where it's most needed — keeping your work surfaces out of the shadows.
All in all, under cabinet lighting helps you to promote a safe space, is gentle on the eyes, and eliminates glare.
So, go ahead and utilize these under cabinet ideas. Add beautiful as well as practical illumination to your kitchen, office, or any other room.
Read more: Basic kitchen lighting types for your renovation
Looking for the Best Under Cabinet Lighting Ideas?
was last modified:
May 30th, 2022
by
Recommended