Want to install the best wood flooring in your home? Wise decision. A great hardwood flooring is timeless — the unspoken gold standard for floor coverings across the world. No other flooring material offers the kind of versatility and style that hardwood does. It has an unmatched natural beauty that goes with any house design — be it modern, traditional, rustic, or country.
So, which is the best wood flooring for your living space? Well, the selection depends on your individual preference, the type of room you want to be covered, the foot traffic or sunlight you expect in that room, the kind of wear and tear the floor will have to endure, and of course your remodeling budget.
Planning a renovation for your house? Try our free home remodel cost estimator; it's easy and convenient to use!
Keep in mind that while a wood flooring is a good choice for a family room, bedroom, living room, or a dining area, it's a complete no-no when it comes to a basement or a bathroom. Such spaces tend to be detrimental for even the best wood flooring due to the presence of high moisture.
Whichever type of wood flooring you choose, know that flooring is a huge investment as it's an expensive home improvement project to undertake. Moreover, a good floor will add to the return on investment (ROI) of your property. Needless to say, it's important to find the perfect fit.
And, this is where we come in to help. Instead of letting you be overwhelmed by the endless choices out there, we are listing out the best wood flooring options for you. From solid and engineered wood flooring, to cork and bamboo flooring — you can choose the one that suits you and your home the most.
Best wood flooring options
1. Solid hardwood
As the name suggests, such flooring is created by using the entire strip of wood as one whole piece directly from a tree. Available in both pre-finished or unfinished pieces, these long strips of wood are nailed into a wood subfloor. The flooring is durable and hence ideal for rooms with heavy foot traffic.
Usually, their thickness ranges from 5/16 to ¾ inches and they can be 2 ¼ to 5 inches wide. The floor can be sanded and refinished up to two times and needs regular sealing for lasting performance. It's best suited for installations at or above ground level.
The downside is that such a floor reacts to fluctuations in temperature and humidity levels — expanding and contracting as moisture levels change. Needless to say, solid wood flooring needs to be properly installed to prevent any sort of buckling or gapping. It's best to hire a professional for the installation.
If you like the idea of solid wood flooring, it's best to look at several different varieties in terms of wood species, patterns, and wood grains. Here are some of your options:
The classically beautiful grain pattern of an oak flooring resembles dancing flames with lovely curves. You can find white oak (light brown to off-white with hints of pink or gray) or red oak (with a strong, reddish tint). While the former is more durable, the latter is more likely to absorb shocks.
You have two choices here: southern yellow pine (from orange and light yellow to yellow and brown) and heart pine or blue pine (yellow with occasional bluish-black sap stains). Both are known for their lovely knotty grains.
Read more: Pros and cons pine flooring
The wavy or curly flooring has an even, medium texture. You can find it with red-brown, white, or yellow tints — depending on whether you're opting for the heartwood or sapwood. This kind of stable flooring is known for its shock-absorbing quality.
This type of wood is usually used for accents and borders rather than the entire floor. The moderately hard surface creates a luxury decor feel. The heartwood of the wood species is a stunning red-brown while the sapwood is typically pale to light brown with an almost pink tint.
Maple has a fine, light pattern and is available in a wide range of colors. From a creamy or pale white to reddish-brown — you can choose the hue that looks the best to you. Due to the light grain, such flooring has a subtle overall appearance.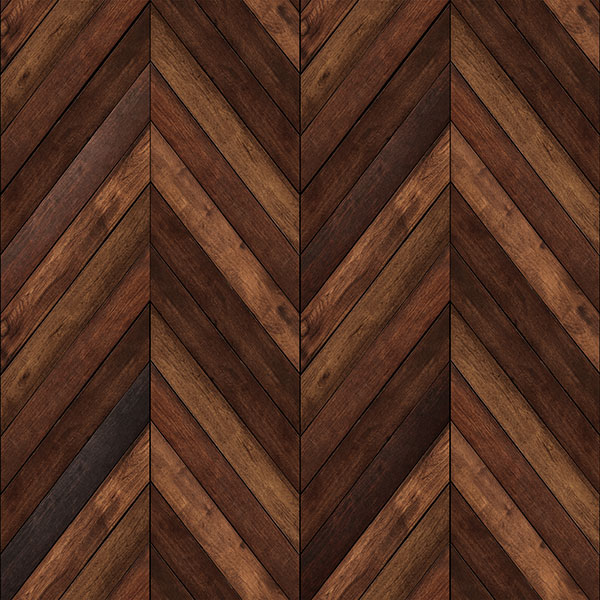 Walnut wood looks as if someone painted long, straight brush strokes with beautiful shades of brown to almost purple hues.
There are more exotic hardwoods such as African padauk (a durable flooring material that darkens beautifully over time, Merbau (a lustrous wood species with golden yellow streaks and straight, interlocked, or wavy grain), Australian cypress (the hardwood that ranges from cream, honey-gold, to brown and has a knotty texture), or the Thai/ Burmese teak that becomes richer in color when exposed to the sun (unlike other hardwoods that often experience sun bleaching). You can recognize it by its inconsistent texture.
Do you want to have all your facts straight for your upcoming renovation process? Take a look at our ultimate guide on home remodeling.
The fact of the matter is that every wood species are gorgeous in their own way.
Read more: Walnut flooring
2. Engineered hardwood
An engineered hardwood flooring uses just a veneer of real wood glued to several layers of plywood. So, basically, it's not real wood throughout. It mimics the look of solid hardwood and has a much lower upfront cost. Since only the top layer is visible, a thin solid wood layer is used here while the less expensive woods make up the core layers. This keeps the cost down significantly.
The layers of wood are fused together with heat, glue, and pressure. Such a cross-ply construction alternates layers. As a result, each layer expands and contracts in different directions — showing very little to no visible change. Due to this design, engineered wood has excellent stability– a good choice for any area of your house, including below-grade basements.
Furthermore, even the installation is easy with the wide planks clicking together perfectly. It's easy to install such material on all floor levels of the house. You can also choose to install it over wood or concrete. Usually, engineered wood comes in pre-finished versions as well as on-site finishes.
3. Bamboo flooring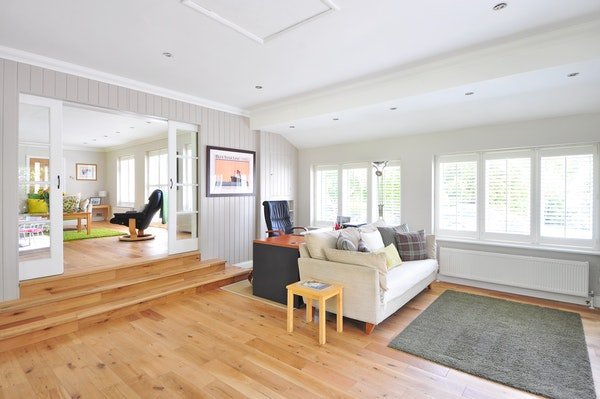 This type of wood flooring is durable and quite easy to maintain. Furthermore, it has a lower upfront cost than a solid wood floor. Contrary to what most homeowners think bamboo flooring is available in a variety of shades as well as styles. And, it can be easily stained.
There are three-floor styles to choose from: vertical, horizontal, and stand-woven. In a vertical bamboo floor, the stalks are vertically fused. The consistent linear lines give off modern vibes. In the case of the horizontal bamboo floor, the alternating bamboo layers are fused together. Here, the growth joints are clearly visible — giving the floor an all-natural look.
The strand-woven floor uses shredded bamboo fibers that are compressed to look like hardwood. It's a durable flooring material but the most expensive one compared to the other two.
Read more: What brush to use for staining wood
4. Cork flooring
Want flooring that gently cradles your feet with every step? Cork flooring is your go-to solution. Warm underfoot and a comfortable feel — what more could you want from your floor, right? The soft floor keeps in the warmth — due to the millions of tiny air bubbles in the cork. The bubbles also help in absorbing sounds.
All in all, such flooring is durable and plush. It has a glue-free click installation that's super easy. And, the floor is easy to maintain too. The eco-friendly flooring (cork oak trees are not cut, their outer bark is harvested) is available in a variety of colors.
5. Parquet or solid hardwood tiles
Parquet tiles are a kind of hardwood parquet flooring that are quite unique too look at. The tiles are not placed in the same direction — giving the floor a geometric design and a lovely pattern in the rich wood outlay.
Generally smaller in size than regular hardwood boards, these decorative tiles add a beautifully textured look to rooms. Moreover, they are available in a wide variety of wood types and colors. The most commonly available varieties include square foot tiles with square edges.
The installation is a typically glue-down one.
6. Reclaimed or recycled wood
If keeping a tight budget while wanting the real thing is a priority with you, you can think of an alternative in the form of reclaimed hardwood flooring.
This type of flooring looks perfect in a rustic or a farm-style house. The flooring will most likely show signs of wear and age, but it will come within your planned budget. Usually, it will cost you about half of what it would cost for a new solid wood flooring. Salvage flooring (because it's found in salvage yards!) is a good choice if you're renovating an older house.
7. Laminate flooring

While laminate flooring is not your typical wood flooring, we'd like to include it in our list here. The reason is that it's a great alternative for those looking for a wood-like feel in their house. It's especially a good choice for modern home dwellers who live in rentals or have small children.
Laminate flooring is inexpensive, tough, and extremely easy to keep clean due to the presence of a clear-plastic protective layer. You also don't have a high risk of water damage. And, it's less prone to sun damage, scratching, and staining. So many advantages! However, it's NOT wood. So, you can't expect the same unique grain variants and color evolution of a solid hardwood flooring.
Since it cannot be sanded like wood, once its top layer has worn out you'll have to replace the flooring altogether.
Take a look at these Top Flooring Trends for this year!
Conclusion
So, you're thinking about getting a wood floor for your house? Or, are you looking for a natural, easy-to-maintain flooring option? A great wood floor is durable, beautiful, and long-lasting. But, which of them all is the best wood flooring for you?
We understand that with so many available choices, finding the best hardwood flooring can be overwhelming. That's why our guide will help you choose the most suitable wood flooring that can stand the test of time.
Read more: Hardwood Floor Care Tips and Tricks
7 Best Wood Flooring Options for Your Home
was last modified:
September 16th, 2022
by
Recommended