Cool black and white aesthetic tips for you
Black and white aesthetics when you're decorating your home can have a stunning and dramatic effect. Want to know how to best use this color scheme to maximize your decorating style? Stay tuned in for some great black and white aesthetic tips for your entire home.
There's no doubt that a black and white color palette is timeless and classic. You can embrace the colors for your walls, wallpapers, rooms, floorings, or even ceilings as long as you have sufficient natural light in the room.
And, you get endless possibilities for your living area — whether you want your home décor to be subdued or statement-making bold. Or, want aesthetic grunge, edgy vibe! While other color selections may change according to seasons, trends, or tastes, black and white themes remain in vogue.
Black and white is a truly endearing color combo. It's hip, sophisticated, and works well with almost any style of the house, including French Country and Scandinavian home design. Having said that, the two-color combination looks best in contemporary-style kitchen layouts, spa-like bathrooms, and living rooms.
The magic of monochrome interiors cannot be denied, and you're guaranteed to fall for these black and white aesthetic spaces. So here are some aesthetic black and white interior design tips for your home.
Living room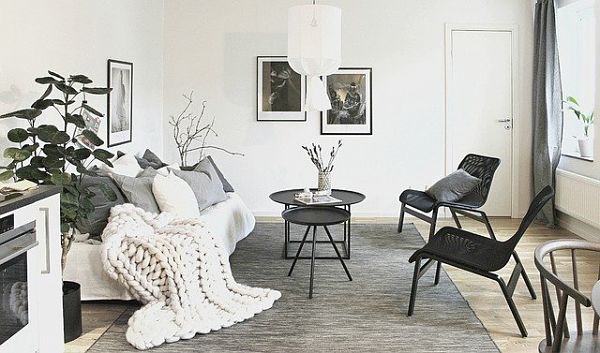 Keep the wall paint color white and incorporate black in your home decor accessories, trims, or in one bold piece of furniture. The extra drama and spark will help catch the eye and sharpen your decorating scheme. Moreover, you can use the color combo to create an outline that sets off specific areas or objects.
Paint the walls stark white or a soft ivory white. Use it as a perfect background to display your black-framed photographs, prints, or wall art. Be sure to choose stark black and white matting for your artwork.
For a contemporary interior, try to team up black and white with sleek metals — perhaps in a unique light fixture or wall decor.
Dining room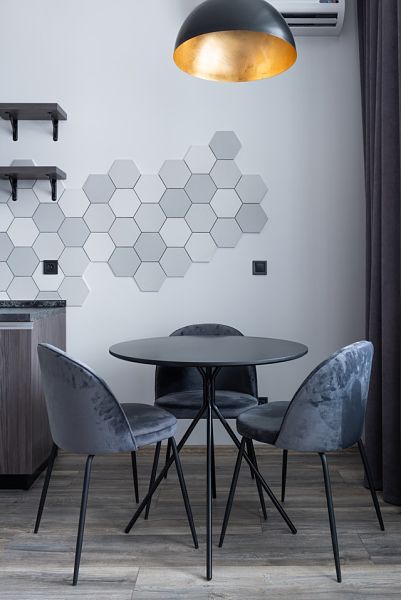 Add accent pieces of black iron throughout the dining area. For example, you can hang a collection of black metal trays on the dining room wall.
Create a striking table setting. You can use a black and white theme when choosing your dinner plates, serving bowls, and table mats. Keep in mind that all white or all black works well too.
Or, choose white china with black table linen and accessory pieces.
Hang industrial black pendant lights over your dining table for a chic look.
Use a black metal dining table base with a glass top, and beautiful black iron candlesticks.
Read more: Guide for a modern dining room design
Kitchen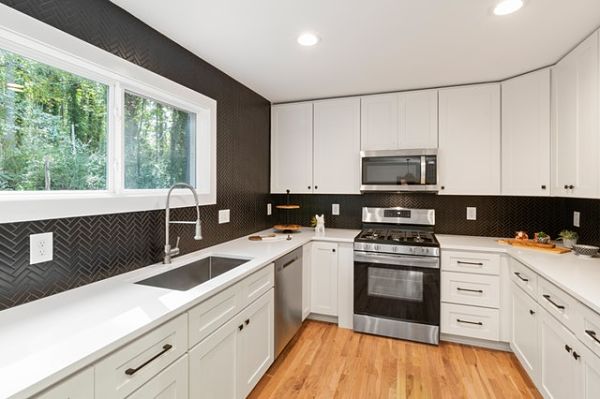 Bathroom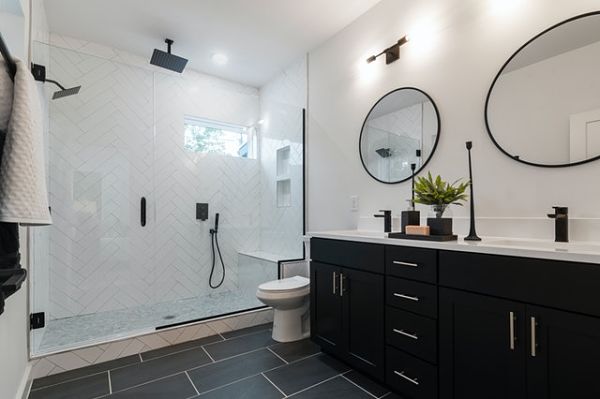 A black and white color scheme is a good choice for a powder room or a small bathroom. The space looks elegant with a black marble countertop, white bathroom sink, dark trim, and black bathroom fixtures.
Accessorize with shiny gold hardware, a dark towel rack, and some lush white terry towels with black ribbons or braid patterns. These will lend a custom look to your bathroom without much work.
Bedrooms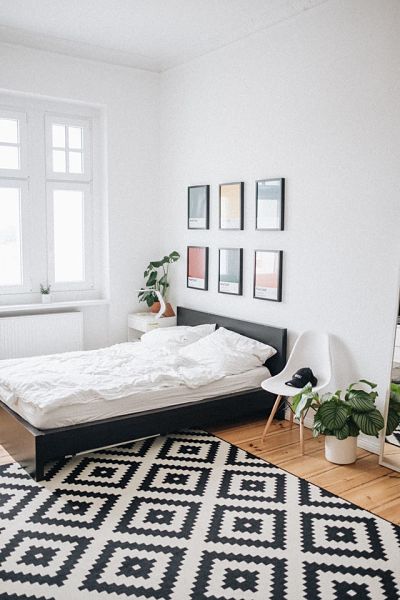 Use crisp white bed linen, perhaps with a black and white striped bed skirt, white pillows, and cozy black bedroom furniture.
Make sure the room curtains and other furnishings have touches of black.
Add a unique look to the room with black lamps, table trims, charcoal-colored area rugs or carpet, black frame windows, and doors.
Utilize colorful artwork and shiny or matte finish metal accents.
If you use any of the rooms as a home office, a good idea is to keep black iron bookends on a white wooden desk. Or, vice versa.
Flooring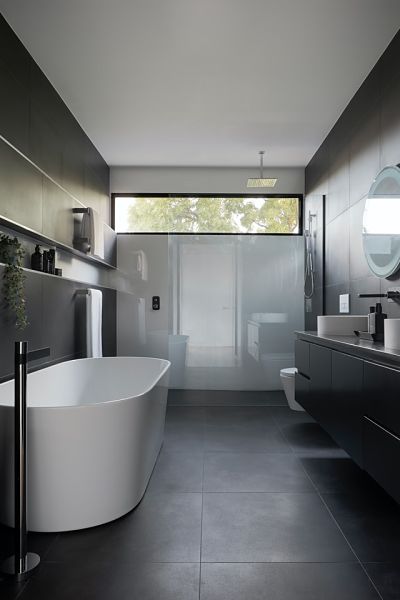 A black and white floor is a good option. If your home remodeling budget allows it, go for a beautiful black marble floor with tall white baseboard moldings. Or, you could try dark granite tiles or white ceramic tiles with a black border.
Yet another idea is to use vinyl tiles in alternating patterns of black and white squares or stripes.
Utilize a painted black floor with white border stencils or a white floor with black stencils.
Read more: Pastel color combinations
Last thoughts
The classic color combination of black and white makes any room — from bathrooms to bedrooms and living rooms — sophisticated, chic, and timeless.
Interior designers recommend achieving a balance in home decorating. And, a black-and-white combination is a perfect example when opposing elements create a balanced, stunning effect. The subtlety of white complements the bold drama of black details. All in all, black-and-white interiors are effortlessly chic. And, they rarely go out of style.
Read more: Green Christmas decorations
Cool black and white aesthetic tips for you
was last modified:
October 11th, 2022
by
Recommended