The bohemian design has always been synonymous with the idea of a free spirit, eclectic taste, and effortless fun. It's a casual chic look that incorporates rich colors and patterns, treasures and trinkets from memorable trips, and fabrics and styles of various eras and regions. It's all brought together under an artistic umbrella of your own expression that is indicative of your personality and preferences.
In a sea of choices, finding the most satisfying solution that balances between a laid-back and a perfectly styled space can turn out to be quite confusing and for a bohemian bedroom, it's essential that it represents a relaxing retreat and refuge from your daily worries.
Here are several ideas on how to decorate your dream bohemian bedroom.
Furniture and bedding
When choosing furniture pieces for your bedroom, consider getting a new, high-quality bed that will help you get a comfortable night's sleep. Make sure it's sturdy, well-built and possibly with a soft upholstered headboard that you can dress additionally with velvet or silk covers. If you opt for a four-post bed, use light and airy curtains or mandala printed sheets to create a romantic canopy.
The rest of the furniture, such as dressers, nightstands, and shelves can be rustic, vintage or with a Victorian or even Indian flair. They don't need to match and each of them will add a different texture, style, and color to your eclectic décor. Repurpose pieces such as old suitcases, wooden chairs or baskets as nightstands and give the room corners a cozy makeover – throw in several large silk, velvet, and plush pillows to create an inviting sitting nook.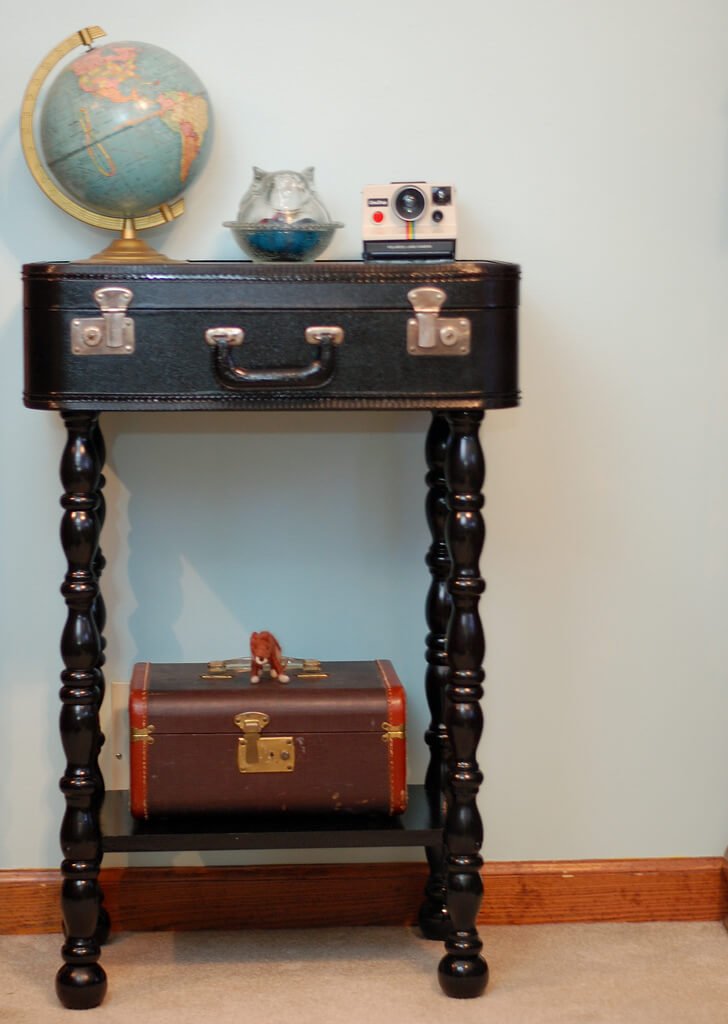 Photo by Stacie on flickr – www.starsforstreetlights.com [CC BY-SA 2.0]
Nothing speaks more bohemian than richly patterned textiles and bedding. Make your bed a statement piece by covering it in fabrics with jewel tones and Oriental patterns, and add layers of color and texture with Persian rugs at the foot of the bed and a few Moroccan-inspired cushions with fringes and beads.
Photo by homestilo on flickr [CC BY 2.0]
Accessories
A nifty design trick is using accessories to dress up the room. For instance, make a collection of bohemian decorations from all over the world and each piece will give the room another layer of meaning.
Read more: Creating A Bohemian Bedroom By Releasing Your Inner Artist
Photo by designmilk on flickr [CC BY-SA 2.0]
Start by adding small potted plants, cacti, and succulents on your dresser, bookshelves or in a hanging basket. Enrich your bookcases with accent pieces, maps, globes, and vases from your travels. Frequent the local flea markets and thrift stores and look for unique pieces of artwork, sculptures, and painting to enliven your space.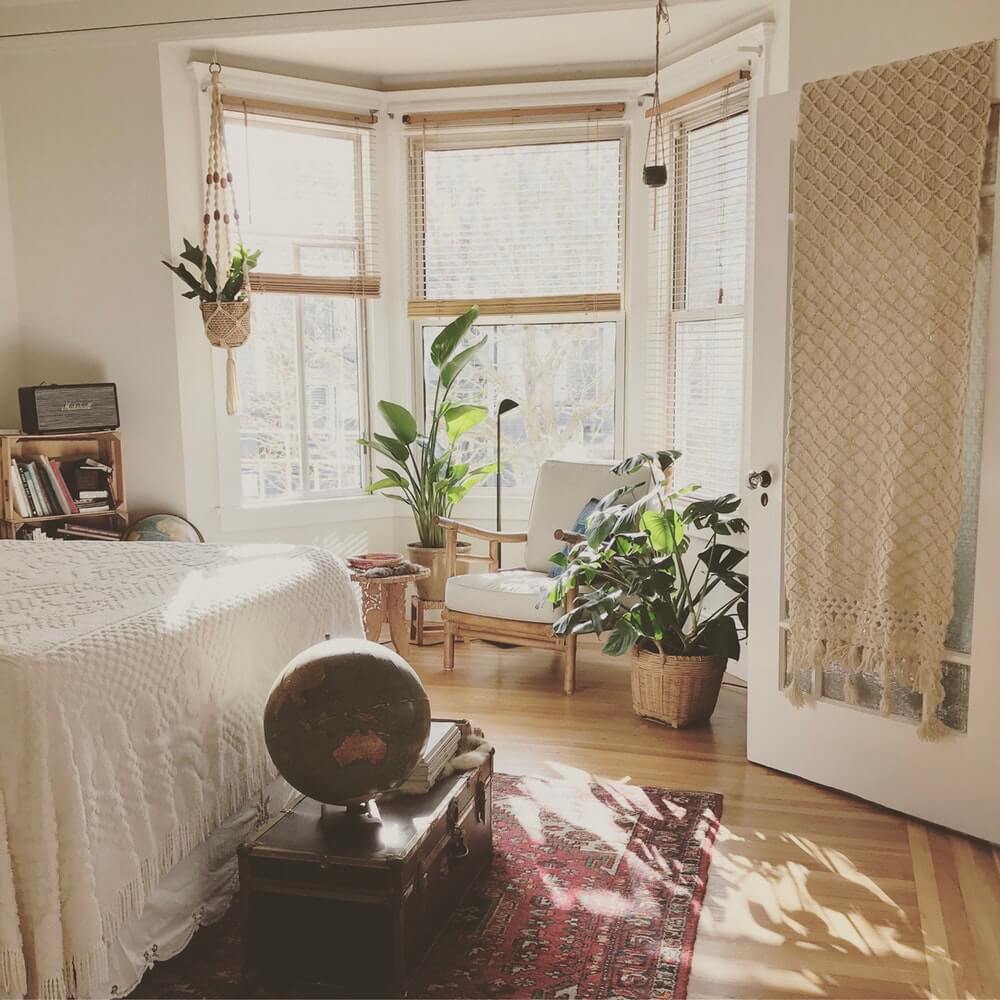 Photo by Timothy Buck on unsplash
Lighting is a strong decorating tool that can instantly transform a room giving it a touch of magic and romance. Add soft light from string lights around your bed frame, clustered paper lanterns hanging from the ceiling and candles on your dresser. If you lack outlets for all the illumination you desire, consider hiring a reliable electrician, who will make sure you have a long-term solution and never have to encounter any safety hazards.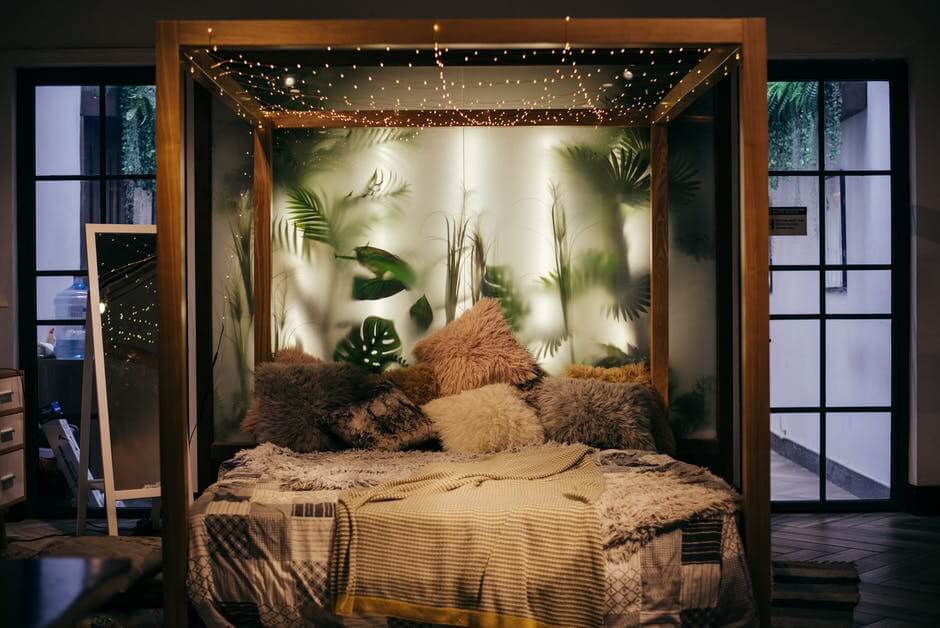 Pexels
Walls and floors
Bohemian bedrooms tend to be filled with bright colors, so it needs to be toned down with a neutral wall color, such as taupe, off-white, beige or cream. This will create a simple backdrop and a blank canvas for all the bold bohemian décor you introduce later, such as vibrant wallpaper for a feature wall, tapestries, earthy wall sculptures made of branches, wicker or yarn mixed with vintage Victorian mirrors or picture frames.
Finally, throw in eye-catching Persian or Moroccan area rugs to cover the floors and don't be afraid to mix and match smaller pieces together. They will create a true eclectic bohemian design.
When it comes to bohemian style decorating, anything goes. You can't have too much of anything and breaking the traditional design rules is more than welcome!
Read more: How Can I Transform A Simple Bedroom Into A Suite?
Bohemian Bedroom Decor Ideas to Help You Create a Relaxing Retreat
was last modified:
October 6th, 2019
by