Expert brick walkway maintenance tricks and tips
A lot of us homeowners are very keen on keeping the outdoor areas of our home as beautiful and well maintained as the interiors. This obviously means we invest a lot of time and money into landscaping our front and back yards.
A common feature that is a part of landscaping is incorporating walkways and driveways made of brick pavers. These walkways and driveways look beautiful and are sturdy.
With regular upkeep and maintenance, you could keep your paver walkway looking that way for decades. We spoke to landscaping experts and compiled what they felt are essential brick walkway maintenance tricks and tips.
While some of these are weekly maintenance activities, others can be done a couple of times a year.
Regular sweeping
This is a simple daily activity to keep your bricks pavers looking clean. Use a push broom or a regular broom for sweeping sand, mud, twigs, and other debris off the walkway.
Soil and organic debris from plants can get into the nooks and crannies, eventually staining the pavers if you leave them unattended.
Other than doing this on a daily basis, it is also a good idea to brush your walkway clean just before it rains. This will make cleaning easier after the rains stop.
Wash away the grime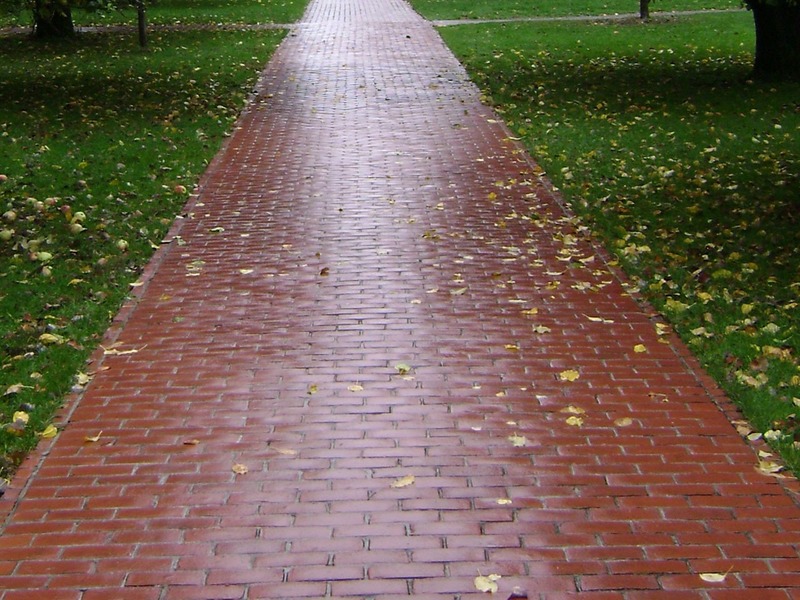 Once you're done sweeping the walkway, follow it up by washing away the grime using your garden hose. This way, not only will your pavers become cleaner, but you will also be clearing the debris away completely instead of letting it pile up at one corner of the walkway.
If you spot mold or moss in between the bricks, the easiest way to get rid of them is to clean them with a power washer. A power washer not only has enough force to remove the mold from difficult-to-reach surfaces, but you also won't have to worry about standing water on uneven surfaces.
Use a detergent
Every once in a while, give the bricks a thorough cleaning using a mild dish detergent and a bristle brush to remove any stains.
An alternative to detergents for washing your brick walkway is to use a cleaning solution of vinegar and water. However, be sure to use only white vinegar since darker shades of vinegar could stain the bricks.
Your brick driveway may have oil stains, and these won't wash away unless you use an oil remover.
Seal and reseal
Brick and stone pavers last a lot longer when you seal them up. Not only will they look new for longer, but it also makes cleaning them a lot easier.
You could either choose a non-film-forming paver sealant or a film-forming paver sealant depending on the look you want to go for.
Either way, keep in mind that it is essential to reseal the bricks and stone pavers once every two or three years.
Weed removal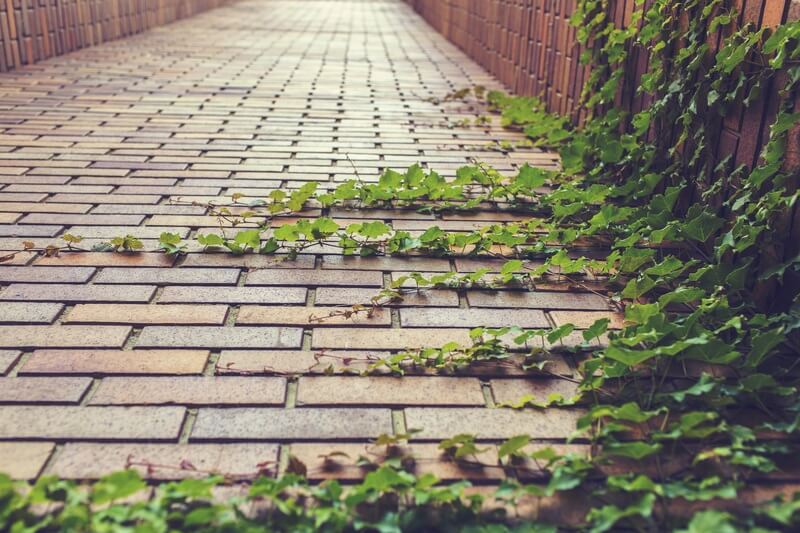 Weed growth in between bricks is inevitable and taking them out by hand, although painstaking, is the most effective way to prevent them from growing back quickly. Wetting the area will help make pulling the weed out easier.
Alternatively, you could use organic herbicides to do the job for you.
Replacing damaged bricks
The most difficult part of brick paver maintenance is replacing damaged bricks. This is also, however, extremely important, because broken bricks cause uneven surfaces which can lead to standing water, promote weed growth and even cause injury to children as well as pets.
You will need to procure replacement bricks, edging, and some filler sand.
Begin by preparing the subsoil so the new pavers are on the same level as the existing ones. Be sure to remove any weeds and other debris from the surroundings.
Place the brick in the correct spot and use the filler sand to fill up the space between the bricks. The edging will hold it in place until it sets, and you can finish it off using a sealant.
Read more: Cheap patio paver ideas
Expert brick walkway maintenance tricks and tips
was last modified:
October 31st, 2022
by
Recommended