Build Your Own House: 6 Steps to Take Before Work Begins
If you're planning on building your own home, there are many steps you'll need to take before construction begins. You may feel a strong temptation to take on the whole project yourself, but that's impossible. You first have to plan what needs to be done and gather your resources before jumping into such a huge project. The following are the 6 steps you must take before you begin working on building your dream home.
Plan Your Budget
The first thing you need to do is think about how much money you're willing to invest in such a huge project. How much can you really afford? How much is your new home likely to cost?
Unless you have a huge supply of money, you're likely going to have to take out a construction loan and mortgage. Knowing the estimated cost of your project allows you to modify your building plan as you go to meet your budget.
Choose Your Lot
The next most important task you need to complete is purchasing the lot where your new home will stand. To get an idea of how much a piece of land will cost, talk with a few realtors. There are exceptions to the rule, but typically you should expect that the land for your project will take up around 20 to 25 percent of the total cost. Before you even decide on a floor plan, you need to have your land. You and any professionals you hire will then need to investigate the condition of the land. You'll look at factors such as building, drainage, zoning, and soil condition codes in the region.
Read more: How to find the history of your home
Choose A Design Professional
You may have some idea of how you want your home to look when it's finished. However, you'll need the expertise of some professionals to draft a design that is both practical and close to what you envision.
Whether you're considering commercial contractors, an interior designer, or an architect, you want someone who can see and achieve your vision. Considering a commercial contractor is a good idea if you're planning on building the housing structure for other people. They'll do the actual building and can also help with the design of the structure. Interior designers can help you pick out materials, colors, furniture, and décor. Architects can help you create detailed floor plans and are typically familiar with permits.
No matter the professional you're interested in, always meet with them in person to ask questions and fully discern how their services will help you. Do the same with any construction contractors you hire.
Read more: What to look for in a general contractor
Create A Plan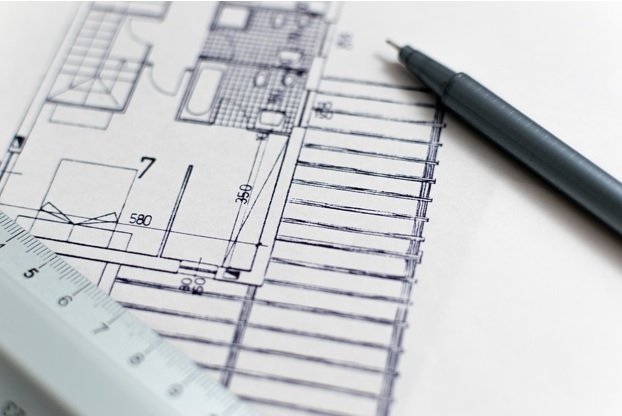 Pxhere
Once you've chosen who you want to design with, it's time to start planning. Your plans should contain a rough outline of your floor plan and some simple sketches of the exterior of the home if you want any additions. It will take your designers some time to work out this sketch. It will take you another week or so to verify that everything is the way you want it and to make any adjustments. If your project is larger, you should expect this phase to last several months.
Do Your Shopping Early
While your plans are being finalized, you won't just be sitting back and relaxing. You'll want to use this time to determine whether you want to hire a designer to help you select your materials.
The sheer amount of design factors and options out there can make even those who love to shop go crazy. You need to choose literally everything, from doorknobs to countertops to light fixtures and windows. Doing this before construction will keep you ahead of the curve and is the best time to enlist the help of an interior designer.
Get Your Permits
Getting your permits varies depending on your project and its location. For some, the process could only take a day. For others, it could take months or possibly years. Get an idea of how long this process will be for you so that you can determine a projected start date for your project. Keep in mind that permits can cost anywhere from a few hundred dollars to a few thousand.
Read more: Building permit process guide
Get Started!
While you wait for your permits and make your material selections, your contractor should be finishing up pricing and writing up a contract for construction. From there, you'll adjust your budget and planning to fit the construction and material costs. The more effort you put into preparation, the better the final result will be.
Build Your Own House: 6 Steps to Take Before Work Begins
was last modified:
May 19th, 2022
by
Recommended