Built-in wardrobes are a beautiful way to transition away from large and cluttered furniture. This wardrobe will likely replace a whole chest of drawers and dresser sets. This allows for more floor space in the bedroom. Ultimately, the built-in wardrobe offers useful hideaways, drawers, and hanger-space for daily necessities that, when left untamed, could easily lead to clutter.
In most cases, the built-in wardrobe is used in combination with a full closet. This allows you to keep the clothes that you need for daily dressing and grooming nearby in your wardrobe, and store your infrequently worn outfits and accessories in the closet.
Building a wardrobe that suits both parts of a couple is all about planning with the items you have. This is why, rather than diving right in and building shelving, we recommend that you sketch out a layout. This plan will help you make sure that your wardrobe has all the compartments, drawers, hangers, and cubbies to make life easier for both of you.
If your bedroom project goes beyond your closet, you can use our free estimator tool to figure out how much your bedroom remodel would cost!
Take Stock of the Items You Need to Store
In the early planning stage, it's important for the two of you to discuss what this storage space will be used for. Most built-in wardrobes house daily wear and daily accessories to simplify the morning routine. This is likely to include shirts, pants, underwear, shoes, belts, ties, and jewelry. Once you know its purpose, you can take stock of what will go in it.
In this process, consider broad categories, as opposed to specific items. The specifics may change from year to year, or even from season to season, but the storage needs will likely remain the same. Budget for the clothes or category of clothes and accessories that you will likely wear on a daily basis.
Another popular type of closet is the walk-in closet, are you interested in building one? Take a look at our guide on how to choose the right walk-in closet dimensions.
Brainstorm Your Favorite Storage Methods
Some people prefer to hang everything they own, while others prefer pull-out drawers for the majority of their wardrobe. Additionally, using open-faced cubbies and pullouts can allow you to store your larger items and accessories. Take some time to discuss with your partner which storage solutions you would prefer for your portion of the wardrobe.
Don't worry if the two of you don't perfectly match-in your preferences. This is normal, and the wardrobe's sections don't need to be a mirror image of each other. You can design each part of the wardrobe to work best for each person.
If you need further information in organization techniques, take a look at our guide on closet organization ideas to learn how to manage that space.
Decide Where the Wardrobe Will Go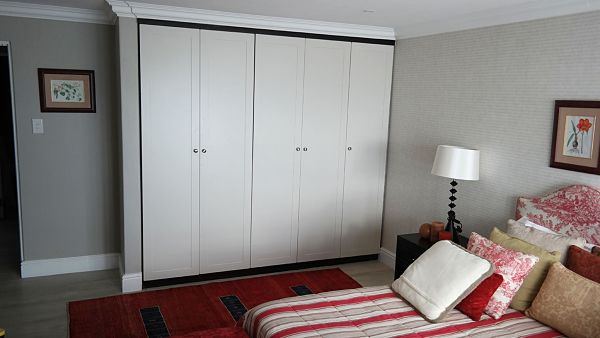 Depending on the bedroom, some couples will know exactly where they want to build their wardrobe. Others will find that they have two or more viable placement options, or you might find that you have even more difficulty in choosing an ideal spot.
If you're in the latter two groups, there are a few things to think about when it comes to placing the wardrobe, as well as a few tips for getting a little creative with where you build it.
Make sure there's enough space for you to comfortably stand in front of the wardrobe while dressing.
Try to keep it wide enough for both of you to stand in front of it at the same time.
If you have no perfect spaces, is there somewhere that you can wrap it around a window or other obstruction?
If you only have slim wall spaces in your room, use more vertical storage. Building from floor to ceiling will help it to fit.
A Place For Everything
Now that you've taken stock of what you have and how you prefer to store it, start designing the wardrobe space on paper, beginning with the hanging spaces.
Determine the height and length of the hanging spaces based on what you intend to put in it. Make sure to align the racks with your own height for easy access. If, for example, one of you is taller than the other, then the racks don't need to perfectly align. The modular design of the remaining drawers and cubbies will easily compensate for mismatched hanging space.
Most designs include a combination of the following kinds of storage spaces:
Hanging Space – Commonly used for hanging dress shirts, blouses, dresses, and skirts, as well as hanging racks for ties and belts.
Cubbies – Commonly used for folding pants, sweaters, bulky outerwear, and larger accessories, such as a briefcase or purse. Cubbies located at the top of the wardrobe are useful for more long-term storage, such as seasonal items.
Drawers – Drawers are often used to house the remainder of your clothes, including socks and underwear. Drawer dividers help to organize these spaces and offer compartments for smaller accessories. You can use a shallow drawer with square divider compartments for storing men's belts. Shallow, compartmentalized drawers are also helpful for holding jewelry.
Shoe Rack– Pull out shoe racks cut down on clutter and offer easy access to your favorite shoe rotation. If you're a couple with a large shoe collection, you might consider going vertical with your shoe storage, giving the shoes their own floor-to-ceiling space.
How Will It Close?
Being able to close off your wardrobe will help your room to appear neat and clean all the time. Sliding doors are the most common closures for built-in wardrobes. These doors are light-weight, easy to open, and are fitted into your space. Additionally, they can be decorated in any number of different styles to add character to your room. Or, you can conceal the doors entirely for a more minimalistic approach.
If you're not sold on a sliding door installation, one easy way to conceal the wardrobe space is to use long curtains that you can draw aside while dressing and then release once the morning routine is over.
This is primarily an aesthetic choice. Doors will enhance the minimalist feel of the room. Curtains, on the other hand, and particularly those made with bulkier fabrics, will add texture to the room.
Built-in wardrobes can be a great way to renovate your space for long-term decluttering. While some installations are more permanent than others, it's helpful to plan this space out for yourself to make sure that it fits all of you and your partner's needs for daily use.
Do you want more tips for your closet? Take a look at our guide of simple steps to achieve a dream closet. Simple, yet effective!
Designing a Built-in Wardrobe for Both Him and Her
was last modified:
May 27th, 2022
by
Recommended