Building permits are mandatory for homeowners who are contemplating remodeling (minor or major) that may entail increasing their property's footprint. Basically, the state and local authorities require these permits to ensure that you comply with all building codes. If you are planning a remodeling, the questions that you must ask yourself are: how much does a building permit cost and why is it essential?
The cost of a building permit can range anything between $440 and $7,500, averaging at $1,200. Of course, the amount varies from one state (and the local authority) to another. The cost is calculated on the basis of the zip code.
Also, it depends on the kind of home remodeling involved. In this article, let's explore building permits and their costs in more detail.
Why are building permits important?
Getting the correct building permits is not a matter of choice; it's a legal obligation. These documents define all the renovation work that you are planning on a new or existing property. They are like a formal approval by the concerned local agency, in keeping with all applicable laws.
It is to ensure that any new structure, or its modification, is in accordance with health and safety regulations. For instance, if there is improper electrical wiring, it may pose a fire hazard. To counter such issues; a permit verifies that your renovation plans are safe and up to code.
Permits are also necessary to ensure that a property is not encroaching beyond its defined boundaries in any way.
Once you acquire the permits, you will have agents visiting your construction site at intervals to approve the work and ensure that everything is going ahead as per your original plans. To say that building permits are necessary is an understatement. Without these, all your hard work, money, and efforts may go down the drain.
Building permit cost
As mentioned, permit costs may depend not only on your area, but also on the size of the project, the kind of project, and the scope of work.
Generally, most homeowners pay around $0.79 per square foot for new construction. If the property in question is a new, 1700 sq.ft. house, for instance, you will be paying a permit fee of $510 approximately.
Other add ons and repairs will be calculated based on the size and type of the job. On average, it might cost between $200 and $500.
Permits for small projects cost as little as $100, while a permit for major renovation costs as much as $7,500.
Acquiring permits is an unavoidable expense. Therefore, you must factor it into the total home renovation cost right before beginning the work — regardless of whether you're building a new house or extending a property.
Construction projects that require building permits
Before beginning any construction on your property, it's crucial to familiarize yourself with the requirements according to your state, county, city, or town. A few construction projects that require permits are:
Constructing a new building, e.g, a guest house, garage, or glass house.
Exterior construction work, such as permanent fencing, or altering the exterior appearance of your house.
Adding new rooms, a patio, or deck.
New windows
Renovation such as upgrading a kitchen or bathroom.
Moving load-bearing beams and walls.
Demolition of an existing structure.
Upgrading electrical panel, plumbing, or mechanical systems.
Types of building permits
Each town or city has its own building permits. Here is a list of some common permit types:
New construction: $0.79 per square foot
Green construction: $0.59 per square foot
Alterations and repairs: $200 to $500 (depending on the kind of work)
Demolition: beginning from $200
Occupation: $30+
Swimming Pool: $260+
Building permit cost factors
Your building permit cost depends on a lot of factors:
Jurisdictions, location (proximity to schools, for instance)

Nature of the project

The size as well as the quality of the new structure

Intended use of the new structure

The complexity level of the work involved (for instance, demolishing a property might cost more)

The number of permits required

The time it takes for building authority to evaluate the application

Inspection fees
How to get a building permit?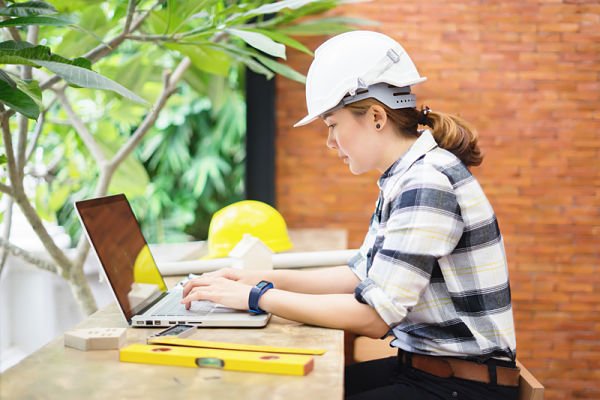 Pxhere
In order to get the relevant permits before you start work, a responsible homeowner needs to take a few steps:
Contact your local governing agency for the proper forms.

Talk to your general contractor to get a quote for the proposed project.

Take your contractor's help to determine which permits you require (he may even complete the paperwork for you).

Pay the required fees.

Wait till the permits are issued before beginning the work (the agency might reject your proposal or ask for alterations)

Start the project ONLY when you receive proper authorization.
Note that the duration of your construction must correspond to the timeline mentioned in the permit paperwork. You may also apply for extensions, usually at a rate of around $30 for each extension.
As the work gets complete, you might need to pay an inspection fee (to ensure it meets proper building codes) of $7. Once the structure passes the inspection, the permit is closed.
If you DO NOT acquire a building permit for your remodeling and the work gets reported, you may stand to pay a fine in excess of $500!
Are you still confused and uncertain about completing permit applications correctly? Fret not. You may want to employ a permit service. Such companies make your construction project easier by taking care of all the formalities and handling the permit application for you.
Read more: The Impact of COVID-19 on Remodeling and Construction Activities
Takeaways
Building permits are mandatory for new buildings as well as minor renovations.

Not getting the right one, before your construction starts, will mean a fine of at least $500 for you.

Building permits promote high standards and quality in the projects that relate to building and renovations.

They enforce health and safety measures.

Acquiring permits may cost $1,200 on an average — depending upon location, the number of permits, and complexity of work.

In case of doubt or uncertainty, a homeowner must take the help of a contractor, or employ a permit service.

This special service may add considerably to the building permit cost but might be worth the extra dollars.
Read more: When Do I Need A Building Permit For Renovations?
Building Permit Cost: Everything You Need to Know
was last modified:
May 24th, 2022
by
Recommended