Everything You Need to Know About the Building Permit Process
A building permit is essentially an approval from your local government agency — allowing you to go ahead with a construction or remodeling project on your property. It ensures that your project complies with local standards of safety for land use, zoning, and construction. If you're confused about the building permit process, don't worry. This guide will walk you through the process step by step.
The building permit process specifically addresses your house's structural integrity, zoning, sewer and sanitation, water lines, fire protection, and electrical work. Keep in mind that there are several types of permits — separate for residential and commercial constructions.
The processing time for permits varies depending on your geographical location, the type of permit requested, type of work to be done, complexity of the plan and the workload in the permit office. While some permits are issued immediately by the inspector, others requiring a plan review may take from 1 to 30 days.
Which home projects require a building permit?
Not all constructions require a building permit. Whether or not your home project needs a permit depends on your local building code.
Generally, the projects most likely to require a permit are ones that change the structure or usage of your house. Or, if your building has the potential to create an unsafe environment.
| Projects that require a building permit | Projects that may not require a building permit |
| --- | --- |
| Adding or removing load-bearing walls | Repainting the house |
| Changing the use of a room e.g. converting a garage into a living room | Adding/Replacing kitchen cabinets |
| Repiping your house | Replacing general kitchen appliances |
| Roof replacement | Repaving the driveway |
| Demolishing a portion of your house | Installing floor coverings |
| Changing or expanding roof lines | Installing a small fence |
In addition, you may need special system permits such as:
The best way to determine whether your project needs a permit or not is by consulting your city building and permit office.
Who arranges for the building permit?
It is customary for the contractor you hire to pull the necessary permits. After all, it's their responsibility to ensure that the construction follows proper code. Failing which, they can be held liable if there's a construction problem later.
Having said that, if your contractor is charging you by the hour, you may want to complete the permit paperwork and submit it yourself to save money. It's a good idea to keep the scope and complexity of your project in mind before deciding the best way to obtain a construction permit.
Building permit process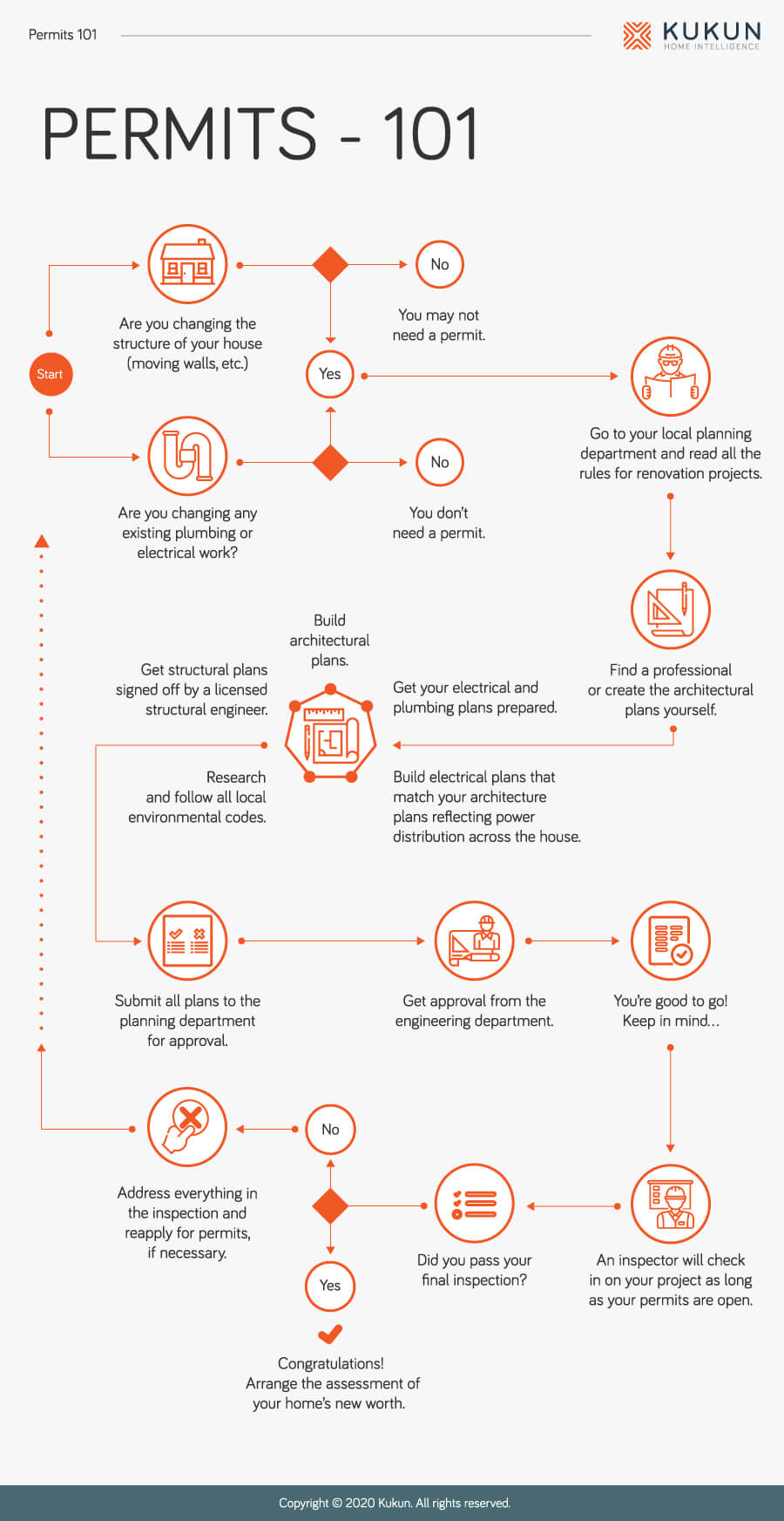 Even though the exact building permit process may vary from state to state, here are some typical steps to obtaining a permit:
1. Create your project plan
Decide the scope of your project, its total budget, and the expertise required. Do not shy away from hiring contractors or architects and/or engineers to plan complex projects. You may also need the services of a general contractor for new construction, rebuilding, or mitigation work.
Design planning is also important as it will reduce future risks from any natural hazards.
2. Have a pre-application meeting with local officials
Local code officials are the best people to advise you on how to make your project a success and avoid potential problems that could cost you time and money. They will tell you exactly which projects will require a permit, about additional local requirements and the documents required for your permit application.
3. Submit your building permit application
Before applying for a permit and submitting your building permit request, make sure that you have all the necessary forms, documents, and site plans ready. Give details regarding the building materials so that the review staff can understand your project easily.
4. Work with the officials on the permit review process
This is the time when the local code official will review your proposed project. They will determine if it's in compliance with the local building code and meets the zoning, environmental, and construction requirements. If it's a new or complex project, the building department will evaluate the design.
If your plan meets the requirements, your building permit will be approved. Otherwise, the local code official will identify issues that need to be addressed. Make the necessary corrections.
5. Obtain your building permit
With a permit in your possession, you now have legal permission to start your construction work in accordance with the laws and regulations.
There will be a permit fee based on the size of your project, the review, and the inspection process. Keep in mind that you will need separate permits for electrical, heating, plumbing, and air-conditioning work.
6. Schedule on-site inspections
As you continue your construction work, you will have to schedule inspections throughout the process to ensure that it conforms to the parameters. Your local code official will determine the number of inspections that your project will require. Your contractor must make sure that the inspection approvals are secured.
7. Get your final approval
Once the construction work is complete with proper code compliance, the official will provide you with an approval after a final inspection.
Can you skip the building permit?
The answer is a big NO. It's illegal (in violation with the Contractors License Law) not to obtain a building permit before beginning any construction work. If your project has to have a permit, GET a permit. Bypassing a building permit process can expose you to additional liability and costs. You may even be forced to deconstruct or tear out the completed work.
Furthermore, if and when you decide to sell your house, not having the necessary permits can come in the way of a house sale in a big way.
And, here's the most important reason for obtaining a building permit. If in the event of a fire, major plumbing issue, or structural collapse, it's found that you did not have proper permits, your homeowner's damage and liability policy will decline to cover your damages.
Last words
The most important step in any home improvement project is to procure the necessary building permit. Armed with the permits, you can avoid any structural failure, fire, or a major issue. And, if you decide to sell your house, the permit process continues to protect the future owners as well.
Remember that when it comes to safety, you cannot afford to do less than desired. Your safe building practices will protect you, your family, your home, and your neighborhood.
Read more: The Impact of COVID-19 on Remodeling and Construction Activities

Everything You Need to Know About the Building Permit Process
was last modified:
October 7th, 2022
by
Recommended