"I love taking out the trash", said no one ever! If there's one chore that we wish to get away with, from doing everyday, it's emptying out the trash. Unfortunately, it's an inevitable part of having a kitchen, owning a clean house. But, there's good news for householders. You can minimize your efforts and still maintain an immaculate kitchen. How? Simple, by bringing home the most underrated appliance of all. The superhero that deserves its due – a kitchen trash compactor!
What is a trash compactor?
A trash compactor is a utility appliance that uses compaction force through a metal ram to crush garbage into smaller and more manageable parts. It results in reducing the volume of household waste to almost 80%, thereby decreasing its impact on landfills and the environment.
The handy tool does most of the dirty job for you so that you don't have to deal with trash disposal on a daily basis. In fact, if you manage your garbage well, you can reduce this task to once a week. Does saving precious minutes mean more time in front of the TV, watching your favorite show? A few extra minutes of entertaining friends and family? You bet!
So if you're dillydallying whether to invest in one or not, don't! Just buy it. It's an indispensable part of our waste management, leading us towards a more sustainable environment. Let us help you choose the one that meets your requirements.
Factors To Consider Before Buying
1. Power of Trash Compactors
Read up on the power specs of the model you are thinking of buying. This is important. As mentioned above, trash compactors work by using ram force to reduce trash volume. So the more garbage you have, the more compressing you need.
Will you be crushing cans and bottles on a regular basis? If yes, then consider installing a powerful one with maximum compaction force. Think 5000 lbs of ram force for such a heavy-duty job. If your load isn't much, you may opt for 3000 lbs of continual power. Such a machine comes with a compaction ratio of 6-1. In simple terms, the trash is reduced to 1/6 of its volume. This means you'll make fewer trips to the garbage can if you install one in your kitchen. Fewer bags and lesser waste to dispose. Now, isn't that wonderful?
2. Size
Different trash compactors require different space to be installed. Generally, compactors range from 12 to 15 inches in width, from 34 1/8 to 35 inches in height, and from 24 to 24 ½ inches in depth. It goes without saying that it's important to accurately measure the available space in your home before you start shopping. It'll help you shortlist your choices and the final product will be more pleasing to the eyes. You don't want parts of it jutting out, do you? Nah.
Read more: Kitchen island with storage ideas
3. Types
If you peruse through the market today, you'll come across three basic types of trash compactors: freestanding, under-the-counter, and convertible.
A freestanding compactor will have a finished top that can be used as additional counter space. These are preferred when you want to create a flexible work station atop your compactor, for instance, combining it with a cutting board. Some companies will even customize it for you.
Under-the-counter compactor does not require a finished top and can be adjusted between cabinets, much like a dishwasher. It provides a clean-cut, built-in console look and hence is preferred more. Just be sure of the measurements of the space you have. If you've purchased trim kits to customize panels, the measure must include it as well.
A convertible compactor can be installed as either a freestanding or under-the-counter appliance. The choice lies with the homeowners.
4. Features
Trash compactors have more or less similar attributes but may vary in size and compacting ratio. Some differentiating features could be based on:
Capacity (1.4 to 1.55 cubic feet)
Controls (hidden or fully visible)
Sensors (anti-jam or tilt)
Opening systems (toe bar pedal or side release bins)
Odor absorption (air freshening or charcoal filters)
Noise level or insulation
Convenience (easy installation, wheels, drawers, easier bag replacement)
Looks: you may want to match your compactor with your cabinetry and other appliances. Black, white, stainless steel, or one with a wood panel – your choice.
Additional safety features: the presence of an alarm system in case of a malfunction or if the bin hasn't been loaded properly
Look up the specs of the models you're considering buying on the internet and compare each feature. You'll getter a much better idea once you're finished with the exercise.
Kitchen Trash Compactor Over The Years
Did you know? The first commercial trash compactor was patented by M.S. Wells in 1941. The machine was invented in order to make crushing oil cans easier. It was much later, in the 1970s, that John A. Boyd created a compactor for household trash using hydraulic pressure from a direct water supply. This compressed the garbage into a bundle, a process ideal for its easy disposal. In 1991, John Bauer made some more improvements to the design, creating separate compartments for the different kinds of trash, namely recyclable and non-recyclable.
With newer technologies and better waste-management techniques, the latest trash compactors handle dry and wet waste, have more capacity to store garbage (up to 80% more), and also control odor effectively. They keep your kitchen lean, clean, and smelling fresh. They are now sleeker, more efficient, and the best part is, noiseless.
Why Compactors?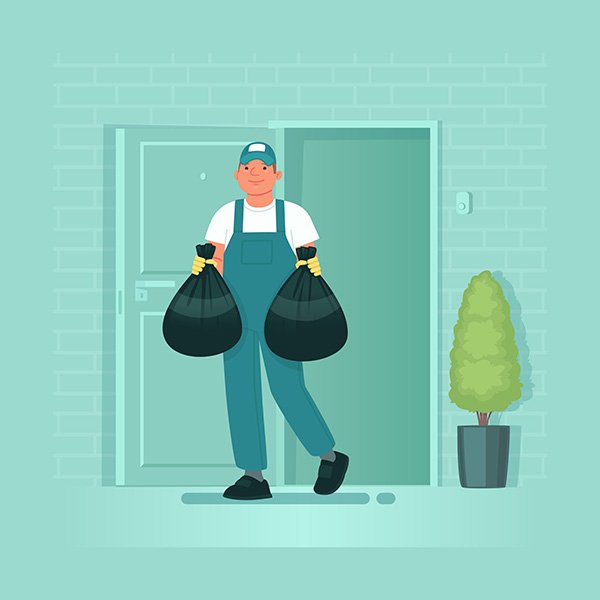 Trash compactors help increase the space in your kitchen by eliminating garbage that's conspicuous by its sheer bulk. They are also very useful for those who don't have daily trash pickup, or those who have to pay expensive surcharges for using multiple trash bags.
Some more benefits:
Compacted trash takes up less space in municipal dumps and landfills, reducing your environmental footprint
Trash compactors can help encourage recycling. Especially items such as plastic bottles, cardboard boxes, and aluminum cans
It can help you save on waste removal costs. For instance, fees imposed by the city or your homeowner association (HOA) if your household generates more than normal trash for which you need extra outdoor garbage receptacles
So now that we've established that a kitchen trash compactor is absolutely essential, how do we choose the best one for ourselves? It's easy actually. Go through our guidelines; they'll help you select a model that suits your needs.
Trash compactors have relatively simple components:
A ram that compresses the waste
A bin that contains that waste
An electrical switch that powers the unit
Using a trash compactor is fairly simple. Throw in all the waste material into the garbage receptacle, and when the bin is full, close the lid, and turn on the compactor. The hydraulic-powered metal ram will crush the refuge into a dense package. The small parcel then can be easily bagged and disposed of in the garbage can outside your house or at a local waste removal facility.
How To Take Care Of Your Kitchen Trash Compactor?
Once you've chosen the best model to suit your needs, you'll also want to protect the investment you're thinking of making. To ensure that your kitchen trash compactor lasts you a long time and serves you well throughout, you'll have to follow the manufacturer's instructions for use. And perform the recommended preventive maintenance mentioned.
Generally speaking, except for occasional cleaning, compactors are quite low-maintenance.
Steps to clean your trash compactor:
Unplug
Remove the bag and caddy, and follow the manufacturer's cleaning instructions
Vacuum the area
Clean the compactor, inside and outside – using warm, soapy water
Rinse and dry
Close the drawer and replace the caddy with a new bag
Check the air freshener or charcoal filter periodically and replace if need arises
Some basic precautions:
Never use your hands or feet to push trash down into the bin
Never allow children to play near an unsecured trash compactor
Do not let them operate one unattended
Conclusion
Using a kitchen trash compactor is an excellent way to store and process household waste efficiently. Fewer trips to take out the trash, lesser bags, and reducing landfill – all in all, an environmentally responsible option.
Though trash reduction through compacting is not the same as practices such as reducing, reusing and recycling trash, you can always upgrade your eco-efforts by taking simple steps. Use paper or biodegradable compactor bags in your trash compactor and make a huge difference.
If you love having a pristine kitchen, maintaining good sanitation throughout your home, but are not too big a fan of taking out the garbage regularly – trash compactors are what you need. Read up on our complete guide to understand the appliance well and buy a compactor that matches your style and needs.
Read more: How To Choose The Best Oven For Your Kitchen
The Complete Guide on Buying The Best Kitchen
was last modified:
May 20th, 2022
by
Recommended