In a short and brief summary, yes, you can leave your patio furniture outside in the winter, not the best option though. Of course, they are not indestructible but by taking precautions and maintaining them properly you can protect them during this season. This will also save you money as patio furniture is expensive and leaving it unprotected during a single snowstorm can cause irreversible damage.
What do people do with their patio furniture in the winter?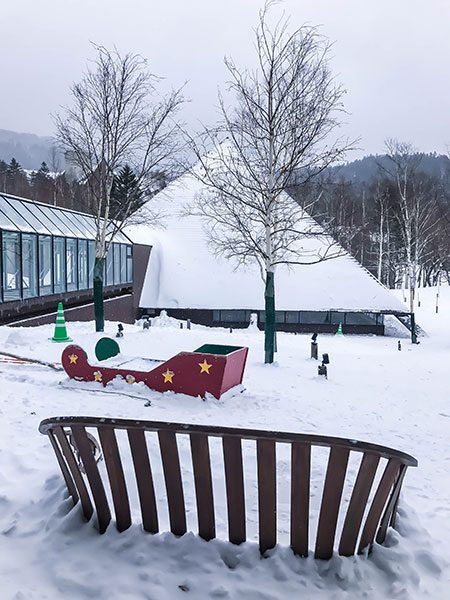 There are a few things people can do with their patio furniture in the winter to protect it from the elements and prolong its lifespan. One option is to store the furniture in a shed or garage. Another option is to cover the furniture with waterproof covers specifically designed for outdoor furniture. Some people also choose to bring their patio furniture indoors for the winter. Additionally, some people may disassemble their patio furniture to store it in a more compact space, such as a storage container or basement.
Depending on the materials, you can take care of your outdoor furniture in winter by following these tips:
Wood furniture (Not teak)
The enemy of any type of wood is humidity. If you don't prepare for the weather, don't even think about it, it will be gone in a couple of days. When the temperature drops, moisture freezes, which can crack the wood. This is prevented by sealing and protecting wooden furniture with special outdoor sealants.
Before applying any sealant, thoroughly clean your furniture. Mix warm water with a couple of drops of oil-based soap. Rub gently with a soft brush or rag in the direction of the wood grain to avoid scratching it.
You must preserve them of any moths or other wood-nesting animals such as termites and stain removal by applying the following solution:
1 cup ammonia
1/2 cup vinegar
1/4 cup baking soda
1 gallon of warm water
Use a soft bristle brush to apply the solution, do not get the wood too wet or it will cause further rotting, dry the furniture with a towel or let it air dry.
Once dry, sand it and apply several coats of sealer, interspersed with sanding, until you have an almost mirror-like surface, thus sealing it against the weather. The sealant prevents moisture from seeping into the wood and causing mold, mildew, fungus, or water freezing and forming internal cracks.
Teak furniture
Teak is a type of wood that requires some extra care because it tends to attract more mold and mildew due to the natural resins it contains than other woods. To clean the teak, combine:
1 cup vinegar
1 gallon of warm water
With a soft bristle brush scrub the wood, let it sit on the wood for 15 minutes and then dry it with a towel or air dry, if your furniture stays outdoors for a long time you should buy special products for teak as vinegar with water will not be enough. When the furniture is dry, apply linseed oil or tung oil.
Plastic furniture
This is a trick because freezing temperatures make plastic furniture brittle, which will wear it out quickly.
Rinse plastic furniture with a hose. Mix ¼ cup of mild detergent in a liter of warm water. Scrub furniture with a soft brush or sponge. Rinse and let dry before storing.
Wicker furniture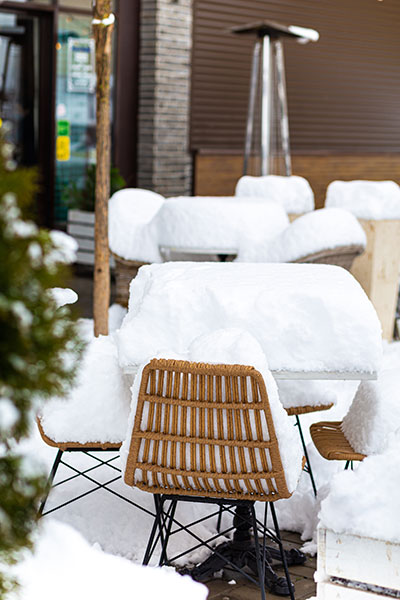 Rattan furniture is divided into two: natural rattan furniture and resin wicker furniture. Natural wicker furniture splinters over time and needs a lot more care than resin wicker furniture.
To clean natural rattan, mix a few drops of mild oil-based soap in a liter of warm water. Dampen a soft cloth and rub gently. Use a spray bottle to lightly mist the furniture and rinse off the soap. Dry immediately with a soft towel or place in the sun to air dry.
To clean synthetic wicker, apply the same solution or simply hose it down and let it dry in the sun or with a towel.
Natural stone furniture
It is common to see patio tables made of rocks, which add elegance and rustic touch to the patio, however, most rocks are porous and when water freezes, it causes internal cracks until the rock falls and fractures.
Rinse your stone furniture with water to remove dirt. Mix a few drops of mild detergent with water and rub with a soft cloth or sponge to remove stubborn stains.
Like wood, apply a stone sealer to protect it from moisture, salt, and humidity that erode it. This is especially important if you live in a coastal area or have a saltwater pool. Salt gets into the air and can become embedded in the small grooves or crevices of the stone.
Outdoor fabrics
In theory, these outdoor fabrics tend to be more resistant to weathering and are much tougher than indoor fabrics. Rain, snow, and ice can damage your outdoor decor if you're not careful.
Thoroughly clean outdoor cushions and covers and store them at home. If you don't have space indoors, put them in a cushion bag and store them in your shed, garage, or attic.
To clean the patio umbrella, brush off loose dirt. Mix ¼ cup of mild detergent with 1 gallon of warm water. With a soft brush or rag, scrub vigorously to remove stubborn stains. Allow the solution to work for 15 minutes before rinsing with a hose. Allow to air dry in the sun, and do not close until completely dry or you run the risk of them becoming damp and smelly.
What do people do with their patio furniture in the winter?
You have two options – store furniture and umbrellas in your home, garage or shed if you have the space, or protect them further outdoors. While it may be tempting to leave my patio furniture outside in the winter items such as metal or wooden furniture exposed, it's better to play it safe, especially if you live in an area where frost is common.
Plastic wrap or tarps
Shrink wrap is an easy way to protect your furniture. The only disadvantage is that as it is not breathable if a drop of water penetrates the plastic it will create mold, this is common on furniture with sharp edges, and it can also tear the plastic if you don't buy the right plastic good material.
You can hire a packing service of this type. The cost of this service is usually around $300 and goes up depending on the number of pieces you have. While this may seem affordable compared to buying several covers, you will have to pay more than $300 per year.
The tarpaulin is exactly the same, it can't possibly breathe, and water gets in and can't get out, you will need to secure the tarpaulins with good anchors and in the right size so that it doesn't blow away.
Covers
Winter covers are an alternative solution for garden furniture, they protect from rain, snow, ice, road salt, debris, and much more. This means that your outdoor furniture will be clean when you use it again and will have a longer life span.
Mold and mildew on covered wooden furniture are a constant concern. Choose a cover that is made of breathable material. You should also select a cover with 1-2 inches of space between the bottom hem and the floor. This will promote air circulation and allow moisture to evaporate quickly. If possible, brush snow or water accumulated on the canopy so that water evaporates more easily.
Use covers to store outdoor umbrellas and place outdoor curtains, pillows, and cushions in cushion bags and store them in the garage, shed, attic or basement.
Can metal patio furniture be left outside in winter?
It can, but you shouldn't leave it out in the open, especially if it's wrought iron furniture.
Aluminum furniture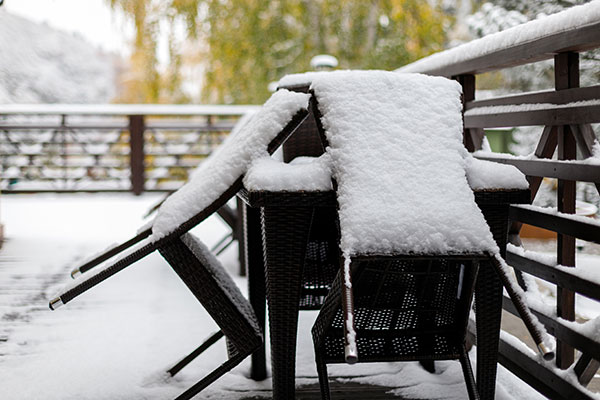 Aluminium is a very durable option as it can withstand rain incredibly well, beware of frost, when temperatures fluctuate at the freezing point it can expand and contract the aluminum, weakening it. To avoid this, make sure your aluminum furniture is completely dry before storing it.
Scrub the furniture with a few drops of mild detergent and warm water. Once dry, look for scratches and touch up with paint if necessary. You can also apply a coat of car wax for added protection.
Wrought iron furniture
Wrought iron rusts easily, so don't leave it exposed during the winter. Some come with an exterior coating, but something as random as bird droppings can damage the coating and leave it vulnerable to rain or frost. Clean it immediately on sight.
Use very light grit sandpaper to remove rust. Touch up any paint scratches after letting the furniture dry. You can also treat the furniture with a rust neutralizer and then apply a thin coat of car wax to protect my patio furniture outside in the winter better.
Can you store patio cushions outside in winter?
Of course, with special cushion covers, however, you should make sure that not a single drop of water gets in because as a material made of plastic, it doesn't breathe and can lead to mold and odor.
However, the best option is always to store them indoors. It can take a little time to prepare and leave the patio furniture outside in the winter, but you should do it because furniture, especially outdoor furniture, is expensive and you don't want to lose it in such a short time. Keeping them clean and protected with a durable cover when not in use, and stored indoors will prolong their life and allow you to rest easy during the winter months
Can I leave my patio furniture outside in the winter?
was last modified:
January 28th, 2023
by
Recommended