Not only can they be used, but they will give you a little more resistance than the tiles that are normally used for walls and bathrooms. Using floor tiles for kitchen countertops is an economical and efficient option. Here we tell you all about floor tile for kitchen countertops.
What type of tile is best for kitchen countertops?
There are several options to choose a floor tile for kitchen countertops, however, you can easily use ceramic floor tiles, porcelain, or natural stone tiles.
Porcelain is one of the hardest, toughest, and most durable materials available. It is thick, rigid, and non-absorbent, making it the perfect material for both bathrooms and countertops.
Natural stones such as marble and granite are the materials of choice for countertops because of their strength, beauty, and easy maintenance.
Best tile for kitchen countertops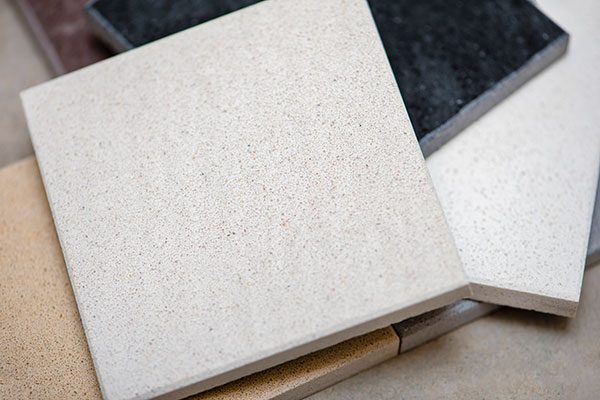 Ceramic tiles
Tiles are a commercial option for floors, kitchens, and countertops. They are usually made of clay, quartz, and water (quartz adds hardness).
Ceramic tile has unlimited color options, sizes, and patterns and is an economical choice when thinking of it as a kitchen countertop.
Porcelain tiles
Tiles are usually more expensive than tiles because of their size. But the best thing about the material is its resistance to fire, and scratches, and its impermeability, which makes it durable. Plus the added value of being able to create unique patterns with different tiles.
Glass tiles
This type of tile is made of glass and is a mind-blowing option for a kitchen. They have incredible stain resistance and are waterproof. Their only downside is that they chip and break easily if a heavy object (such as a blender) falls on them.
Natural stone tiles
They are the most resistant and expensive in the market, they come from a quarry where they are extracted, polished, and cut. Among the best-known are marble, granite, and limestone. The most elegant and timeless option for your countertop.
Can porcelain floor tile be used on countertops?
Absolutely and totally, yes!
You should only keep in mind that you should always keep it clean because the joints tend to get dirty very quickly and do not give a good appearance. Normally during installation, grout with a waterproof additive is poured on them to make them more resistant to spills and improve the appearance of stains typical of a kitchen.
Can floor tiles be used for a kitchen backsplash?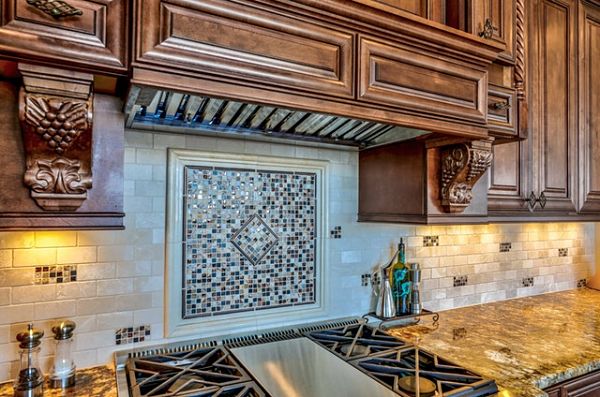 Ceramic tile for walls, bathrooms, and backsplashes, as well as for the floor, works perfectly. The only difference is the grout that must be poured to make it durable and easy to clean.
As an anecdote. When they did the kitchen in my parent's house, they bought a ceramic floor tile to install as a background in the kitchen. The hardness, protection, and color were enough to not install anything else; it was impossible to make a hole with a drill to make the installations. An excellent decision because it is easy to buy, maintain, clean, and replace in case of major damage.
The advantage of ceramics is its ease of purchase, installation, and number of models and colors.
Can you use large tiles for your countertop?
It is not recommended for this simple reason: if an area of the tile is broken, it is more difficult to replace the entire piece than just a small part of it. Standard-size or tile-type tiles are the ideal choices for a countertop because of their practicality after installation.
How long do tile countertops last?
This is a very common question and they can last around 50 years with good maintenance and care.
The most important thing is to choose a durable and waterproof material.
Sometimes you find a variety of colors or patterns in floor tile that would work as a kitchen countertop. Maybe just the strength of the material would be an option, but here the important thing is, you can do it. You can use floor tile for kitchen countertops or backsplash.
Can you use floor tile for kitchen countertops?
was last modified:
March 31st, 2023
by
Recommended