Brick is an extremely versatile building material — it enables a house to look both traditional and modern, depending on the way it has been used. But, is a brick exterior best in its natural form or can you paint a brick house?
Yes, you can. In fact, painting a brick exterior wall is an easy way to get a fresh, clean look for your house — while adding some instant curb appeal.
Today, an increasing number of homeowners are opting to paint their brick houses in the hues they desire. But, like every home improvement project, there are some pros and cons to painting exterior brick. So, if you're wondering, "Can you paint a brick house", do give this blog a read before moving forward with your exterior house painting project.
A few things to consider before painting a brick house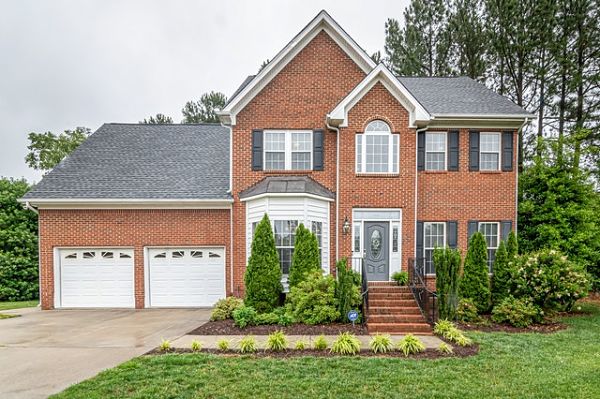 The first thing to keep in mind before painting a brick wall is that you shouldn't do it just because it's trending at the moment. Do it if you're really invested in maintaining your house exterior properly.
Bricks are a bit difficult to paint because they are porous and absorb paint. You need to choose the right type of paint and carefully prepare for the paint job.
Painting a tired-looking brick façade or out-of-place bricks, whether interior or exterior, needs proper prep work. Otherwise, the paintwork will be shoddy. Once you do that, it's a fairly inexpensive, quick home improvement — giving your property a cleaner, updated look.
Read more: Interior & exterior house painting financing
Does painting a brick house add value?
If painted correctly, colored brick walls can create a lovely visual impact. Plus, it provides good protection from the elements. After all, paint can help reduce fading and deterioration of your home's exterior.
A good-quality exterior paint can act as a sealant to protect your home from precipitation and other seasonal weather changes. A painted brick wall, vis-à-vis a natural brick wall (that can trap dirt and debris in its nooks and crannies), creates a much smoother surface that's much easier to clean with a pressure washer. So, yes, painting a brick house can be a good idea.
Read more: What type of paint to use for exterior house
Home Renovation Cost Estimator
Sorry, we currently don't have that project at our disposal.
---
You can take a look at our most popular ones:
Water Heater Installation
Exterior Door Replacement
Install Recessed Lighting
Exterior Door Installation
Interior Door Installation
Interior Door Replacement
Pros and cons of painting a brick house
Painting your brick house is a relatively easy way to give your house a newer, uniform, and cleaner look than having just a natural brick exterior. Once you decide to paint the bricks, make sure that you use breathable paint such as silicate or mineral-based exterior paint.
With your favorite paint color, your once-upon-a-time dated house will start to look trendy and completely changed. And, the painting project may improve your home's resale value.
Talking about the downside of painting your brick exterior, your first concern should be that painting a brick wall is permanent. Once you paint your brick house, you can't go back to its original brick exterior.
The process of trying to remove paint from brick can be very costly — an unnecessary expense that a homeowner can highly avoid. But, of course, if you've gotten bored of your existing wall color, you can always change it as often as you like.
Another concern is its maintenance. Such an exterior surface area will require a good amount of regular upkeep — touch-ups for chipped areas caused due by moisture, professional power washing or vigorous cleaning on light-colored brick, and fresh coats every 7 to 10 years. Also, keep in mind that as bricks get older, they can age. Unfortunately, not always uniformly. Another problem is dirt and mildew are much more visible on painted exteriors.
If you live in a cold region, maybe it's best to give the brick painting a skip. Painting a brick wall traps moisture and doesn't let the brick breathe. The moisture can then freeze and expand — eroding the mortar. This could potentially damage the brick and the house structure.
How much does it cost to paint a brick house?
When you're attempting a DIY project, you are only paying for the cost of the paints and the tools. To DIY a 2,500 square feet house, you can expect to pay around $800 in total. However, if you're hiring a professional painter, the labor cost alone can cost you $150 to $350 per hour.
What are the best colors for painting brick?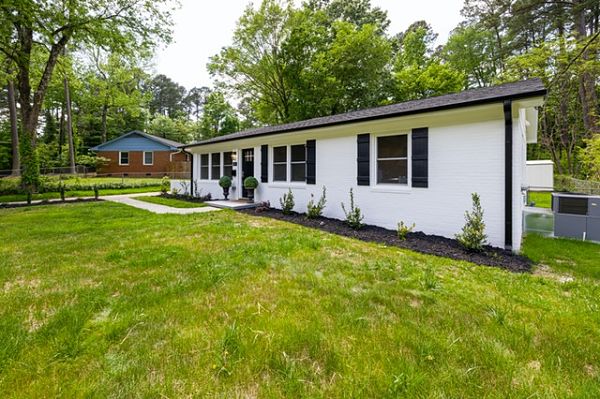 Painting your brick exterior can totally transform the look of your house. Here are some of the best paint colors for a brick house:
White
If done right, there's nothing more classic than a white brick home. Such a house has both a stately as well as an updated vibe — looking warm and inviting, regardless of the season or location. You can add black shutters, windows, and doors for extra oomph.
Light grey
Light grey gives off a classic vibe while adding a bit more depth than white. The hue also allows both accent colors and the yard landscaping to pop against it.
What's more, the versatile color, depending on the accent colors, can give you the exact vibe you're looking for. So, if you're looking for a quiet and demure feel, paint your exterior trim, shutters, and doors in white. Or, if you want to make a bold statement, paint your front door yellow or green, and your shutters black.
Charcoal
Charcoal greys, right from nearly black to medium grey with twilight undertones, can add a sophisticated look to your home. Not to forget, these hues hide flaws or anomalies well. You can add white trim and shutters to add an extra element of drama. If you're looking for a classic home style, you can have black trim and shutters.
Green
Earthier greens or greens with olive or tan undertones are making a huge comeback as both interior and exterior paint colors. These shades of greens accommodate your landscape beautifully — making your home feel like a relaxing retreat.
Green bricks look especially great with warm natural wood tones. A wooden deck or porch with trim details in this finish will look straight out of a magazine cover.
Last thoughts
Sometimes, a natural brick house looks beautiful — and sometimes it doesn't. Make your choice according to your preference and location. Although many homeowners consider painting a brick home as an easy DIY fix, we think, it's best left to the professionals.
And, before you take out your paint rollers, paint sprayers, and painter's tape — decide if you actually want to paint your brick home exteriors. Because, once you do, there's no going back. But if you're completely sure, a newly painted brick house will more than make up for the initial doubt.
Read more: 5 fatal landscaping flaws
Wondering, can you paint a brick house?
was last modified:
April 4th, 2022
by
Recommended