Planning on Removing Support Columns in Your Home? Know Why Revamping Is Better
Dreaming is the fun part of the home renovation. However, the beautifully open, modern space featured in the pictures you've been saving to share with your architect may require some alterations. That support column or pillar that you despise (and have been anxious to knock down) may not be going anywhere. KUKUN's resident architect tells you why removing support columns is not a good idea and what options you have to transform that eyesore into an awesome, eye-catching architectural element of your home.
Why Can't You Knock that Support Column Down?
In short, that column is load-bearing. Your home has to stand up somehow, and unlike the structures you've built out of playing cards or blocks, four walls and a roof just won't cut it. Load bearing wall and structures literally help keep a roof over your head, and removing them can be timely, costly, messy, and sometimes just not worth it.
Sometimes the support columns are seen as inconvenient and unpleasant objects that make it impossible to put something in the "right" position. In some cases, they may have been placed right in the middle of a space (who knows why), and interrupt the view of your perfectly curated living room or brand-new television.
How to Make that Support Column More Appealing?
While support columns can be seen as a real pain, they can also give you some guidelines on how to structure your space. Instead of seeing that pillar as a problem, think of it as a design opportunity.
Pillars can allow you to divide a large, open space and create different "rooms" – no walls needed. This is especially true for kitchen/living/dining combination areas or "great rooms." Maybe that support column that you originally saw as unsightly is actually the perfect structure to help define your dining area.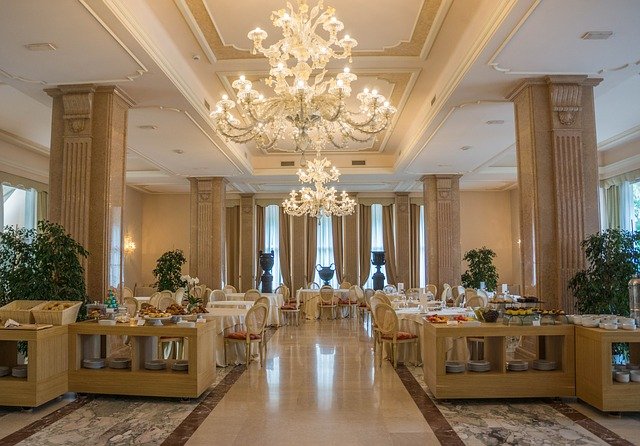 Pixabay
The key for designing a great space and dealing with support columns is to place something right next to the column, instead of leaving it alone. Measure your furniture carefully and get creative. That way, columns won't represent a physical obstacle but will help delineate different areas and their functions without making the space feel too enclosed.
Example layout with support columns:
The sketches below present a very schematic yet representative example. In this scenario, the living room is located near the entrance. A large table is situated in the center of the space, with a large light fixture that defines the space. The kitchen is done in a classic fashion with the worktop against two walls since the pillar's location makes a central worktop inconvenient to walk around. A table (measured to fit) hugs the column and serves as a breakfast area or aperitif while delicately framing the kitchen area.
Support structures don't have to dictate the look and flow of your home. Move your furniture around, and start thinking of them as helpful design opportunities instead of inconveniences.
Read more: How To Tell If A Wall Is Load Bearing
Planning on Removing Support Columns in Your Home? Know Why Revamping Is Better
was last modified:
April 19th, 2022
by
Recommended