There's no doubt that carpeting brings warmth to a room, making the living space visually appealing. However, over time, your wall-to-wall carpet begins to show signs of wear and tear due to heavy foot traffic and stains. And that's when you need to think of carpet removal and installing a new one.
Removing an old carpet is a relatively easy home improvement project, of course depending on the size of the room and the complexity of the task. For example, removing carpet padding along with carpet removal is a more complex and time-consuming task.
Can I remove a wall-to-wall carpet myself?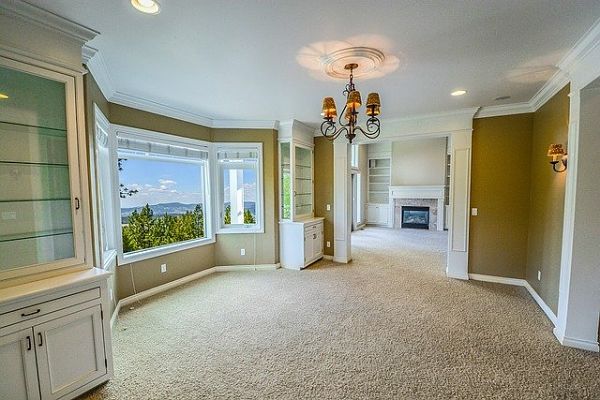 Yes, you can. In fact, DIY carpet removal, with the right type of tools, is a simple enough process. This guide will tell you how to remove a carpet easily. Plus, there are some helpful tips for you to complete your carpet removal safely and quickly.
Keep in mind that removing carpeting yourself will not only save you money, it'll also allow you to inspect the subfloor thoroughly. That way, you can address any flooring issues before the new carpet is installed.
What tools do I need for carpet removal?
To remove wall-to-wall carpeting, you'll need some basic safety equipment and tools. These include a pair of protective gloves, knee pads, a dust mask, good quality pliers, a utility knife, some duct tape, a sharp-bladed floor scraper, and a flat pry bar.
Steps for carpet removal
1. Put on your protective gear and begin clearing the space
Remove all room furniture.
Wear your safety gloves, knee pads, and a face mask to protect yourself during the carpet removal. Keep in mind that pulling up a carpet releases dust particles.
Take down any inward-opening room doors, including bi-fold doors.
Remove the baseboard molding and trim for a more finished, professional look.
2. Detach the carpet from the tack strip along the perimeter of the room
Use a pair of pliers to pull up parts of the carpet. Keep grabbing it by your hand and pulling it up.
Use a utility knife to cut and remove a 6-inch square in difficult corners. It makes the task easier.
Make sure you're removing carpet from stairs and closet areas properly.
3. Cut the carpet into strips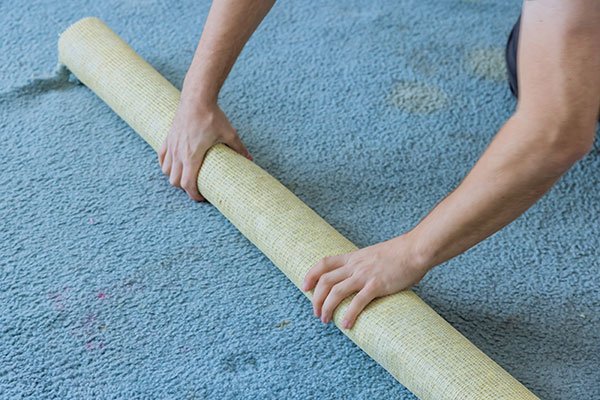 Once you're able to pull back about 3 feet of carpet, you can cut it along the folds with a utility knife. 
Roll up the cut pieces and secure the rolls of carpet with duct tape.
Leave the metal transition — separating the carpet from other types of flooring — alone.
Read more: Carpet Vs hardwood flooring: Which is better for your house?
4. Remove the carpet pad
Follow the same steps for removing carpet padding. Padding removal is generally easier as it comes in smaller, lighter pieces.
Use a sharp-bladed floor scraper to remove the pieces of the flooring — whether the pad is glued to a concrete floor or stapled to a particleboard or plywood floor.
You'll need a few special tools such as a painter's 5-in-1 tool, vise-grip pliers, and a small, flat-blade screwdriver to remove the padding staples off a hardwood floor.
5. Remove any damaged tack strips
Examine the tack strips after the carpet removal.
In case they're rusted or damaged, slide a pry bar under the tack strip and pop it up.
Remove all the tack strips from the room if you're planning to replace carpeting with a wood floor, floor tiles, or a laminate floor.
Hire a professional to install new ones for the next carpet installation.
Read more: How to install tongue and groove flooring
Carpet removal cost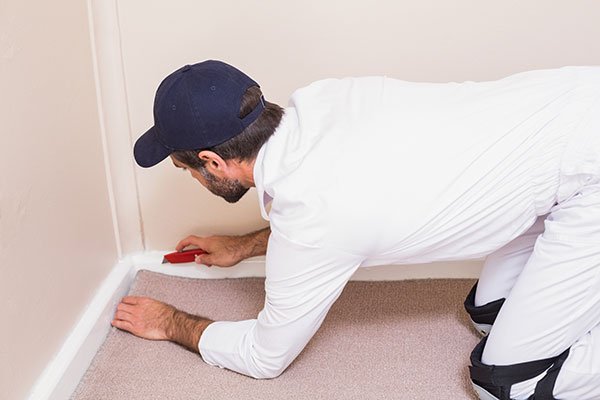 Removing an old carpet by professionals can be an easy way out but it can impact your home remodeling budget. The cost of hiring someone for carpet removal in an average-size living room ranges from $250 to $500. Most professional carpet installers charge this service at the time of new carpet installation.
The average carpet removal cost runs to $0.65 per square yard — with most homeowners spending between $0.40 per square yard to $0.90 per square yard. You can expect to pay $400 to $900 extra for 1,000 square feet of carpet removal and disposal.
The total cost of carpet removal depends on how the carpet is held to the subfloor, and what you do to prepare the room. If you remove the furniture, floor grates, and baseboard yourself, and take care of the carpet disposal or carpet recycling, your costs will be lesser than when you leave everything to the pros.
Last thoughts
Knowing how to remove an old carpet is always helpful whenever you're planning to replace the flooring of your home — whether you decide to tackle the job yourself or hire help. The best part about removing a carpet yourself is that you end up spending much less on your remodeling project. And, you can utilize the savings toward a higher grade of flooring.
And, the good news is that you do not require any special skills or carpet removal tools to complete the job seamlessly. We hope these carpet removal tips and steps will help you master the process of carpet removal.
A complete guide on carpet removal, DIY steps, and costs
was last modified:
December 7th, 2022
by
Recommended