While pink is the most commonly used paint color for a girl's room, the right shade of pink can benefit both sexes. Pink walls have a calming, comfortable vibe that's undeniable. Interestingly, color Psychology maintains that this hue encourages feelings of empathy and nurturing.
Spending time in a pink room may lead kids to behave in a more caring and considerate way. It's especially great for a living space that's shared between siblings.
Word of caution: Do not go overboard with pink. Too much of it can be irritating and may sometimes cause feelings of nervousness. Also, children tend to get bored with an all-pink decor a little too quickly.
Try a bit of mix and match with the child's other favorite colors for a balanced vibe.
Orange
Orange is such a happy color — it's bright and cheerful. If you have a shy kid, this color will help bring him or her out of their shell. The hue enhances socialization and communication skills.
Color Psychology proves that children who have rooms with orange color schemes tend to be more confident and extrovert.
Word of caution: Orange is a warm color. Restrict it to an accent color. You don't want it overstimulating your child. Too much of it may easily overwhelm children — causing them to feel irritable.
Use softer orange shades and try pairing them with subtle shades of green, lavender, or neutrals.
If instead of a children's bedroom you are planning a nursery, take a look at our guide on DIY Nursery wall decor ideas
Purple/lilac
Now here's a color that inspires thoughtfulness and spirituality. It's believed to make a child more sensitive. If you have a kid who is a tad restless and might we say antsy — the color will help slow down his or her hectic pace.
Word of caution: In case your child is overly sensitive to begin with, too much purple may lead to physical sluggishness. An all-purple room may even make the kid melancholic.
Brighten up purple by pairing it with orange. Purple also goes well with colors such as spring green or hot pink.
Green
Everyone knows that green is a soothing color. It effectively brings the freshness of nature into a room. Ever wondered why most schools — especially middle schools and high schools — make use of a lot of green? The reason is that green is believed to increase reading ability and comprehension.
No wonder green is a great choice when you want to stimulate your child to study well.
Word of caution: Refrain from using a dark shade of green — it might make the room and your child gloomy. Avoid forest or pine green. They can easily overwhelm the kid.
Opt for a mint or tea green. These colors are proven to help soothe an anxious child.
Blue
Most often than not, blue is the first paint color that comes to mind when you have to decorate a boy's room. However, not many know that this hue has a calming as well as a reassuring effect on both boys and girls.
If you have a child who is prone to throwing tantrums — go for blue. It slows down heart rate and successfully pacifies children who are agitated.
Word of caution: Like any other children's room color, do not go overboard. A child — when overwhelmed by an all-blue room — may end up getting depressed.
You can balance blue with yellow, red, or white.
Read more: Calming colors for a bedroom
White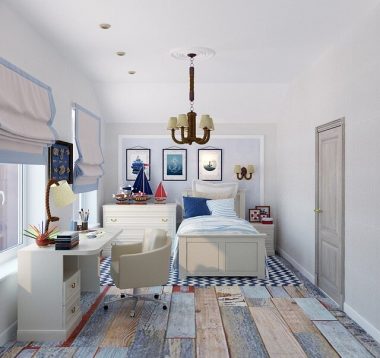 White is a reflective color that stimulates openness, growth, and creativity. It's not too stimulating yet allows children to develop their personality. It's also a color that is believed to relax them.
It aids in mental clarity and encourages them to clear the clutter in their minds as well as their living space.
In terms of aesthetics, the best part about white is that it creates a clean background for any color palette, style, or interior design.
Word of caution: White walls stain easily! Use it sparingly and pair it with any other color. There's no hue in the world that doesn't look good with white.
Read more: Childproofing your home
Brown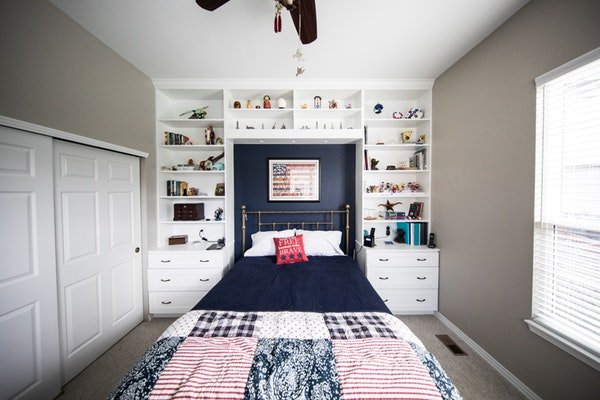 Want your children to feel more grounded and stable mentally as well as physically? Paint their room brown. This classic earthy tone evokes a sense of strength and reliability.
Much like the earth, this natural hue is associated with dependability and security. What's more, it enhances a feeling of resilience in kids and adults alike. It wouldn't be incorrect to say that children tend to feel safer in a brown-colored room.
Like white, brown also works as a wonderful backdrop for splashes of brighter color. You can get as creative or fun as you want with this color.
Word of caution: Avoid too much brown. It can darken a room and make it appear smaller. Perhaps even claustrophobic. If you have a fretful child, do not surround him or her with brown.
Use tan or beige instead of dark shades of brown. Brighten things up a little bit by pairing brown with yellow, aqua, teal, light blue, orange, and pink.
Read more: Cool Kids Bedrooms: Quirky Ideas For A Cutesy Haven
Red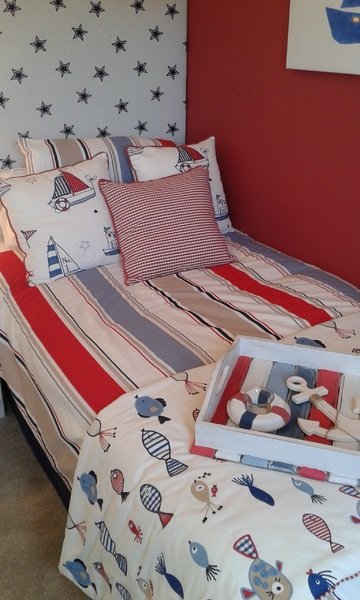 The reason we've pushed red towards the latter part of our list is not that it doesn't make for a great children's bedroom color, it does. But, it's an especially stimulating hue and needs to be used sparingly.
While it energizes children and increases their focusing abilities, red can be a tad unsettling. It is believed to increase the heart and breathing rate.
Word of caution: An all-red room may trigger aggression in small children.
Having said that, the color is a great choice for an accent color in a room, especially if you are trying to balance out cool colors. Try a brick accent wall for that splash of muted red to the room.
Read more: 10 Cool Teen Bedroom Ideas That Are Impressive
Yellow
Who doesn't like a bit of sunshine in their lives? Children especially love yellow. It creates an upbeat vibe in any room. According to research, children who work or learn in yellow rooms experience increased concentration. They have better memory recall.
Word of caution: If you have an overexcited child, too much yellow will make it very difficult to calm him or her down. Since it's a day color, putting a child to sleep in an all-yellow room may pose a problem.
Use yellow as an accent color and pair it with gray, blue, or green. This kind of color scheme creates a balance — preventing your child from feeling irritated or annoyed.
Read more: Beautiful teen room designs by architect
Conclusion
Once you've chosen any of these basic colors for your child's room, you can design the rest of the kid's room decor accordingly. Here are some fun add-on paint ideas that will make your kid's friends green with envy:
Crayon-colored paints

Chalkboard paints

Glow-in-the-dark paints

Magnetic paints

Glitter

Faux-confetti paints
You can use a chalkboard or magnetic paint above a desk where your kids can post notes and display their artwork. With glow-in-the-dark paint, you can splash a star-studded Milky Way across a ceiling. A glitter-infused paint will be a great choice for a girl's room while a confetti-studded clear finish will be ideal for a boy's bedroom.
With such amazing children's bedroom paint ideas to choose from, we are sure your happy toddler will have a stunning kid's room to boast of.
Read more: Best nursery paint colors
9 Best Children's Bedroom Paint Ideas as per Color Psychology
was last modified:
January 3rd, 2023
by
Recommended