Looking to give your home a renovated feel? How about getting some new hallway lighting? Hallways aren't particularly the showcase area for any house. However, getting the right lights can change the entire dynamics of your hallway decoration. Choosing lights for the hallway may not be the easiest task. While there are several options available in the market to choose from, the important thing is to identify the exact requirement of the house in question.
Factors to remember
So, how should you choose your hallways lighting? Here are our tips that should make this exercise easy for you.
Planning a full renovation for your house? Try our free home remodel cost estimator, easy and convenient to use!
1. Analyze the size of your hallway
The size and shape of your hallway have a big role to play when it comes to choosing the lights. Bigger the space, the stronger the lighting needs to be.
2. Consider the interior decor
Every single house is different. The interior decor of a house usually has a set style. It is important that you choose lights that go with the style. Since hallways are more like a connecting space, you need to maintain the overall style of the house in your hallway. Go with the light bulbs that will allow you to maintain the style of your house.
Do you want to have all your facts straight for your upcoming renovation process? Take a look at our ultimate guide on home remodeling.
3. Choose the right light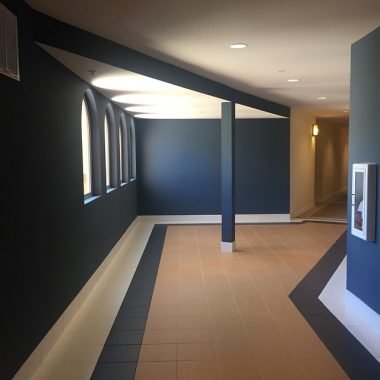 You will find a wide variety of hallway lights available in the market. You can choose the popular pendant lights or track lighting or a chandelier or flush mount lights or wall sconces or hallway ceiling lights. Each of the varieties has its own sets of pros and cons. The pendant goes best with a high ceiling, while the flush mount is perfect for small hallways. Wall sconces work best if you have wide hallways. The important thing is to identify your requirements correctly and match them with the correct light.
4. Have enough of them
If you have a big hallway, you may need to install multiple wall lights. A normal rule of thumb is to ensure that the maximum gap between two light fixtures is eight feet. You may also have a few table lamps to enhance the overall effect.
5. Position the lights correctly
Analyze the prospective dark areas of the hallway before you select the installation points. Hallways usually do not get much sunlight and are dark. It is very important to place the lights correctly to nullify that effect.
6. Make the light consistent
It is very important that your hallway lighting is consistent and does not leave any dark spots. Once the installation is complete, scan the hallway for areas that aren't getting enough light. If you find one, you may need to add another fixture of LED lights. You can choose a combination of semi flush, foyer lighting, recessed lighting, fancy lampshades and a chandeliers pendant for that magical feel.
7. Get the right vendor
Another crucial part of the entire process is to get the right professional to do the job. You will find multiple vendors offering their services online in this regard. It is for you to choose a credible professional without having to spend a lot. You may choose to check our price estimator to get an understanding of the expected budget for this project. This will help you to bargain better with the vendors.
8. Check for warranty
When it comes to buying the lights, always go with brands that offer a warranty. You would not want to spend on buying a faulty product and repent later.
Now that you have a fair idea of the factors that you need to consider for your hallway lighting, what are you waiting for?
How to Choose the Right Hallway Lighting?
was last modified:
May 30th, 2022
by
Recommended