A Guide to Choose the Right Home CCTV
Home security is never a matter that should be taken lightly. As a matter of fact, modern-day home renovation is incomplete without having the right security systems in place. This is where home CCTV can play a crucial role. While deciding to get a home CCTV installed is easy, choosing the right one can prove to be difficult.
Factors to keep in mind for CCTV installation

There are several factors that one must keep in mind while choosing a CCTV surveillance camera. Here are some of the more important ones.
Want to know more home security systems? Take a look at our guide on all you need to know.
1. Cheap is not the best way to go
When it comes to home security cameras, you should try not to compromise on the effectiveness of the system. If budget is an issue, you can always go for an entry-level machine that allows you to add more cameras later. However, it is strongly advised to avoid cheap products from unknown brands.
2. Warranty is important
While choosing a home CCTV, it is important that you carefully check the warranty details. Some products may have a warranty for just six months. It is best to avoid those products. Go for brands that have a warranty period of three years. Most reputed brands will also have a clear installation policy in place.
3. Choose the camera that meets the basic requirements
Understanding the capacity of a camera is important while choosing a home CCTV. Factors such as the wide-angle degree, lens size, and storage capacity are extremely important. A good rule to follow is that the lens size in millimeters will give you the focal length of the camera in meters. The wide-angle degree determines the vision area. Most reputed CCTV cameras come with a storage capacity of 1 TB. However, you can increase the capacity by adding additional storage units. Battery-powered cameras with strong motion sensors. and HD video recording capabilities is a very good choice for most domestic purposes.
4. Understand the camera types
There are primarily three different types of home security camera systems available in the market. They are analog, high definition and IP. The biggest difference between these types is the resolution of the image. While an analog camera will only provide a low-resolution image, high definition and IP cameras provide clearer and sharper images.
5. Know your purpose
It is extremely important that you know the purpose of the CCTV camera before making a purchase. The camera type and other details should be dictated by your purpose. Whether you need a wi-fi enabled camera or a one with cloud storage and supported by Google Assistant or Amazon Alexa is something that the purpose should dictate.
6. Choose the right positions
Choosing the right position will heavily determine the effectiveness of any camera. You need to identify the right spots that will allow the camera to cover a maximum area including the important zones.
7. Check the available lighting
You may need to install additional lights in areas that are slightly dark to ensure maximum visibility of the CCTV camera. Unless you have enough light, the camera will switch to black and white recording. Click the link to check out some smart lighting options.
Security camera installation cost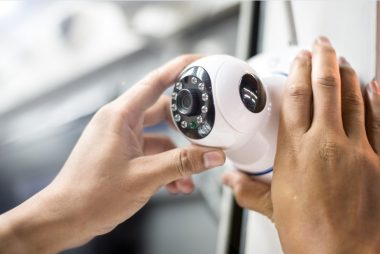 The total cost of a security camera installation including the price of the system is usually between $656 and $2016. While the wired systems cost less on parts, the installation charges are much higher as compared to the wireless alternatives. The installation cost of a wired system varies between $150 and $200 per camera. However, the installation price of a wireless camera security system is usually around $100 per camera.
Price of the camera
The price of the camera depends on the resolution you choose. Low-resolution cameras with less than 1080p video can come for $100 a piece. However, the high-resolution alternatives with better video quality and field of view can cost you around $300.
Factors that dictate the security camera price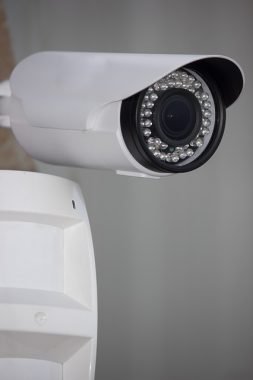 The final CCTV camera for home price depends on a number of factors.
1. Size of the house
The bigger the house, the higher the cost. A big house will need multiple cameras with high resolution and a better field of vision. This will significantly increase the total cost of the project.
2. Security needs
If you want to monitor your children, you may not need too many high-end cameras. However, if the purpose is protecting your home from criminal activities, you will need a stronger, costlier system.
3. Internal vs external
External cameras are much more costly as compared to the internal ones. Usually, external cameras are waterproof and stronger, accounting for the higher costs. If you are looking to place a camera that oversees your decorated front door, be ready to spend some extra amount.
4. Wired vs wireless
While wired systems are cheaper, the installation costs are higher. It is also very difficult to install a wired security system without proper professional help.
5. Monitored vs unmonitored
If you want a 24*7 monitored security system, you should be ready to pay a monthly service charge. This will be over and above the total installation cost.
Made up your mind already? Get your very own home CCTV security system today!
Want to renovate your house too while you are at it? Check out our home renovation price estimator.
A Guide to Choose the Right Home CCTV
was last modified:
September 28th, 2022
by
Recommended