How to Choose the Right Outdoor Shutters For Your Home
The changing seasons always motivate homeowners to think about a home upgrade. However, oftentimes, they tend to overlook curb appeal when thinking about their home improvement. Yet, this is the first thing visitors see when they come to your place. Experts believe that one of the most effective ways to make your home exterior look stylish is through updated outdoor shutters.
If you want to give your home a more sophisticated look, it's time you consider installing outdoor shutters. Since there are different types of shutters to choose from, selecting the best one can be an overwhelming process. And, that's why this article will delve into the world of outdoor shutters to help you choose the best shutters for your home.
Why Install Outdoor Shutters?
Before commencing any home improvement project, it's important to consider the impact it'll have on your property. Here are some of the benefits of installing outdoor window shutters:
Aesthetic appeal: Well-designed outdoor window shutters complement your home's décor and give it a regal touch. They become instant attractions on your home's exterior décor.
Additional protection: In areas prone to stormy weather, window shutters offer additional protection. They protect the windows and also keep away debris from your home.
Added privacy: In coastal areas where large windows are the norm, adding shutters will keep away prying eyes from your house.
Natural weather control: By lifting or lowering window shutters, you can control natural airflow into your home. On hot days, you can let in the breeze without compromising on privacy. It keeps down your air conditioning costs too.
Customization: There are several different types of shutters available. You can even customize them to suit your needs.
In essence, window shutters offer both functional and aesthetical benefits as a homeowner. They also add value to your home while making it the jewel of the neighborhood.
Home Renovation Cost Estimator
Sorry, we currently don't have that project at our disposal.
---
You can take a look at our most popular ones:
Water Heater Installation
Exterior Door Replacement
Install Recessed Lighting
Exterior Door Installation
Interior Door Installation
Interior Door Replacement
How much do exterior shutters cost?
The exact cost of outdoor window shutters depends on a lot of factors, including the style of the shutters, their material, installation costs, shutter size, etc.
Just to give you an idea, a pair of store-bought 15 x 63-inch vinyl shutter can cost you upward of $70. On the other hand, a pair of 36 x 66-inch custom-made wood shutters will cost you between $400 to $500. This amount is excluding the installation costs if you hire a window pro. You can expect to pay an additional $100 per window for extra hardware costs.
How to Choose the Right Outdoor Shutters for Your Home?
Now that you appreciate the important roles window shutters play, it's time to go ahead and choose the best type for your property. To do this, you need to consider the following factors:
1. Keep Your Home Improvement Needs in Mind
Consider whether you want decorative shutters, functional shutters, or a mix of the two. Doing this helps you choose the style, materials, color, and appropriate hardware to serve the purpose you have in mind. You should also consider your home improvement budget to find the most affordable shutters.
2. Pick The Right Shutter Style For Your Home
Before any shutter style, consider if it will suit your home's décor. For this, you need to evaluate the type of shutters in the market. These include:
Louvered shutters: Most common and feature angled slats to allow light and air. Work best for Victorian, Cape Cod, Ranch, Greek Revival, Federal, and Colonial Georgian homes.
Raised panel shutters/solid panel shutters: Similar to doors or kitchen cabinets and their low profile makes them perfect for most home styles including Victorian, Federal, Cape Cod, Ranch, French Country, Greek Revival, and Colonial Georgian.
Board and Batten shutters (BnB): They have a rustic character and a simple appearance. They work best for Mediterranean homes, French Country, Cape Cod, and Ranch home styles.
Bahama shutters (Bermuda shutters): Fixed at the top of the window and common in tropical areas. They offer protection from storms and look perfect on Cape Cod, Ranch, and cottage homes.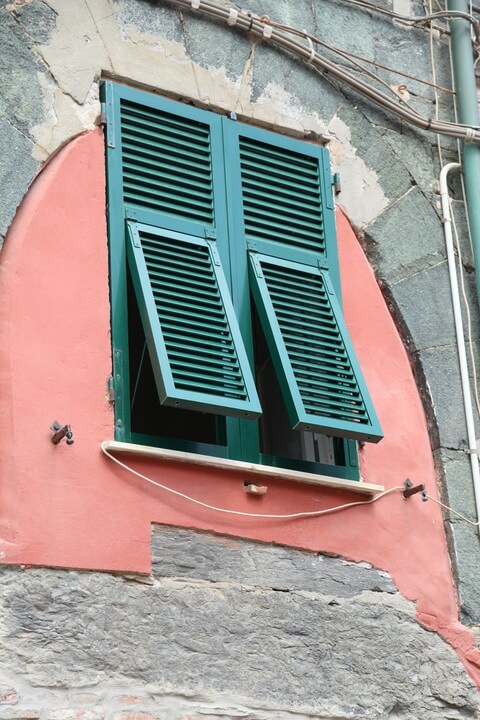 Your choice of shutter style should work perfectly with your home style. The shutters should complement your home's décor and not distract the eye unnecessarily.
3. Select the Right Outdoor Window Shutter Materials
There are various types of materials you can choose for your window shutters. Your selection should rely on the availability of the material, durability, ease of installation, and maintenance.
Some of the common outdoor window shutter materials include:
Wood shutters: Popular woods in shutter manufacture include cedar, cypress, and African mahogany, pine and basswood. The best wood for shutter construction is weather-resistant and durable. When picking wooden shutters, consider any prior treatment required and maintenance necessary after installation.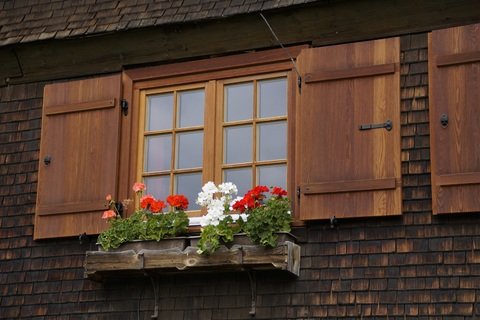 Polyvinyl chloride shutters (PVC): Vinyl window shutters are versatile, easy to install, and maintain. You can customize these windows to achieve the aesthetic touch you desire. They never need repainting compared to wood shutters. However, vinyl shutters tend to deteriorate more rapidly as compared to wood shutters. They may fade, crack, and dent more easily than wooden window shutters.
Faux wood shutters: If you want a material that gives your home a classical appeal without paying much, faux wood is what you need. These shutters still give your home that warmth associated with wood shutters but at a smaller cost. They may even mimic the wood grains of real wood shutters!
Aluminum shutters: Aluminum shutters offer good durability. They don't rot, crack, or warp in the sun. What's more, these outdoor window shutters are easy to install, easy to maintain, and do not cost a lot.
4. Consider the Right Shutter Size
Sizing is crucial when installing an outdoor shutter for your home. It is advisable to go with custom-made shutters to fit each window. To get the right sizing, you need to get proper measurements for your windows and this requires the input of a professional contractor.
5. Think of the Ease of Installation
If you opt for a DIY project or partner with a professional contractor for the window shutters job, choose easy to install shutter systems. Such shutters also cost less in terms of labor and take less time to install.
6. Get the Right Shutter Colors
When it comes to choosing outdoor shutter colors, you have a wide range to choose from. The color of your outdoor shutters should complement the style of your home. You can also opt to choose a contrasting color to give more prominence to your shutters. The bottom line is to choose a color that does not clash with the rest of your home's décor.
7. Work With a Professional Installation Company
Exterior window shutter installation entails a lot of work. It's advisable to hire a professional to do the job. Look for referrals from other homeowners, read reviews and testimonials, and carry out a background check of the installation company. The best window and shutter installation companies offer satisfaction guarantees and product warranties.
Last thoughts
There is no denying the impact outdoor shutters can have in your home. These home improvement installations have both aesthetic value and functional value. They protect your home, enhance privacy, and add a dash of style to your home. To find the best shutters, consider your needs, research the types of shutters, best shutter materials, and look for a professional contractor to help with the installation.
How to Choose the Right Outdoor Shutters For Your Home
was last modified:
May 17th, 2022
by
Recommended