If you need to replace an old or leaking roof, the most obvious roofing material to go for is asphalt shingles. However, there are many other high-quality products that may work well for your roof. These include metal, wood shingles, clay, and concrete tile, as well as slate roofing. In addition to style, it is important to prioritize the features you want your roof to have, such as durability, longevity, weather resistance, and energy efficiency. In this home roof replacement guide, we will review installation costs, along with the pros and cons of these popular materials.
Asphalt Shingles
Asphalt shingles is the default roofing choice for the majority of homeowners and builders across the US. Shingles are so tremendously popular because they are the least expensive and easiest to install option, compared to other materials. People also really appreciate a wide range of styles and the dozens of colors that top manufacturers like GAF, CertainTeed, Malarkey, IKO, Atlas and Owens Corning have to offer.
Depending on your needs, you can choose from 3 types of asphalt shingles:
1. 3-Tab Shingles:
This is the most economical choice. Total installation is about $3.18 per square foot. On the downside, these shingles are fairly thin, have a flat appearance, are prone to leaks and don't do well in harsh climates.
2. Architectural Shingles:
This is a very popular option because it offers great value. They are thicker than 3-tabs, are more durable and have a more textured, attractive appearance. The average cost in US is around $3.37 per square foot installed.
3. Premium Shingles:
These products are for people who want the upscale look of natural materials, such as wood, slate, and clay, but without the price tag. Premium shingles are also 20-30% thicker than architectural ones and offer greater wind uplift resistance than cheaper products. They are significantly more expensive, with average prices ranging from $5.25-6.50 per square foot installed.
The biggest disadvantage of asphalt roofs is that they do not have a very long service life, and require frequent repairs. A properly installed shingles roof can typically last 12-15 years. However, it is not uncommon for cheap varieties of shingles to warrant replacement in as little as 5 years. I would also advise against installing asphalt products if you live in an area that gets heavy snow storms, ice dams, hurricane-level winds, and other severe weather. Shingles are not designed to protect your roof in these conditions, and you will spend hundreds, if not thousands of dollars dealing with leaks and other types of damages.
Cedar / Wood Roofing
If you want a roof with timeless curb appeal and charm, cedar wood is an ideal choice. This natural material looks stunning both with warm wood tones and with silver-grey ones, as it ages. It is available in the form of shingles or shakes. Cedar shingles have a uniform, flat appearance, while shakes offer a more rustic appeal, as each piece has a distinct shape.
Cedar is considered to be a premium roofing material and is therefore a fairly expensive investment. On average, shingles cost about $6-8 per square foot installed. Due to a more complex manufacturing process, as well as their unique look, shakes cost 25-30% more.
Wood shingles and shakes have a number of advantages: high insulating properties (double that of asphalt shingles), energy efficiency, minimal shrinkage, resistance to UV rays and insects. For an additional cost, these roofs can be treated to be fire, mold, or moss resistant. Moreover, cedar is a truly green roofing material: the wood is sustainably harvested and can be recycled at the end of its service life. A well cared for cedar roof can last as much as 20-35 years, which is 50% longer than the service life of traditional shingles.
Installing wood shingles will cost about $6.93 per square foot, and hand-split wood shakes will be about $8.19 per square foot. These are average prices in the US, for highest grade Red cedar, without fire-retardant treatment.
One of the biggest disadvantages of this material is regular maintenance. A cedar roof needs to be cleaned numerous times a year to prevent mold and moss growth. It also needs to be resealed every 3-5 years to ensure the roof's durability and longevity. While cedar is moisture resistant, as it is often installed in coastal areas, it will not offer the best protection against heavy rains, snow, and ice.
Metal Roofing
Homeowners who want a beautiful, maintenance-free roof that will last a lifetime, usually choose metal. Thanks to major advancements in design and manufacturing technologies, modern metal roofs come in a surprisingly large array of colors and profiles. If you don't like the look of bare metal, you can go for a very realistic replica of wood shakes, slate or clay tile, and even asphalt shingles. Thus, this material will look great virtually in any home style.
There are 4 general types of metal roofs: shingles, standing seam panels, corrugated R-panels, and stone-coated steel tiles. Being a premium roofing material, metal is not cheap. R-panels are the least expensive, costing about $5.50 per square foot installed. Next on the price scale are metal shingles, averaging $7.74 per square foot installed. Stone coated steel tile roofs are about $9.80 per square foot installed. Lastly, standing seam panels are most expensive, priced at $7.60 – $13.5 per square foot installed.
The wide range of Standing Seam prices is based on metal (steel or aluminum), gauge/thickness and paint/coating. If you get 29 ga. steel with acrylic paint, you will be at the low-end of the range (around $7/ft). A 24 ga. steel and .040″ aluminum with Kynar/Hylar 500 resin coating will put you at the top of this range (about $10-$13/ft).
Metal is a highly durable and weather resistant material. Any metal roof is designed to be a snow and ice shedding system, that is completely impervious to leaks. This roof will stand up to hail, hurricane level winds and fire. Moreover, it is not susceptible to mold, rot, warping, blow-off, and many other problems common to other materials. A properly installed metal roof will last well over 50 years.
When considering different products, it's important to pay attention to the quality of the coating. If you want your roof to look as good as new many years from now, it should have either a Kynar 500 or Hylar color coating. Others will chip and fade with time.
Truthfully, metal roofs don't have disadvantages to speak of. One weak point is complex and expensive installation. You should only hire an experienced metal roofing pro to do the install. Otherwise, your roof is likely to fail, requiring very expensive roof repairs or even replacement.
Tile Roof
A Spanish or Mediterranean style house calls for a tile roof. It pairs best with stucco, brick or stone siding. A classic tile roof is usually made from fired clay, but can also be manufactured from concrete. Tiles come in a wide range of shapes, styles, and colors, offering homeowners many beautiful options. These roofs are usually installed in states with a warm climate and a lot of sun, such as Florida, Arizona, Texas, and California.
Tile roofs are highly durable, long-lasting and require minimal maintenance. They can easily stand up to heavy winds, rains, water infiltration, and fire. Clay tile can last well over 100 years. These advantages come with a big price tag: $10-15 per square foot installed. Moreover, it's not uncommon for high-end clay tiles to cost as much as $20-30 per square foot.
Concrete tile lasts an average of about 50 years, and also costs 25-30% less than clay: $8-13 per square foot installed. Compared to clay, concrete is more prone to staining from moisture infiltration, and formation of mildew. It is also about 30% heavier.
The biggest disadvantage of tile roofing is the heavyweight. Both clay and concrete tile roofs typically require expensive structural reinforcements that can cost thousands of dollars extra, in addition to installation. Another issue is that clay tile tends to crack in very cold temperatures, and is therefore not typically installed in the Northern states. Concrete does not have this problem and can work well in any climate.
Natural And Faux Slate Roofing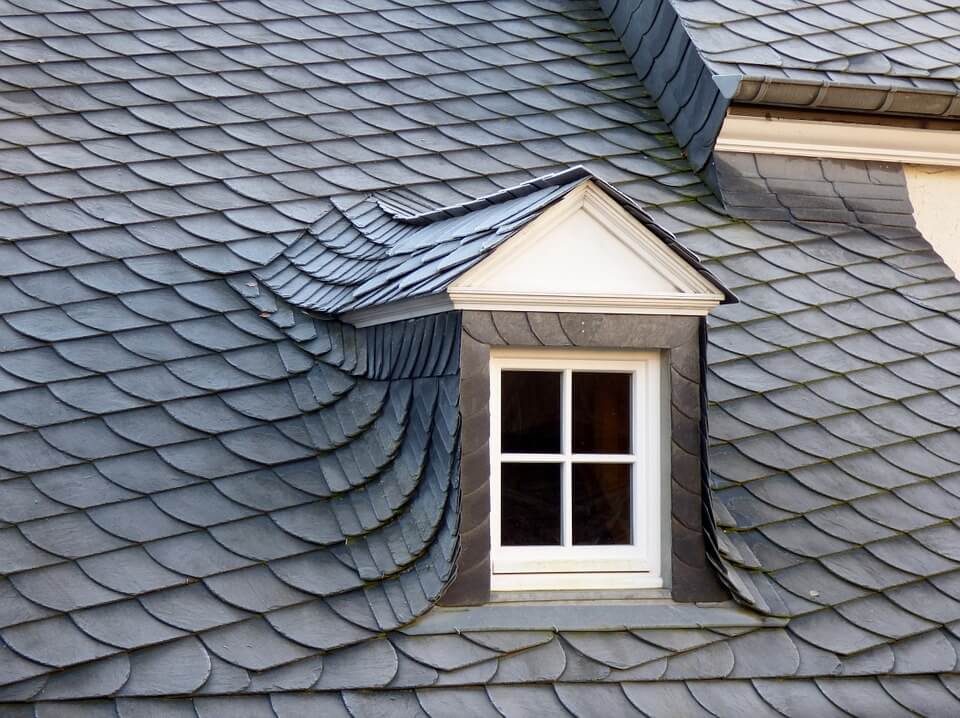 Natural slate is considered to be the highest quality, most durable and long-lasting roofing material. For hundreds of years, slate has been installed on the roofs of palaces, mansions and high-end homes all over the world. Its distinct, majestic beauty cannot be matched by any other material.
A properly installed slate roof will last well over 100 years and will be impervious to winds, fire, rain, moisture, snow and any other type of damage. The price of this forever material is commensurate with its benefits, averaging about $25-35 per square foot installed. However, many slate roofs cost significantly more – $50-65 per square foot, depending on the quality, color and style of the stone.
It is very important to be aware of the fact that not all slate is equal in quality and longevity. Only stone rated as S-1 by ASTM standards has the highest possible durability and longevity. Some roofers may try to sell you lower quality slate at a premium price, so always check the ASTM rating, as well as the source of the stone. Sub-par quality slate often comes from China and its best to avoid it.
The biggest downside of this material is the heavyweight. Slate cannot be installed in most homes and requires significant structural reinforcement. In some cases, installation is not possible at all.
If you love the look of real slate, but cannot afford the hefty cost, there are beautiful, faux slate products. They can be made from a variety of composite materials, offer exceptional durability and can last as long as 50 years. Their biggest advantage is light-weight. Unlike, real slate, synthetic replicas can be installed virtually on any home, without additional reinforcement. Another advantage is the price. These roofs cost an average of $9-12 per square foot installed, which is at least 50% less than real slate.
A Word Of Advice On Installation
When it comes to home roof replacement, the significance of high-quality, professional installation cannot be stressed enough! As a seasoned roofer, I have worked with too many homeowners who made the mistake of saving a few hundred bucks on initial installation, only to pay significantly more for repairs, when their new roof suddenly started to fail. In fact, in most cases, installation is far more important to the durability and longevity of your roof, than the roofing material itself. Here is how you can protect your new roof and your home:
Only work with licensed, insured roofing professional.
Always ask for and vet references of 2-3 recently completed jobs in your area.
If you are installing a premium material, only hire a pro who specializes in it. Don't trust a general roofing contractor to install specialty materials made of wood, metal or clay.
Get 3-4 free estimates from local contractors to find the best deal.
Home Roof Replacement: A Complete Guide with Pros and Cons
was last modified:
May 17th, 2022
by
Recommended