You may have recently renovated your bathroom or you have decided that it needs a fresh coat of paint maybe because you are simply tired of its existing colors. According to several studies, colors are proven to affect your mood, feelings, and behavior. Not to mention that picking the right colors for your bathroom walls and cabinets can boost your home's aesthetic appeal.
Things to Consider When Picking Colors for Your Bathroom
There are so many shades to choose from, that most people have a difficult time sticking with one or two picks. You don't need to be an interior designer or a very artistic person, all you need is the right knowledge and a bit of inspiration. Your bathroom can even be transformed into a luxurious getaway with the right help and a lot of ideas.  
Here are some things you should consider when choosing bathroom colors for walls and cabinets:
Lighting
Bathroom lighting is crucial because there's a tendency for paint colors to look different when exposed to artificial lighting. Most bathrooms don't have enough natural lighting, especially in older homes, and this makes it more challenging when choosing bathroom colors for walls and cabinets. Get a sample and try it out in your own space to see if it will work for you.
 Bathroom Fixtures
When remodeling your bathroom, or simply repainting it, you should always consider your current bathroom fixtures (bathtub, sink, toilet, etc.). Although there are different fixture colors these days, white remains a classic and the most popular choice. Make sure to find a color palette that looks appealing when paired with your bathroom fixtures.
Flooring and Counters
You may also want to consider your bathroom flooring when selecting bathroom colors for walls and cabinets. As with your bathroom fixtures, you would want to ensure that you're creating one cohesive look in your bathroom. This will be achieved when you consider how your paint color(s) will complement or blend in with the rest of your fixtures including the floor and countertop.
If you have a marble countertop, you may want to work with the natural veining of the marble and use the lightest color for your walls. This would make your bathroom seem very coordinated and aesthetically pleasing!
Decor Concept
Bathrooms vary from one home to another in terms of design or concept — such as Zen, Asian, Vintage/Antique, Modern and more. With this, you can have cabinets refurbished or painted accordingly. If you opt to have it stained, for example, in dark brown, choose neutral paint colors for walls (tan, off-white, beige, etc) to complement your countertops. If it's your kid's bathroom, splashes of color are welcomed!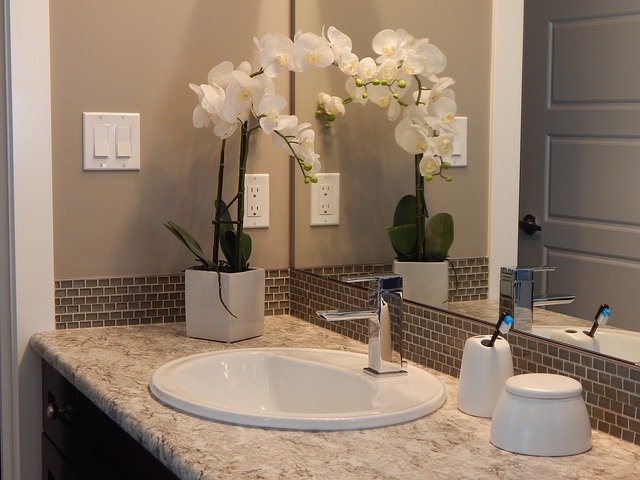 Another option is to have your cabinet painted white to match white bathroom fixtures (like the sink or tub) and splash on a sky blue finish on the walls to give it a fresh clean look. Again, decorating or designing your bathroom is a matter of preference that would hopefully suit the overall look of your home.
Paint Color Palettes
Finally, consider checking out paint color palettes to see which colors look well together. Since it's your bathroom, you may opt to use any color you can imagine creating the look you want. But if you want to play it safe, go and do some research online on paint palettes that are popular with architects, interior decorators, designers, and contractors.
These colors are popular for a reason, which is obviously because they have been tried and tested over time to work best with artificial lighting. It would help to view pictures of different bathrooms that have been renovated to give you an idea of the possible options available. You may want to check Pick a Paint Color by The Creativity Exchange as well.
Use Online Resources To Help You Choose
Choosing a paint color for your bathroom doesn't need to be a daunting task considering that there are many online resources. You should be able to come up with a bathroom that's warm and inviting — one that looks cohesively designed. You can go wild with color, as long as it all makes sense as a whole. No matter how small a bathroom is, it can look bigger when properly laid out, properly lit and painted to look very well put together.  
Furthermore, repainting cabinets and walls is a great way to give your bathroom a makeover without breaking the bank!
MORE: Thinking About Remodeling Your Bathroom? Here's the Ultimate Bathroom Remodeling Guide
Choosing Bathroom Colors for Walls and Cabinets
was last modified:
April 3rd, 2019
by