A bathroom vanity can serve as the focal point and dictate the appearance of your entire bathing space. However, good looks form only one part of your selection process. The ideal vanity unit should also tick off everything from your specifications checklist. It must meet all your requirements, stick to your budget, follow the latest trends, and complement the existing layout. Now, with so many choices available, choosing a model from the endless options in bathroom vanities and cabinets might leave you overwhelmed. Therefore, to make your job easier, we have created this specific guide for you. Whether you are building your bathroom from scratch or simply renovating it, you will find this article to be helpful. So read on!
Measure the Space Available in Your Bathroom
Vanity Dimensions
Space is the most crucial factor when it comes to installing bathroom vanities. When you measure it, make sure to estimate its dimensions with the doors and drawers open. Now, compare this with the measurement of the space you had allocated for installing the vanity. Your complete set should adequately fit into the area. It should not disrupt the traffic flow or hinder access to other elements such as mirrors, electrical switches, and outlets. Also, consider your storage needs when finalizing the size of the entire set-up.
Below is a wall-mounted vanity idea for a small bathroom.
Plumbing Location
Check where your plumbing is located. You can estimate the width of the vanity based on this factor. You should not consider moving the plumbing lines, as this would add to your cost.
Countertops
Next, measure the height of your countertop from the floor, depending on who will use the bathroom vanity. Note that it is advisable to keep the width of vanity tops at around 1 inch wider than that of vanity cabinets.
Choose the Type of Vanity Cabinet that Best Suits Your Bathroom
Freestanding Bathroom Vanity Cabinets
Freestanding cabinets are perfect to be used as small bathroom vanities. They are available in a gamut of styles and you can get one based on your personal preferences.
Built-in Bathroom Vanity Cabinets
Built-in cabinets are the best for bathrooms with more space. They offer the luxury of additional storage and countertop space.
Bathroom Vanity Cabinets with a Top
This option is simple to install, but you are limited to sticking with the top that comes with the unit.
Bathroom Vanity Cabinets without a Top
A vanity without a top gives you the option to choose your countertop material — such as natural stone, a solid surface, glass, cultured stone, and others.
Single Bathroom Vanity Cabinets
These vanities are designed to hold only one sink. They are perfect for small-sized bathrooms. You can place the sink in the middle, left, or right of the vanity — in order to add some visual appeal to your space.
Double Bathroom Vanity Cabinets
They hold two sinks. These are a great option if the vanity is shared by two people at the same time. We would recommend it if you are a working couple — especially during those hectic weekdays when you have to get ready within minutes.
Floating Bathroom Vanity Cabinets
Floating vanities are a very popular type of modern bathroom vanities. You can mount the unit on a wall and hence can easily clean the space around it. This is another great option for a small bathroom. You can get one with closed as well as open shelves. It is perfect for bathrooms that need to be ADA accessible by patients on wheelchairs.
Decide on the Type of Faucets for Bathroom Sinks
The vanity top will mostly be already configured and drilled for installing faucets. You can go for either centerset or widespread faucets.
Widespread Faucets
Widespread faucets feature a spout that has distinct handles for hot and cold water. All components are separate in this type and its basins come with 3 drilled holes which are 6 to 16 inches apart.
Centerset Faucets
Here, the spout and handles are all connected on a single unit. The basin comes with pre-drilled 3-hole installations that are 4 inches apart.
Decide on the Type of Sink Bowls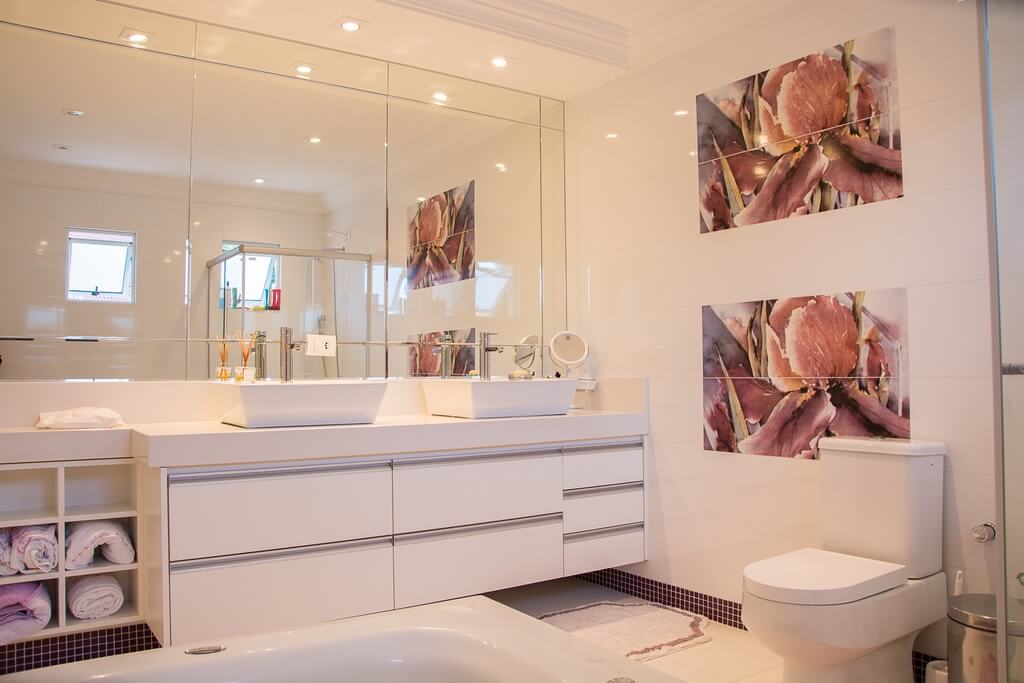 After deciding on the type of faucet, your next step is to choose the bowl category. This will solely depend on the amount of counter space you want and how much you should allow for the sink.
Undermount Sink
It is installed underneath the counter surface to give a seamless top. It leaves more space on the counter area.
Vessel Sink
It is placed on top of the counter and you can get it in several shapes such as bowl and square.
Drop-in Sink
It is mounted at the top of the counter with the edges resting on the surface and the basin embedded below.
Integrated Sink
The countertop comes with the sink included in the unit. This is by far the most convenient option but limits you to stick to whatever comes with the package.
Read more: Bathroom Appliances that Will Boost Home Value
Shop for Different Styles of Bathroom Vanities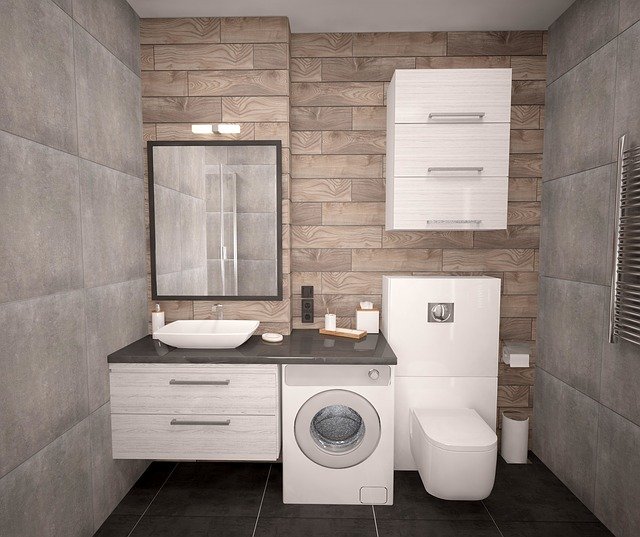 Once you have got all the technical aspects correctly, your next step is to decide on the look and feel of your bathroom vanity. For example, go for a floating vanity if you have limited space or choose a vessel sink to create a luxurious look. Let us have a look at the various styles of vanities available in the market:
Modern Bathroom Vanities
Modern bathroom vanities usually feature sleek hardware, faucets, and monochromatic color schemes. They display a symmetrical pattern in the design sign of cabinets, drawers, and sinks.
Traditional Bathroom Vanities
They feature more details in terms of molds and curves, as compared to the modern models. Traditional vanities come in classic color schemes such as wooden shades and materials like oak, mahogany, and others.
Transitional Bathroom Vanities
These models bring in a blend of contemporary, symmetrical designs and classic, timeless curves.
Rustic Bathroom Vanities
Rustic vanity units feature organic textures and natural wood tones. Some popular materials used in making them are re-purposed furniture or salvaged lumber.
Read more: The biggest shower chairs mistakes you can easily avoid
Choose the Color and Finish
You will find bathroom vanities that feature several color schemes such as white, black, neutral, monochromatic, or analogous. For example, for a subtle warm look, go for a neutral scheme or for a sophisticated simple look, opt for a black scheme.
Even the finish plays an important role. From rustic to matte and glossy, you can choose any finish level that captures your sense of style and the appearance of the rest of the bathroom.
Select the Right Material
Your vanity will be continuously subjected to various agents such as water, heat from your hot shower, detergents, spilled makeup, mouthwash, and cleaning products. Therefore, you need a material which is strong, durable, and resistant against wear and tear. Some examples of such materials are wood veneers, laminates, and thermo-foil, among others. Even your vanity top should be durable — apart from being beautiful and functional.
If your choice is wood, then you can opt from materials such as engineered wood, birch, or pine. For a few more dollars, you can also get Asian hardwood, oak, maple, and others.
Read more: Cost to install bathroom vanity
Conclusion
Remember, when it comes to your personal choice in redesigning your bathroom by installing a vanity, there is no wrong decision. Therefore, don't let the process of shopping for bathroom vanities overwhelm you. Do not be confused with the endless number of options available in the market. Take a look at your bathroom design and think about the functions you require the vanity to perform. Based on this, make an informed decision. With a little bit of research and creativity, choosing your ideal unit will be a breeze.
Read more: How To Choose Bathroom Colors For Walls And Cabinets?
Choosing the Right Bathroom Vanity: A Buyer's Guide
was last modified:
December 20th, 2022
by
Recommended