How to Choose the Right Grout Color for Your Tile?
Choosing new tiles for your kitchen, bathroom, or any other space is an exciting phase. You get to select the most suitable tile colors, materials, and patterns. However, there's one more thing that needs your complete attention — your grout color!
The grout color you pick out has a huge impact on the aesthetic value of the tiles in your home. And, it must NOT be overlooked. In fact, the color of your grout can easily make or break the look of your tile. It can create different effects or visually blend away to give more emphasis to your overall home design.
Planning a home remodeling? Use our free home renovation estimator to have a fair idea of the total expenditure of your project.
What we want to say is never downplay the role of a grout. It's more than just a filler between your tiles. It's also their highlighter and liner — providing the perfect backdrop for any style. Whether you want to create a modern, geometric, vintage, or classic tile design — your grout will make it look seamless.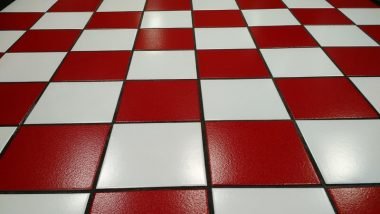 In this article, we'll endeavor to help you choose the right grout color for your tile scheme. The first step is to decide whether you want the grout to blend in with your tiles or stand out. If you have other surfaces in the room, you must consider their color and layout as well.
We've listed out some tile schemes that you might want to consider when it comes to your kitchen, bathroom, or any other room. So, let's begin with the three styles you can incorporate.
Style 1: Let your grout color match your tile color
Matching your grout color to your tile color prevents the eye from being distracted by the pattern within the grout line — making your tile the center of attention, and not its pattern.
The grout easily blends in with the tile — lending the installation a more uniform, monolithic look. Moreover, the grout joints and the edges of the tiles are less visible from a distance as the lines between the tile and grout almost disappear.
This style looks especially great with white tiles. The all-white tile and grout don't draw unnecessary attention like other tiles and grout and yet make your space look fresh and clean. It's the perfect option when you have a modern space that already has a dramatic design flair. Here, you do not want your tile to be a stand-out feature in your renovation.
It's also a good choice if you're renovating a small bathroom because it makes your space appear larger.
Planning a full renovation for your bathroom? Try our free bathroom remodel cost estimator, easy and convenient to use!
However, do keep in mind that a lighter grout color — including white grout — tends to show more stains and discolorations. It will also require more maintenance in order to look its best at all times.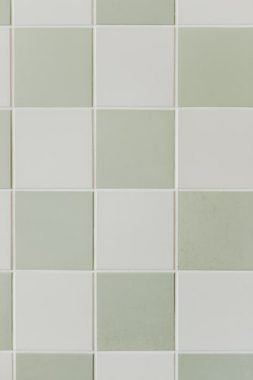 Style 2: Let the grout color contrast your tile color
Want to make a statement with your tile and grout? Choose a grout color that contrasts your tile. The visual difference between the two will emphasize the overall pattern and your tile layout — creating a striking, patterned look that easily becomes the focal point of your space.
Keep in mind that the grout joints and tile edges are more visible. Let's just say, the greater the difference in your grout and tile colors, the more noticeable or bolder will your tile pattern be.
You can either choose a light-colored tile and dark gout or vice versa. Whichever is the case, it's important to understand that your grout may stain your tile, especially if your tile has any crackle or crazing to the glaze. Hence, proper sealing is mandatory.
If you have a classic white subway tile pattern (or any other color for that matter), a darker grout will make the tile pop out more — adding a certain amount of depth and dimension. This kind of tile and grout high contrast looks great when black and white are the dominant hues.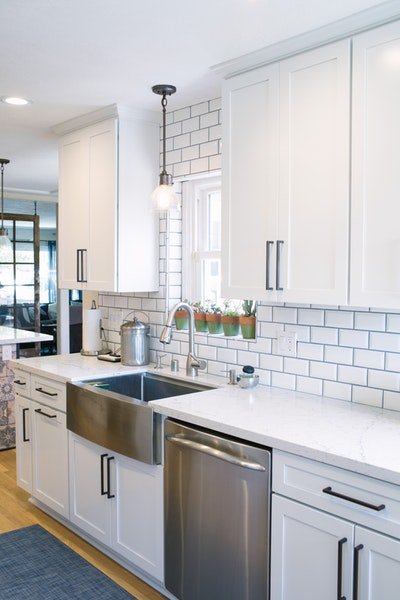 Dark grout has the added advantage of concealing dirt. No wonder, this style is a popular choice in commercial kitchens and bathrooms. Also, a dark-colored grout is easier to keep clean!
Planning a full renovation for your kitchen? Try our free kitchen remodel cost estimator, easy and convenient to use!
If you decide to pair your vibrant or black tile with a light grout hue, know that it will make your tile pattern stand out and add even more interest. A gray or charcoal shade of grout, for instance, will create a soft look on your black tiles.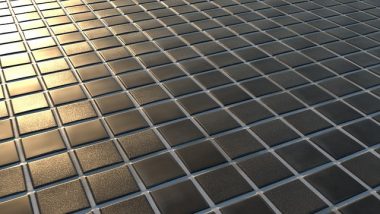 Style 3: Let your tile and grout have a neutral balance
If you are looking for a style that's in between matching and contrasting grout color with tiles, you can add a neutral balance to the two. Try a grout that's just a few shades different from your tile color — maybe just one or two degrees lighter or darker than your tile.
Just make sure their colors complement each other. For example, you could add a neutral gray grout to soften a green tile backsplash. The look will be eye-catching but not overly graphic.
You could even try a warm shade of off-white, gray, or beige to go with warm tiles. Or, a cool shade, such as blue-gray or dusty green, to go with cool tiles. Together, they will unify the design without making it more dramatic.
This kind of color scheme emphasizes the tiles themselves rather than the overall design across the entire floor or wall. It's a good option if you plan to sell your house in the future. Most potential buyers find neutral colors very appealing.
A few tips for your tiling and grouting
Once you've decided on the style you want for your space, there are a couple of things to keep in mind. Here are some important tips and tricks when it comes to choosing the right grout color for your tiles:
Decide upon the right tile color, materials, and design. Each type comes with its own characteristics and appearance. Do you want a solid color or printed tiles? Do you prefer

porcelain or ceramic

, or natural stones?

Understanding the color composition of your tile will help you find the most complementary grout.
Consider the grout size, shape, and what impact it will have on the look of your tiles. The tighter the tile spacing, the less obvious will be the grout lines. If your tile requires a tight grout size, it's best if you choose a shade closer to the tile color.

For contrasting grout, be sure to use a sealer or grout release on your tile (whether tile, brick, or glass) to protect the glaze. Test a few coats to see which treatment is necessary. More often than not, two or three coats may be necessary to ensure the grout doesn't stain your tiles.

Keep in mind that

sealers and admixes can change the color of the grout. There can be slight differences in shades depending on the mixing methods and drying conditions. Also, s

ince it needs time to cure and set, it's best to wait a while after the tile installation for the final color.

Ensure that the caulk you use matches the color of your grout for use on movement joints and changes of plane.

Choose a grout with high color consistency and mix it well according to the manufacturer's instructions. Any improper mixing may lead to uneven color pigment distribution — resulting in blotchy grout lines.

For multicolored tiles, use the most prominent shade on the tiles. If you need help, you can use a color chart to find the neighboring shades.

When contrasting colors, make sure that you choose colors that complement each other or you could select a color from other elements of the room — incorporating the wall or floor tile into a broader design.

Test a sample of your tile and grout design on a piece of plywood and then decide if you want to go ahead with the color scheme on the entire floor or wall.
Conclusion
Your grout color impacts your overall design significantly. The bottom line is, it's just as important as choosing your tile color. What you finally choose will affect everything — from the overall style of your design, it's aesthetics, to the daily maintenance required.
Therefore, it's important to take your time when choosing the right grout colors. Only then will your space have the appearance that you desire.
How to Choose the Right Grout Color for Your Tile?
was last modified:
September 28th, 2022
by
Recommended