If you're looking to add structure, design, and interest to your ceilings, you need a coffered ceiling. What's more, such a type of structure helps muffle sound and adds value to your home. But, how much does a coffered ceiling cost? And, is it worth it? Let's find out.
A coffered ceiling offers endless design possibilities — ranging from modern to ornate and classic. This attractive ceiling can really give your home a higher-end feel.
Don't know what a coffered ceiling is? Well, here's a quick rundown for the uninitiated. And, why you might want to consider one for your next home renovation.
What is a coffered ceiling?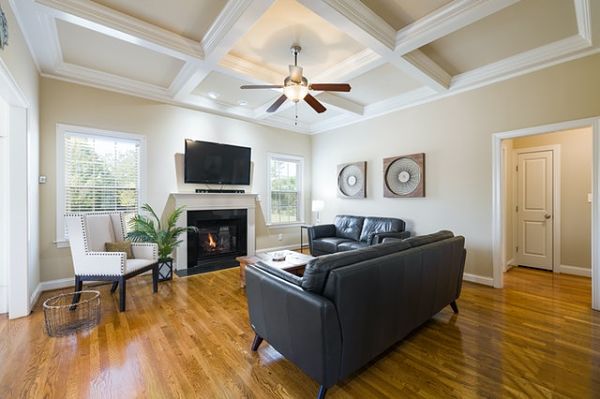 The word "coffer" means indentation. So, a coffered ceiling is a style that has a pattern of recessed areas or indentations instead of a flat surface. The ceiling patterns can be rectangles, squares, hexagons, or even octagons.
In the olden days, such ornate ceilings were found mostly in churches, courthouses, museums, and other public buildings. The design was inspired by a Baroque and early Renaissance architectural style whereby exposed overhead beams crossed each at different angles. The result was a three-dimensional sunken panel that resembled a grooved checkerboard.
If you too are looking for the same kind of elegance and texture, a coffered ceiling is for you.
Coffered ceilings, apart from looking dramatic, give the illusion of spaciousness. Moreover, such a ceiling helps absorb excess sound and potentially adds to your home's resale value.
Read more: How to texture a ceiling
Coffered ceiling cost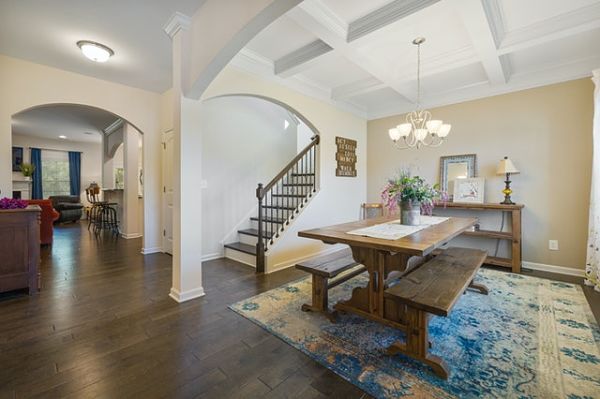 On average, a 150-square-foot coffered ceiling costs approximately $3,000 to $4,500. You can expect to pay extra for the tin tiles, crown molding, and medallions. In terms of area, it will cost you about $20 to 30 per square foot for the basic construction plus the cost of the decorative accents.
It's important that you understand all the factors that go into the total cost of a coffered ceiling. That way, you can plan for your project well, without any surprises.
Cost of coffered ceiling materials
The materials for a coffered ceiling cost $3 to $30 per square foot — depending on its type. For example, real hardwood is the most expensive at $30 per square foot (again depending on the type of wood) while PVC, plywood, and fiberboard are much cheaper at $3 to $20 per square foot. The cheapest coffered ceiling is a drywall ceiling that costs $2 to $3 per square foot.
| Coffered Ceiling Material | Cost Per Square Foot |
| --- | --- |
| Drywall | $2 – $3 |
| Plywood | $3 – $4 |
| Fiberboard | $6 – $15 |
| PVC | $15 – $20 |
| Oak | $4 – $8 |
| Cherry | $7 – $10 |
| Walnut | $10 – $30 |
| Mahogany | $17 – $30 |
Read more: What is skim coating
Cost of coffered ceiling decorative elements
The coffered ceiling extras can cost you anything between $100 to $2,500 — depending on the build, look, function, and the type of coffered ceiling installation. These decorative accents make your coffered ceiling design unique and personalized — turning it into a stylish focal point.
| Coffered Ceiling Accent | Average Cost |
| --- | --- |
| Soffits | $1 to $3 per linear foot |
| Tin tiles | $1 to $10 (2'x2' tile) |
| Medallion | $10 to $690 |
| Trim and molding | $1 to $15 per linear foot |
| Paint and stain | $1 to $3 per square foot |
| Recessed lights | $240 to $480 |
| Finials | $15 to $110 |
Coffered ceiling installation labor cost
Labor contributes toward the majority of the cost to install a coffered ceiling. When you hire a professional ceiling expert, you can expect to pay between $10 and $15 per square foot for a simple coffered ceiling with minimal moldings and standard ceiling height. It will cost you between $1,440 and $2,160 for a 12 x 12-foot room. A coffered ceiling installation takes several hours — depending on the decorative accents and the coffered panels used.
Do coffered ceilings add value?
Coffered ceilings can add to your home's value by making your house more attractive to potential buyers. While it's difficult to specify exactly how much value it can add, a well-done coffered ceiling can help close a deal more quickly.
Apart from adding resale value, coffered ceilings have a lot of benefits. The ornate design pattern is not just ornamental, it actually helps absorb sound — making the design immensely popular in master bedrooms, living rooms, and dining rooms with high ceilings. Interestingly, coffered ceilings give the illusion of spaciousness in a room. It has a similar effect as an open floor plan; it makes a living area feel much larger than it is, without much effort.
Read more: How To soundproof your house with creative home decor ideas
What is the purpose of a coffered ceiling?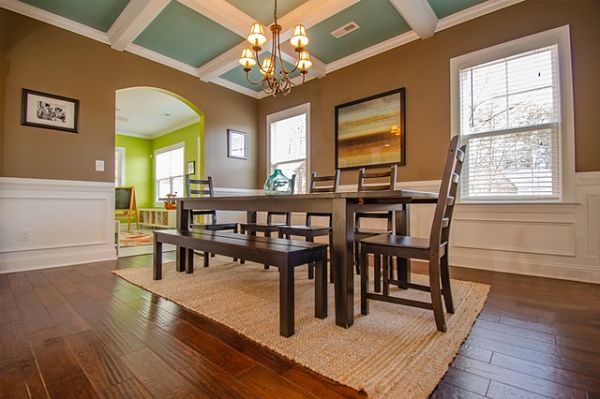 Homeowners who're looking for easy and affordable ways to add character, personalization to their existing ceiling seek coffered ceilings. The architectural details of a coffered ceiling are unmatched! And, most interior designers and architects would agree.
The sunken ceiling adds a sophisticated touch to any room. Adding a coffered ceiling to any part of your home can turn an average-looking room into a stunning space! That's why coffered ceilings will never go out of style.
Homeowners who appreciate such show-stopping features love to customize it to the style of their home. 
Read more: Knock down ceiling
Last thoughts
The kind of ceiling you want should not be an afterthought in the remodeling process. If you're someone who loves to add bold elements to their style of home, a coffered ceiling is for you.
The sunken three-dimensional panels beautifully cover your ceiling to form a grid pattern. The ceiling instantly ups the style quotient of your room — turning a plain one into a beautiful living space and creating visual depth. After all, a stunning house deserves an equally stunning ceiling!
Total coffered ceiling cost
was last modified:
November 15th, 2022
by
Recommended