Composite decking has gained a lot of popularity recently and is easily the most commonly used alternative to traditional timber decks. Most Americans prefer to go for this unique deck while renovating homes. If you are looking to get a new composite deck, this article will be your perfect guide to composite decking materials and prices.
Cost to build composite decks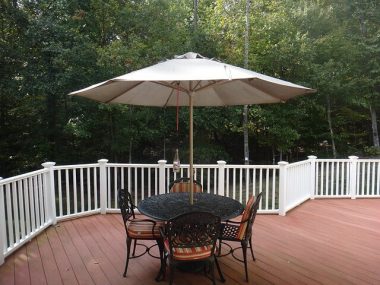 The average cost of composite decking varies between $20 and $38 per square foot. However, you will end up spending from $5,821 to $10,826 if you are looking to install a 12 ft X 24 ft deck with railings. If compared to wood, a cedar wood alternative, on the other hand, will cost you around $30 per square foot.
| Type of cost | Amount |
| --- | --- |
| National Average Cost | $8,064 |
| Minimum Cost | $5,821 |
| Maximum Cost | $10,826 |
| Average Range | $6,611 to $8,901 |
If you want to know the cost of your deck installation, take a look at our estimator tool. It's free and easy to use!
Type of composites and their costs
Composites are basically a mixture of plastic, wood fiber, and a good binding agent. While the benefits of composite decking are well known, the high price may act as a deterrent for some. The price is heavily dependent on the quality of the composite.
How Much Does It Cost To Build A Deck? Let's find out!
| Composite Deck Quality | Cost Per Square Foot Installed | Average Total Cost |
| --- | --- | --- |
| Low Quality Composite Deck | $20 | $5,821 |
| Average Quality Composite Deck | $28 | $8,064 |
| Premium Quality Composite Deck | $38 | $10,826 |
Read more: Residential teak decking
Cost of composite deck boards
Usually, a composite deck board will cost you from $3.19 to $5.80 per foot. This cost is only for the materials and does not include installation and other charges. Most composite decks are made of reclaimed or recycled materials such as PVC (polyvinyl chloride) or polyethylene (LDPE or HDPE) plastic mixed with rice hulls, wood fiber, and other fillers along with a blend of multiple chemical additives. There are primarily three types of composite materials available in the market – polyethylene plastic, PVC and polypropylene plastic. Polyethylene plastic is strong, light and has a very high resistance to most chemicals such as acid. Poly Vinyl Chloride, also commonly known as PVC, can be both flexible and rigid. The rigid form is very popular for structural work. Polypropylene plastic, on the other hand, is tough and has a very high resistance to heat. It is also resistant to fatigue.
What Do You Need To Know About Deck Lighting? Take a look at our guide!
| Deck Boards Type | Cost Per Linear Foot | Total Materials Cost |
| --- | --- | --- |
| Polyethylene Plastic | $3.79 | $2,683 |
| PVC | $3.78 | $2,676 |
| Polypropylene Plastic | $3.19 – $5.80 | $2,259 – $4,106 |
Installation charges of composite decking
On average, the installation charge of composite decking is around $7.52 per square foot. If you are looking to install a 288 square foot deck, be ready to pay around $2,165 as labor charges. It usually takes around 34 hours to build a 200 square foot deck. If you are looking to install a substructure, the building time will be around 50 hours and the labor cost will be around $3,138.
Take a look at these Easy and Useful Deck Repair Steps and Maintenance Tips!
Factors that determine the final cost
Composite decking is not a cheap affair. However, there are some factors that have a direct impact on composite decking prices. If budget is a constraint for you, the following factors can help you to keep the price on the lower side.
1. The deck size
The size of the composite deck has a direct relation with the final price. Larger the deck, the higher the price. Reductions of a mere 50 square feet will help you save between $1,500 and $2,000. You may also want to go for a more basic design to reduce labor costs. Keep this pointer in mind while building a deck.
2. The deck corners
You may wish to have fashionable corners that will make your guests go wow. However, the more complicated the design you choose, the higher the labor cost will go. Be ready to pay at the rate of $60 per hour, if you want to go for a complicated design.
3. Structural obstacles
The area where you intend to install the deck also has a say in the final price. If there are obstacles that need to be removed, it will add to the installation cost.
4. Substructure
If you do not have an existing substructure, you will need to build one. This will cost you an extra $4 per square foot.
5. Accessories
Luxury can never come cheap. If you want to add fashionable lighting or need some plumbing work, you will need to pay an extra $60 to $90 per hour for the labor charges.
6. Removing an old deck
If you need to remove an old deck to be able to install the new one, you will need to shell out anywhere between $5 and $15 per square foot, depending on the type of vendor you choose to go with.
7. Leveling
If you are looking to install the deck on level ground, it may cost you between $300 and $1000 to get the leveling done correctly.
8. Time of installation
As you know, spring is the season when most Americans prefer to get the composite decking done. However, if you choose to get it done during fall or summer, you can expect some discount deals.
9. Choice of vendor
Choosing the right professional to get the job done is never easy. While the reputed vendors may come at a higher price, they have an established credibility and reputation in the market. You may want to take quotes from multiple vendors to ensure fair pricing.
Now that you know the approximate budget that you need to have to install a composite decking, what are you waiting for? Get your dream composite deck today!
Read more: Beautiful above ground pool decks
A Guide on Composite Decking Materials and Prices
was last modified:
September 21st, 2022
by
Recommended