Whether it is a place to read comfortably, a teepee hiding place for a nap with their favorite pet or a wall map to inspire imaginary journeys, either of these fun kids room decor ideas will delight your children and will even give you a couple of hugs and kisses.
Reading corner
Young bookworms love to read in a comfortable place where they can spread out and feel comfortable. For this reason, the position of being close to the ground –e.g. a puff on a rug – will suffice; this will be the setting for a relaxing and enjoyable reading session. Keep the toys and TV areas away to prevent children from being distracted. Be sure to include a library full of books as the main feature of the area, or you can also decorate it with a big blackboard.
Permanent camping
Install a teepee tent in a corner of the room, which can have a double purpose as a place of adventure for playing, as well as a shelter for when your child longs for a little time alone. Portable tents for children are ideal options for reading and hiding. Also it creates a cozy and soothing atmosphere.
TIP: Use Our Real-Time Remodeling Calculator and Find Out in Minutes How Much Your Home Remodel Would Cost.
Big map on the wall
Eliot's Room by amy gizienski on flickr [CC BY 2.0]
One way to brighten a room is painting or upholstering an entire wall with the world map. Children will never get tired of pointing their country or finding far away and exotic places they learned at school. A map is also a great way to keep track of any trip that someone in the family has taken, and may even inspire your children to travel in the future and learn about other cultures.
A hammock station
As some children resist having to sit in front of a desk to study, a hammock could help you make the space more fluid and fun. A suspended chair or hammock may be where they choose to study and can also provide additional seating for when friends come. This can be a real success especially with older children and adolescents.
A dreamscape on the ceiling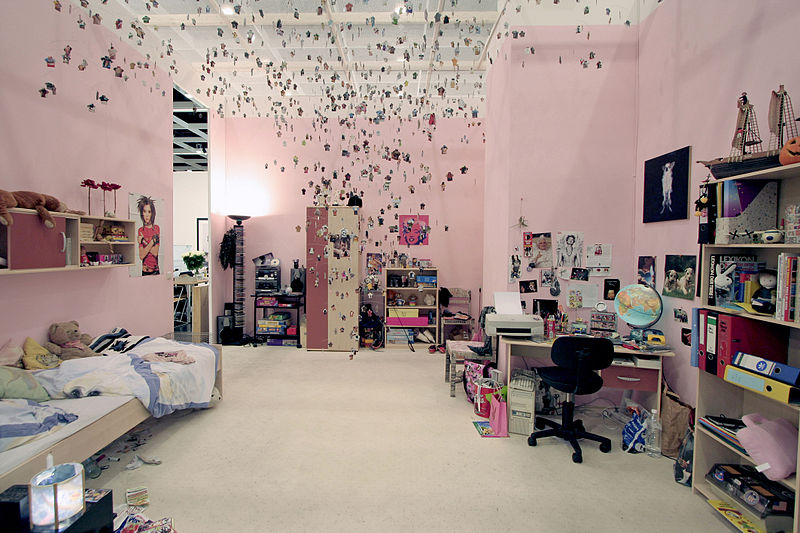 Photo by Sandra Mann, from Wikimedia Commons [CC BY-SA 3.0]
Throw the dreams of your children into orbit with a vibrant mural out of this world painted on the ceiling. The imaginative arrangement of the ceiling for the kids room decor offers a whimsical way to inspire to go to sleep and dream every night.
Smart storage for toys
If you want to maintain order in your children's room, installing a low shelf for the storage can be very practical as it has plenty of baskets easily accessible to children, to encourage them to organize their toys after playing and tidy up their room. Natural woven baskets are soft in small hands, and their shape makes them easy to grab.
MORE : Six Stellar Storage Solutions for Kids' Rooms
Artwork gallery
Create a focal point of the room to hang the artwork made by your children. The clips help you turn, rotate, change and easily remove the artwork whenever your children make new paintings and you want to display them.
MORE : 15 Jaw-Dropping Nurseries For Modern Parents
Cool Kids Room Decor Ideas
was last modified:
March 24th, 2019
by