Gutters and downspouts are essential to pretty much every home. They keep rainwater from causing water damage to your home's foundation, crawl spaces, attics, and basements. However, we hardly ever think of these as being able to add to the curb appeal of our homes. That is until you consider copper gutters.
While copper gutters and downspouts are more expensive than a lot of other options, they make up for it in durability and in the way they complement certain architectural styles. Read on to find out more about copper gutters' costs, maintenance, styles, and more.
Copper gutters costs
Copper gutters are a lot more expensive than either aluminum or steel gutters and downspouts. While aluminum gutters and downspouts cost between $5 and $8 per foot installed, stainless steel gutters cost between $8 and $10 per linear foot. Copper gutters and downspouts cost more than twice that, between $25 and $30 per foot including material costs and labor costs.
But consider this as justification for the cost. Vinyl gutters and downspouts have a lifespan of around 10 years. Aluminum and steel gutters and downspouts last twice as long, needing to be replaced every 20 years or so. However, with the right kind of maintenance, copper gutters and downspouts can last over 60 years without needing major repairs or replacement. In other words, your copper gutters are likely to outlive you.
In addition to being very durable, these gutter systems are also a great fit with multiple architectural styles, from Victorian homes to Stone Tudor and Arts and Crafts residences. Many home buyers are sold the minute they see copper hardware glinting against classic slate roofs. However, they may not fit modern homes with minimalistic designs.
Components of copper gutters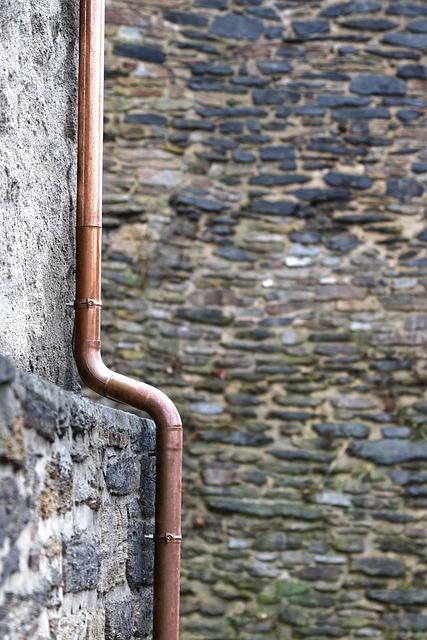 Let's take a look at the components your copper gutter system will come with.
A tray-shaped gutter with an end cap and corner pieces, which hangs underneath the roof and catches the runoff.
A downspout to carry water away from the house.
A drop outlet connecting the downspout and the gutter.
Brackets to attach the downspout and gutter to the house.
A splash block on the ground to divert runoff away from the house.
Maintenance tips
Just like you would with other gutter systems, clear out tree leaf debris and roof runoff periodically. Not doing this will lead to discoloration of the copper.
Always use gloves while cleaning copper gutters. Our skin secretes oils that can cause spotting on the copper surface.
Always use soft plastic tools instead of metal tools for the purpose of cleaning. This is to prevent scratching the surface.
Thanks to oxidation, copper gutters, and downspouts get a beautiful blue and green patina with age. While these are in no way harmful to the materials and look stunning, you can retain the original color and sheen by using a protective coating on them as well as polishing them using a copper-friendly solution from time to time.
Avoid leaning ladders on them while cleaning, just so unnecessary scratches are not put on the copper surface.
Read more: Why gutter guards are bad
Popular styles
Round-shaped tubular downspouts.
Square-shaped tubular downspouts.
Half-round seamless gutters, featuring a semi-circular tray hanging on the roof's eaves.
For places that receive heavy rains, K-shaped rain gutters with flat bottoms and backs, while the front is curved. This design can handle twice the water flow half-round gutters can.
Pros and cons of copper gutters
As with all things, copper gutters have good characteristics as well as negative ones. Let's take a look at both.
Pros
They last a lot longer than other gutter products. This makes the year-on-year cost of copper gutter systems comparable to any other material.
They are great for certain architectural designs from an aesthetic standpoint.
The change in their appearance with age only adds to their visual appeal.
Cons
They are a lot more expensive than other gutter materials.
While using copper materials, you cannot mix and match parts such as gutter guards made of other metals like galvanized steel or aluminum. Doing so will cause the copper to corrode.
Most copper gutter systems are made-to-order. This makes installation and repairs expensive since you will need to find professionals with considerable experience welding and installing copper gutters.
Copper gutters costs, maintenance, styles, and more
was last modified:
October 14th, 2022
by
Recommended