Cost to paint a living room: Factors, procedures and more
Your living room is undoubtedly one of the busiest rooms in your home, considering it where you do most of your entertaining, relaxing with your family, and a whole lot more. So it is only natural that you'd like to keep your living room looking its best at all times. One thing that can often take away from the visual appeal of any room is a fading paint job. Adding a couple of fresh coats of paint to your living room is a sure-shot way to revitalize it. Read on to find out how much it will cost to paint a living room, factors that affect it, procedures to follow, and more.
Average costs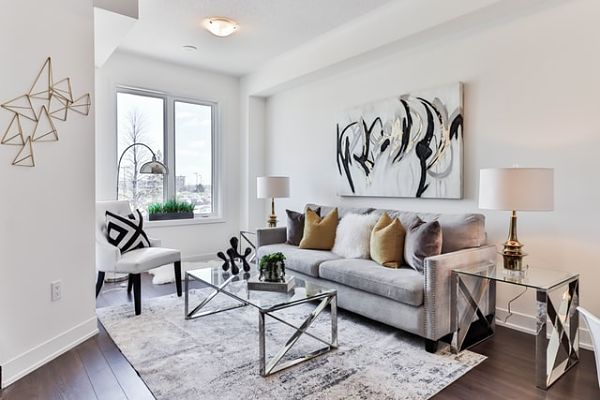 The cost to paint a small living room of an average size of 12 feet by 18 feet varies from a low of $450 to a high of around $2,000. The national average cost to paint a living room is between $700 and $950. This cost includes paints, primer, labor, and other materials. Let's break that price range up a little more for you.
At $450-$650, you're looking at painting your living room walls only, and not any of the trims or the ceiling.
By spending $650-950, you will be able to paint your living room walls, ceiling, and trim with two coats of latex paint in an eggshell finish.
A total cost of $1,000 and $2,000 will get your living room painted along with additional wall repairs and a partial wallpaper installation.
Home Renovation Cost Estimator
Sorry, we currently don't have that project at our disposal.
---
You can take a look at our most popular ones:
Water Heater Installation
Exterior Door Replacement
Install Recessed Lighting
Exterior Door Installation
Interior Door Installation
Interior Door Replacement
Cost factors
While these are just estimated costs, actual costs will vary depending on a variety of factors.
For example, the size of the room is the primary factor to consider. The larger the room, the more it will cost. Here's a simple formula to calculate the surface area of your living room, so you know how much paint you will need.
Measure the perimeter of the room and multiply it by the ceiling height. That should give you the wall area. Subtracting the square footage of the doors and windows in the room will give you the room surface area.
The texture of your wall will also affect the cost of painting. This is because while plain walls are fairly easy to paint over, textured walls require different types of brushes and more skill, thanks to their multiple angles surfaces. 
The extra skill and the additional time it takes to paint a textured wall make the job almost twice as expensive as painting a regular wall.
Interior painting costs can vary based on the type of paint you use and the number of coats your living room needs will also affect your painting project cost. For example, oil-based paints take around 6-8 hours for a coat to dry, while latex-based paints dry up in an hour. So if you're using the earlier, the painter will need to wait longer between coats, increasing labor costs. The quality of paint you use will also be a crucial factor.
Most painters charge either an hourly rate of around $50 or around $2 to $5 per square foot. Considering it takes approximately 6 to 8 hours to paint an average room, that's around $300 to $400 in labor charges. Of course, if you have faith in your skills as a painter, you could save on that amount.
Read more: Living room addition ideas
Prep before you paint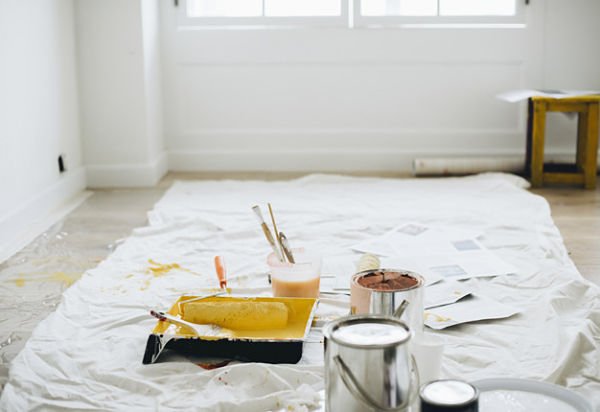 Here is some essential prep work that needs to be done before you begin your living room painting job.
Takedown all paintings and wall hangings from your living room wall.
Wipe it clean of traces of grease and dust.
Use spackle to cover any holes or cracks.
Sand any existing rough spots.
Tape your trimming and crown molding.
Remove all furniture from the room. If there's anything that cannot be moved out, move it to the center of the room and cover it with a drop cloth.
Cover the floor with a drop cloth as well.
Prime the walls
Priming the walls is important to seal the wall and ensure that the paint sticks. Priming is an important step if you want to change the room color from dark to light, if the walls have smoky stains, if the previous paint had a glossy finish or if you're painting over newly installed drywall.
There are three options for you to choose from, each of which is good for a different type of purpose. The type of primer you choose ought to correspond with the type of paint you're using and the surface material you're going to be painting on.
Shellac primer will cost you around $15 per gallon and is ideal for use of wood, metallic surfaces, and plaster. It is effective in preventing water or smoke stains and can be used with oil or latex paints.
A latex-based primer will cost you around $20 per gallon and is not as effective as shellac primers in hiding stains. It can be used against softwood, brick, concrete, and unfinished drywall.
Oil-based primers work best with wood and will help prevent stains from showing through. These cost around $30 per gallon.
Choosing colors
Choosing the right color for your living room is one of the most important things you will have to do. Colors can alter moods and influence the perception one has of a particular room. Here are some factors for you to consider while choosing paint colors.
Popular colors include blues, yellow, light shades of gray, pink, orange, neutrals, and olive.
Choose light colors and neutrals for smaller living rooms to make space look larger.
The amount of natural light your living room receives also influences what colors ought to be used. If your living room has very few windows and is poorly lit, choose warm or medium-toned neutral colors to make the room look brighter. Preferred colors include powder blue, yellow, lavender, and pink.
Brightly lit living rooms will look great in grey, tan, white and blue.
Choosing a paint finish, or sheen is just as important as choosing the right color. Choose between no-shine flat finishes, high gloss, eggshell, satin, and semi-gloss finishes.
How much paint and at what cost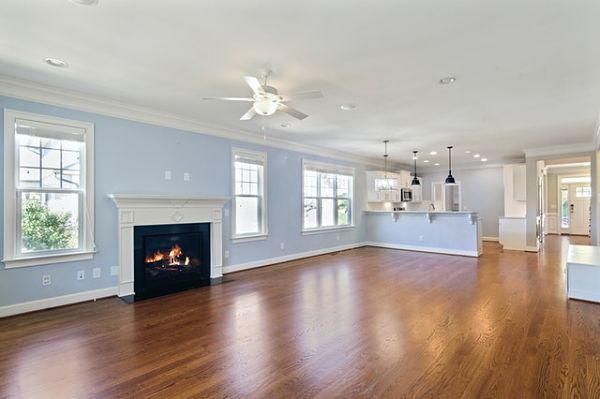 On average, an 800 square foot room can be covered using two gallons of paint. Let's take a look at how much paint costs based on the type and finish.
Types
Latex-based paints can cost between $10 to $50 a gallon. These are easy to use and once dry, the wall can be wiped clean using soap and water. However, they don't work well with wood, or with walls that were previously painted using oil-based paints.
Oil-based paints contain VOCs (volatile organic compounds) that can be harmful if exposed to people irresponsibly. Because of this, specific directions need to be followed while disposing of them. They also release a lot of fumes and take longer to dry than latex paints. On the positive side, they are durable, cover more surface area in a single coat, do well against stains, and have good adhesion. These cost around $30 a gallon.
Finishes
Flat or matte finish paint is perfect for high traffic areas and ceilings. This finish is nonreflective and great at hiding blemishes. It can, however, be difficult to clean. Expect to spend between $10 and $45 a gallon.
Eggshell finish paints are also great at hiding blemishes and are easy to clean. However, they aren't the most durable. These cost between $17 and $50 per gallon.
Satin finish paints cost the same as eggshell finishes do, are easy to clean, durable, and good for high traffic areas. However, you need to be a skilled painter to use this finish, because errors in paint strokes can be easily noticed.
Semi-gloss finish paints are durable, easy to clean, and good not only for high traffic areas but also for areas that may be susceptible to grease and moisture stains. These cost between $30 and $33 a gallon. The only downside is that imperfections clearly show on this finish.
High gloss paints are in the same price range as semi-gloss paints. These are great for trims, moldings, and doors. Unfortunately, they also show blemishes just as easily as semi-gloss paints do.
Planning a home renovation? Click here to hire the best professional contractors.
Read more: Can you paint a brick house?
Cost to paint a living room: Factors, procedures and more
was last modified:
July 5th, 2021
by
Recommended