Cozy guest room design by our expert architect
A great guest room design should strike the perfect balance between style and comfort.
It should reflect a warm and welcoming space where you happily host your friends and family. If you want to give them a memorable stay, you'd want to create the perfect guest oasis.
And that's why we have an expert architect on board to give you a glimpse into the most amazing guest room design that's simple, uncluttered, comfortable, and feels like a home away from home. So, let's get you inspired by such guest bedroom ideas and make your guests feel like they're staying in a room that's well-put-together and special.
Guest room design: Bedroom with a private terrace
Dimensions: 20.34ft x 11.97ft
Area: 243.59ft²
Height: 9.84ft
Ideal location: Towards the main façade
Inclusions: A private terrace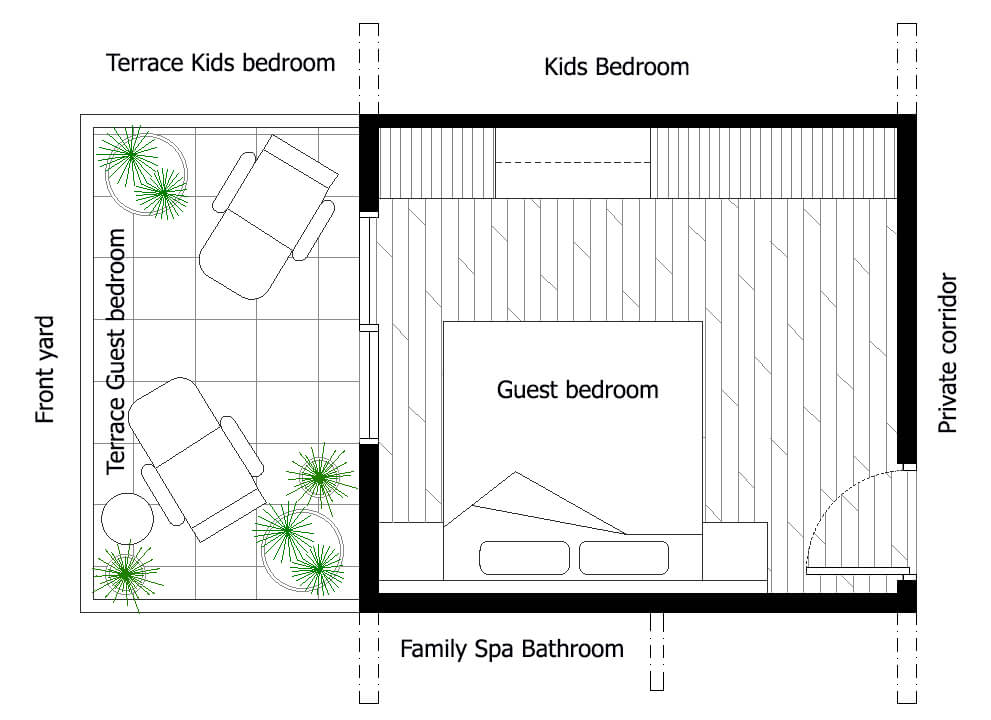 This guest room is ideal to receive family or friends, without affecting the dynamics of others who inhabit the house on a regular basis. You have the choice of dedicating a room in the house for this design or you could utilize a multipurpose space and transform it into a guest bedroom. Just make sure it has comfortable furniture and sufficient space for your guest to function independently. Factor in good space for the sleeping area too.
Having said that, it's a good idea to have a separate bedroom with an ensuite guest bathroom. This will offer those staying there more privacy.
Read more: Some important guest bathroom essentials
The structure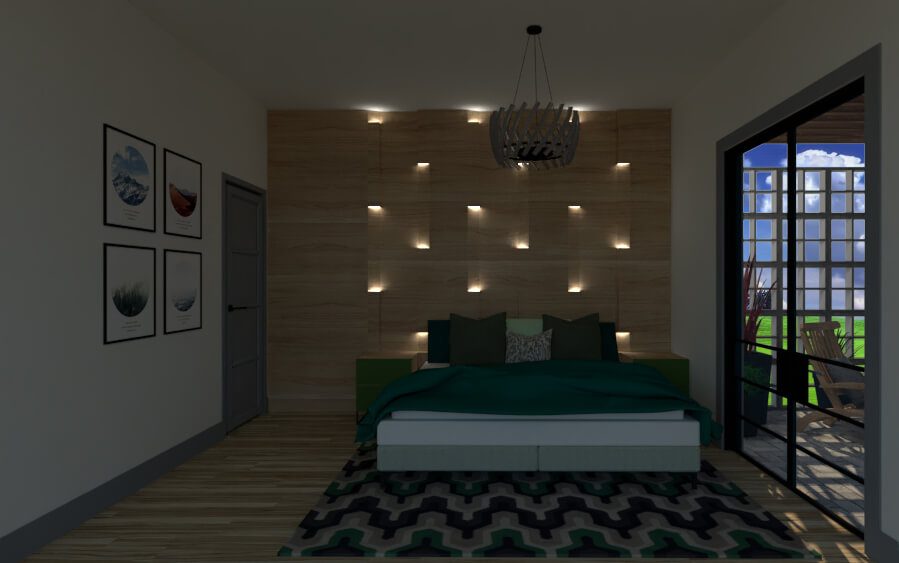 The guest bedroom can be entered through a private corridor via a 2.95ft door. There is a good amount of space for your guest(s) to move around. Moreover, a sliding door measuring 5.91ft leads to the private terrace.
The construction materials and style correspond to a modern design with a minimalist trend. You can spot simple lines and neutral colors throughout the room. There's white on the walls and gray on the door trims, windows, and baseboards. The wood accents have been kept in a light tone. Our architect, in a bid to provide a beautiful contrast, has used green tones for the room furnishing, bedside tables, and carpet.
The bedroom design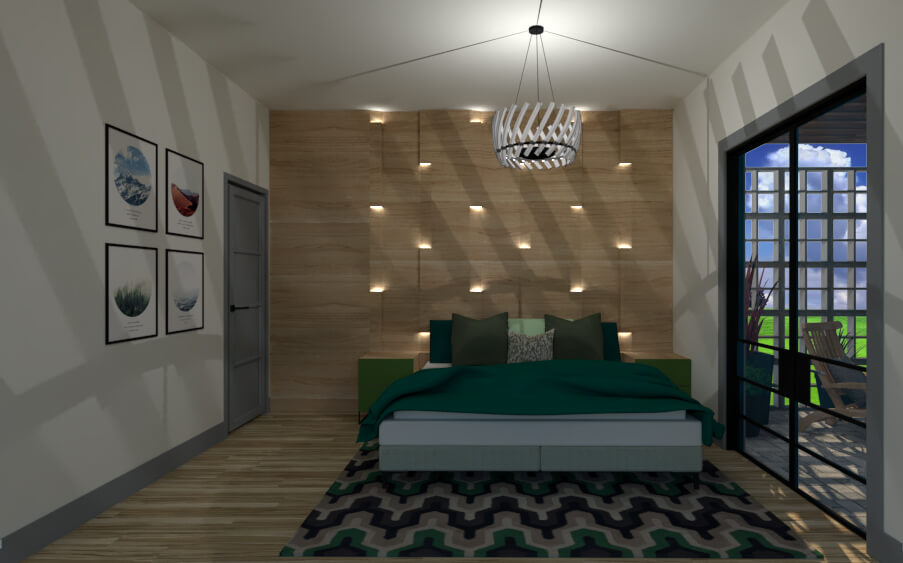 The bedroom measures 13.12ft x 11.81ft with an area of 155ft². The color of the side walls and the ceiling is white, while the back and the front wall is mostly wood. The wooden panels work as a headboard, where the bed rests, and the panels in the front are designed with a built-in closet, a writing desk, and a TV stand.
The room lighting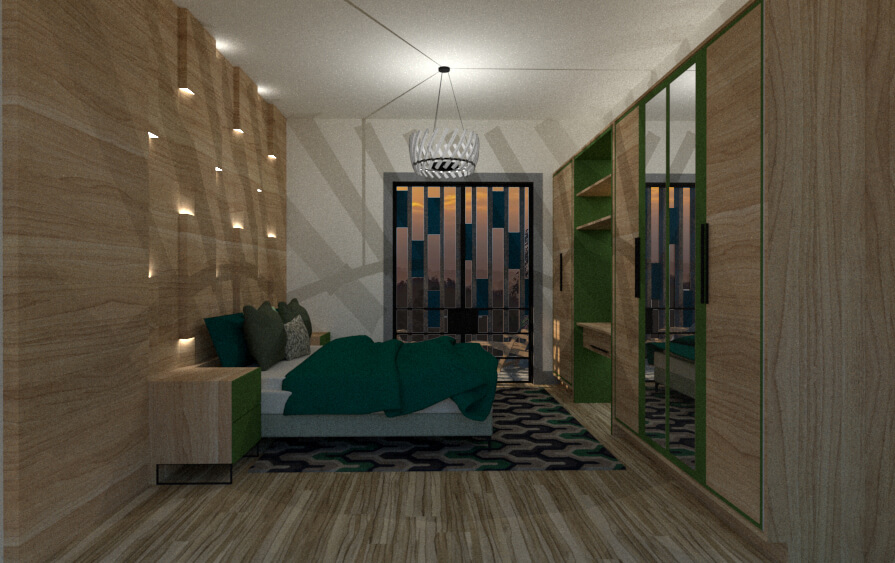 The architect has added good lighting by utilizing sufficient ambient lights and recessed lighting. And, the central light fixture is uniquely simplistic. The ceiling pendant lamp is circular and embellished with diagonal crystals. This arrangement provides intimacy as well as comfort as and when required. The tiny triangular LED recessed lights (17 in total) become the main design and decor element of the bedroom.
What's more, there are simple linear LED lights along the open shelves, in the upper part of the built-in cabinet, in the closet, and desk.
There is ample natural light coming through the sliding doors which lead to the private terrace. The glass doors are 5.91ft wide with a black metal door frame and handle.
Room furniture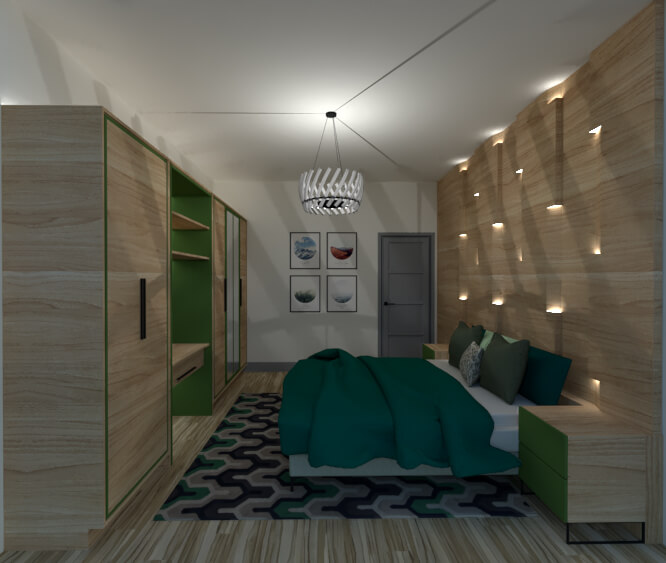 The guest room features a king-size bed that measures 6.56ft x 6.56ft with a height of 1.65ft. It's upholstered with a soft shade of pastel green textile and has black metal legs. You may accommodate twin beds too if it suits your purpose more.
Our architect recommends using an intense-green cover, pillows, and cushions in the same tone as the base upholstery textile. The bright colors will bring alive the room. The high mattresses add a luxurious touch to the room decor.
The side tables, with green front drawers, measure 1.64ft x 1.48ft with a height of 1.97ft. These too have black metallic legs. You may place beautiful table lamps or floor lamps for your convenience and extra task lighting. This is also the perfect place for phone chargers or a bedtime novel.
The room decor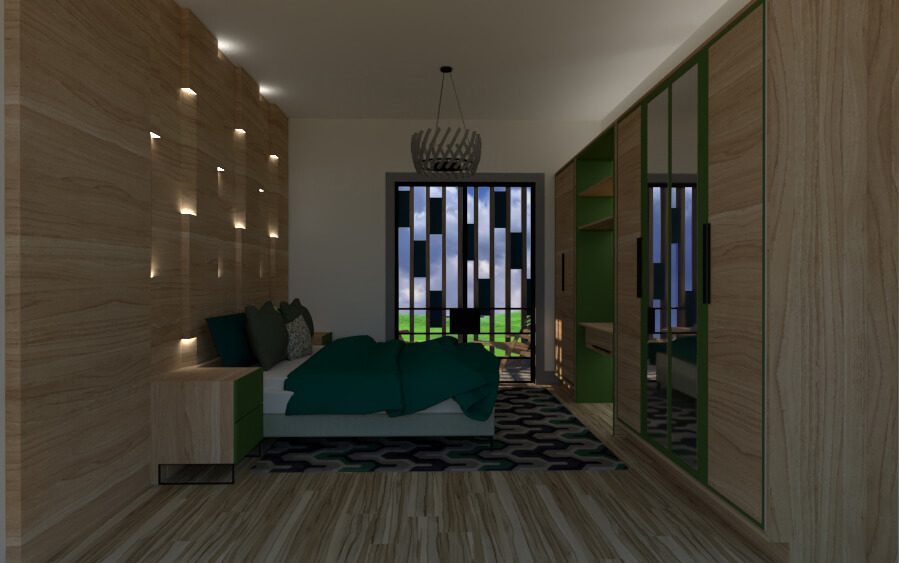 There's an 8.40ft x 7.70ft carpet with green and gray tones in an abstract design to add to the green bedroom. Besides, there are four wall paintings – each with black metal frames to maintain the continuity of the room. The architect has used natural elements as the theme. You can spot wall art featuring a mountain peak, a desert, a forest, and the sea.
Room storage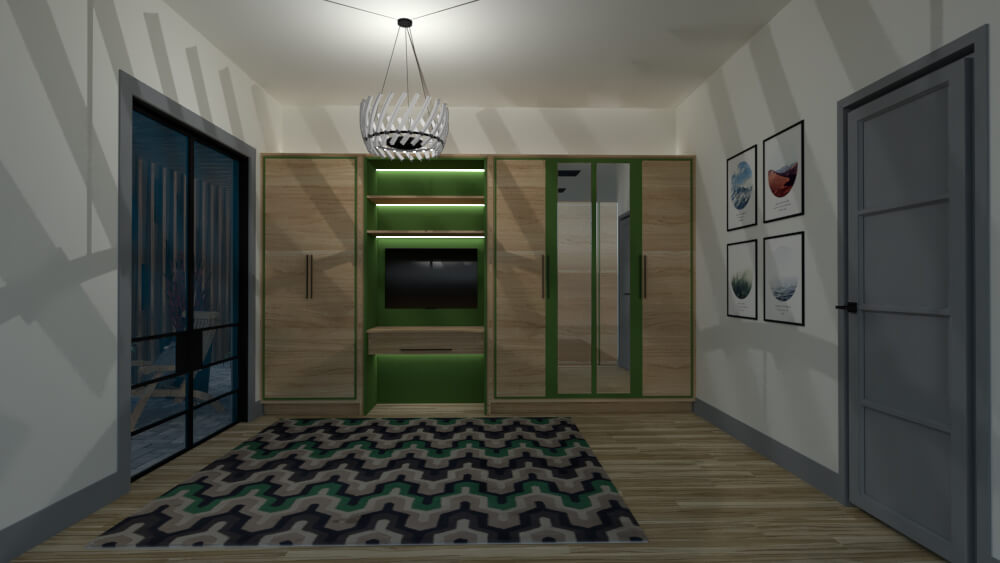 The room has a built-in 2-door storage area that's 2.95ft wide, a desk, a TV stand, and some open shelving measuring 3.94ft. Additionally, there's a 4-door storage measuring 6.23ft in the same tone of wood as the walls. Here too, you can see a lot of green. Plus, there are two full-length mirrors to make dressing up easier.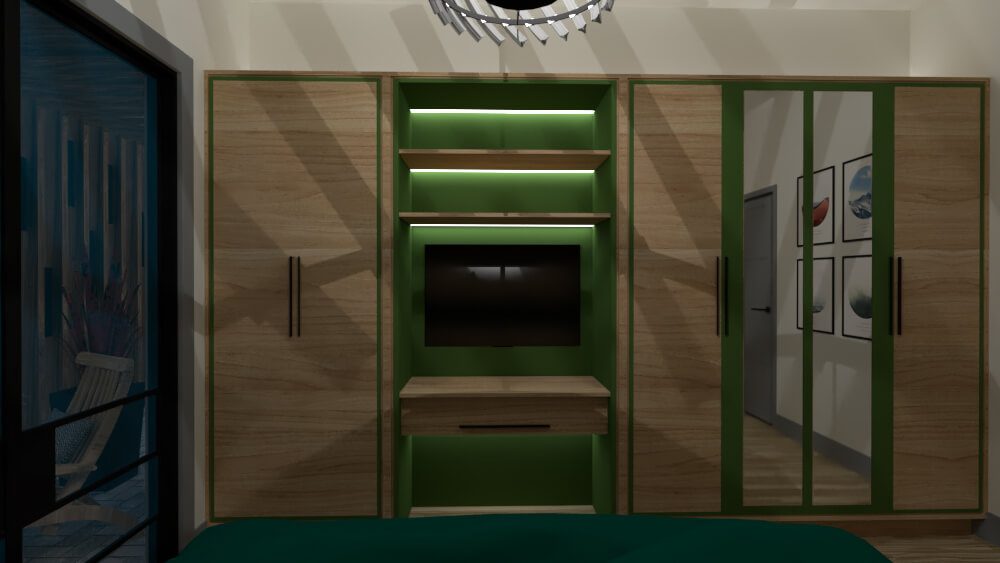 The storage space is designed in such a way that it can easily accommodate a 42-inch TV.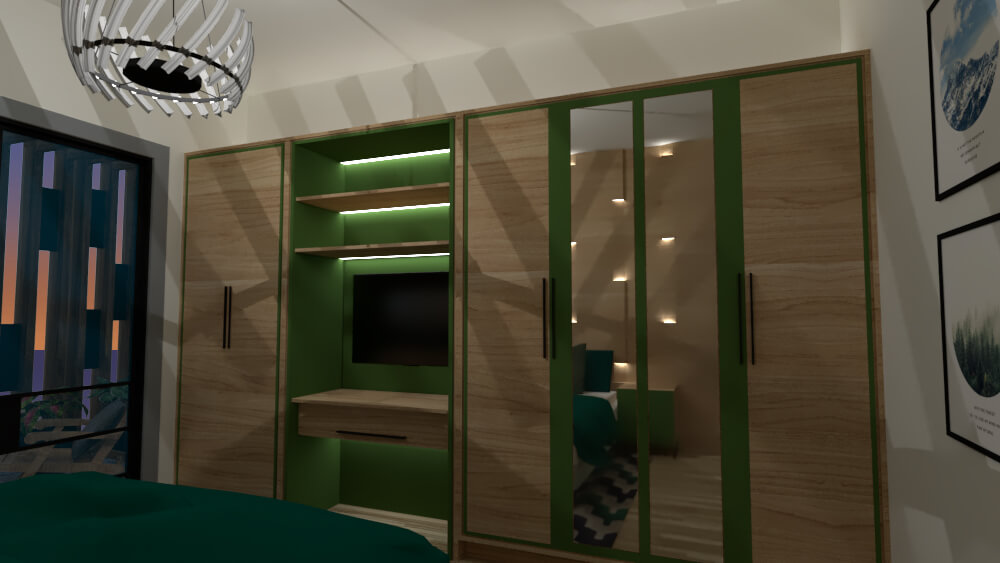 Furthermore, the desk has a 0.69ft drawer that's 1.34ft deep.
The two mirrors, one for each closet door, make the room feel and look brighter and bigger.
The terrace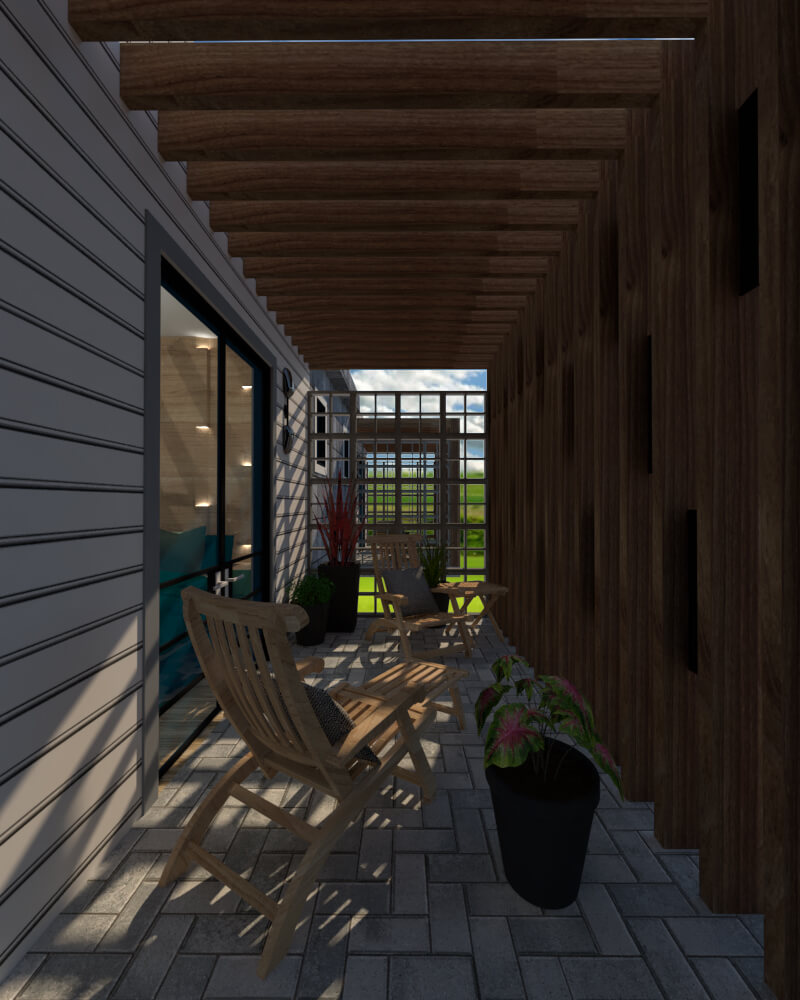 The patio or the terrace area measures 6.73f x 11.98ft with an area of 80.55ft². There is a good seating area with two light-toned wooden armchairs, patio cushions, and two square wooden tables. The plants in black pots further beautify the area. You may add fresh flowers too. There's gray cobblestone flooring that features a herringbone pattern.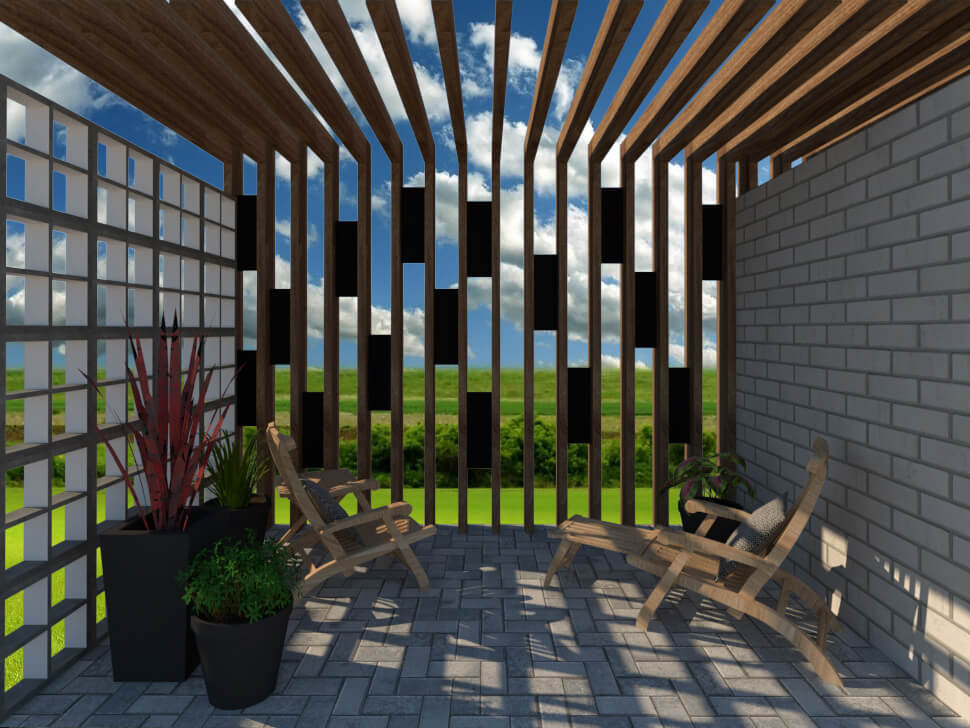 The structure of the patio enclosure is such that it provides sufficient security, privacy, natural light, and ventilation – thanks to the perforated concrete walls measuring 6.41ft x 8.04ft, with 0.66ft x 0.66ft openings.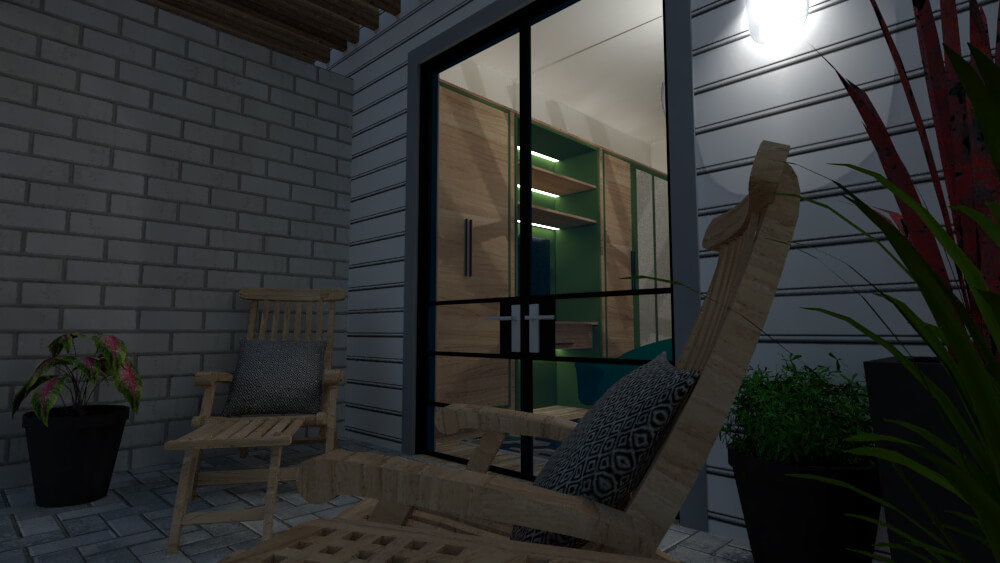 The pergola-like structure gives the whole terrace a serene vibe. You can sit here all day gazing at the elements – all the while enjoying your private little space.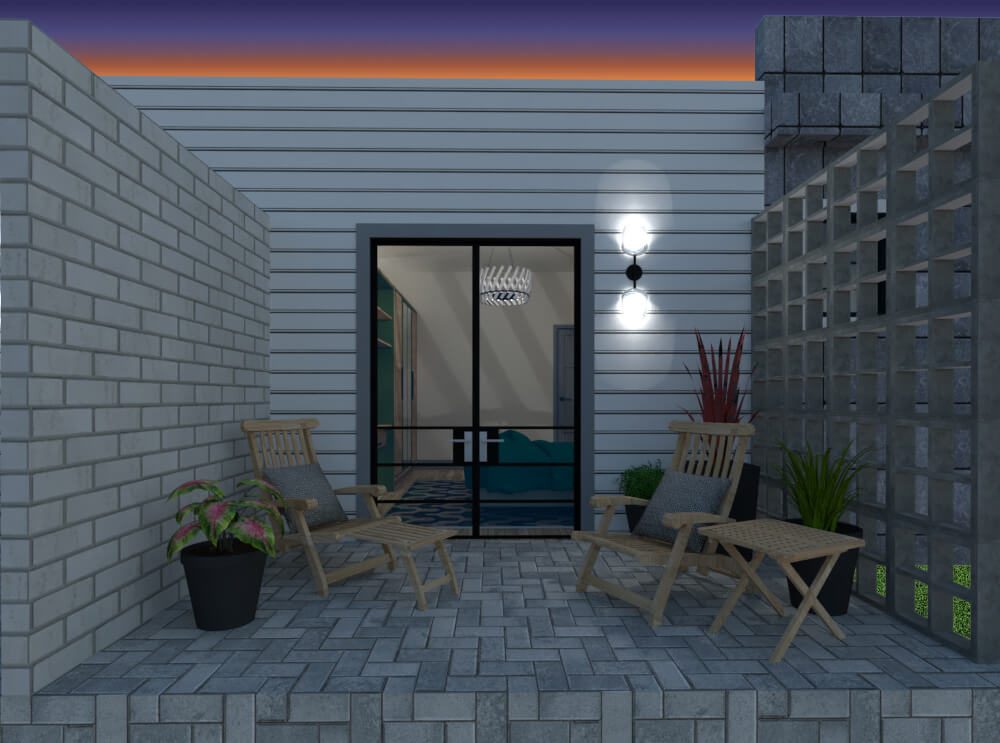 There's a unique sconce-shaped double-lamp wall light fixture to add to the grandeur of the place. This will provide you with the much-needed lighting once the sun goes down.
Last thoughts
When it comes to a good guest room design, the idea is to create a space that looks beautiful and feels great. It should elevate your guest's experience, and leave a great impression on their minds and hearts. We hope this amazing design by our expert architect will inspire you for your next home renovation. It's time to create a cozy living space, almost like a luxurious hotel room, for your visiting friends and family members.
Cozy guest room design by our expert architect
was last modified:
March 22nd, 2023
by
Recommended