Despite its name, kitchen molding and other architectural elements can add and elevate your kitchen's clean and classic aesthetic. They can be a great addition to the cabinets, countertops, flooring, appliances, and tiles you have already selected. Kitchen molding and architectural features give your cooking space an exceptionally polished look and more cohesion with the rest of your home. Here are a few ideas on how to use architectural elements to create this lust-worthy kitchen design.
An Introduction to Kitchen Molding
Moldings are architectural design features that instantly spruce up cabinets and bases while adding value to your kitchen at the same time. Ornate trim work and molding can be the ultimate design statement in a kitchen, adding interest to walls and clearly defining spaces.
Priced by the linear foot and sold in 8-foot lengths means crown molding, for example, can quickly escalate in cost. One rule of thumb: the more elaborate the design, the more expensive it will be. Let's explore some of the most popular types of molding.
Take a look at What You Need to Know About Kitchen Cabinet Refacing
Traditional crown molding
Traditional crown molding provides a dazzling way to fill the empty space between the ceiling and the cabinets. This helps create a unified, built-in look. In addition, crown molding adds architectural interest and creates balance, visual weight, and definition.
Stepped crown molding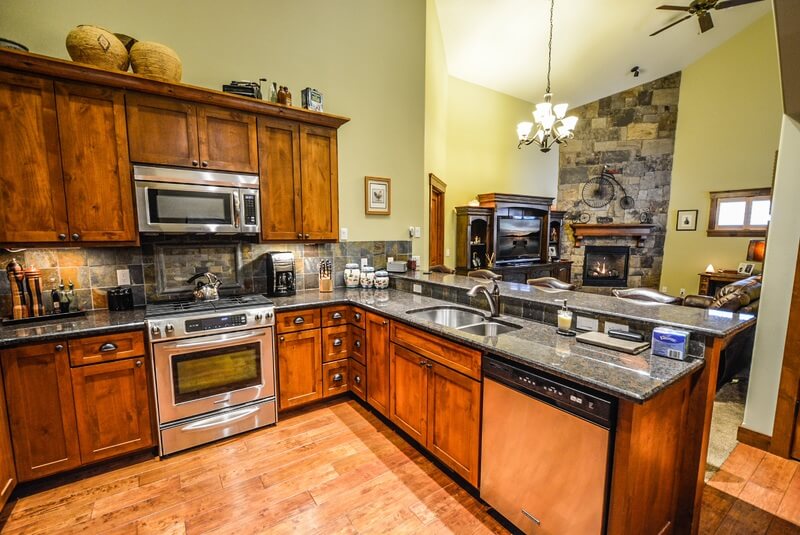 Pixabay
A kitchen design that uses upper cabinets in various heights is referred to as "stepped." Adding molding to the heights gives a stepped look.
Stepped molding works when ceilings are too high to install cabinets all the way up. The molding them becomes more than a decorative element – it becomes a way to unify the cabinets and the kitchen. Topping molding off with other moldings often called "complex molding," is basically different pieces of molding that are stacked on top of one another to create a cohesive look.
What's the Average Cost to Replace Kitchen Cabinets? Let's find out!
Interior crown molding
Interior crown molding is molding placed around the perimeter of the ceiling. It's where walls and ceiling combine. The crown works to immediately draw your attention to the ceiling, making your kitchen ceilings appear higher. The cabinets benefit from the crown because the crown works its way around their tops, making everything feel unified.
Take a look at these Must-Know Things About Architects
Open-shelf molding
Take your open shelves to the next level by using decorative moldings at the base or bottom of the cabinet. Once used primarily as a structural element to keep shelves or cabinets in place, these days adding edge molding to the outside of a shelf serves more of a decorative purpose.
Take a look at these 12 Interesting Ideas to Update Kitchen Cabinets in Your Home
Light molding
Light molding – also known as "light rail" – is molding on the bottom of cabinets that helps conceal under-cabinet lighting. Because light molding is relatively inexpensive, it's easy to add to all cabinets without breaking your kitchen renovation budget.
Renovating your kitchen is easy with Kukun. Start with a free cost estimate today.
Shoe and quarter round molding
Both shoe and quarter moldings have a 90-degree angle on their back sides. They're different, but serve the same purpose: they work to fill corners or soften any 90-degree joint between the trim and moldings. Quarter round is one-quarter of a round dowel.
The quarter round also comes in various sizes, which makes it even more versatile for a range of applications.
Shoe molding is almost the same as quarter round because it has the same 90-degree angle on the backside. But instead of being a perfect quarter radius in profile, it is a bit more squat. The main use for shoe molding is to run along the intersection of the baseboards and floor.
Shoe and quarter moldings do double duty. They provide visual cohesiveness at the same time they hide imperfections, such as uneven floors.
Take a look at these 10 French Country Kitchen Ideas That Will Make You Drool
Applied molding
When you have molding on walls or built-in cabinets, it is called applied molding because the molding is applied directly to the surface.
The use of applied molding is most common for the area around a range hood. Hoods that match or complement cabinets will be the eye-catching statement piece of your kitchen. Despite being a superfluous detail, applied molding creates both cohesion and balance.
Bottom molding
Molding at the bottom of base cabinet doors and above the toe kick is known as bottom molding. Bottom molding is an ideal way to make your kitchen cabinets look like furniture.
Decorative supports
Molding isn't the only way to add some pizzazz to your kitchen. Decorative supports can also help create a polished, sophisticated look.
Decorative supports lend an extra architectural feature to your upper cabinets. Supports used to be strictly functional, but nowadays they run below and around cabinets to make them look more distinct.

Let's review this Complete Guide on Kitchen Cabinet Trends
Corbels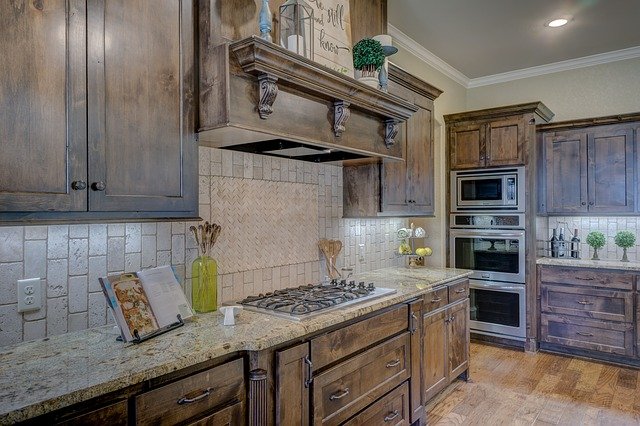 Pixabay
You can turn a simple kitchen into a stately one by adding scroll-like corbels. Including them in multiple spots in your kitchen helps to create a cohesive look.
Corbels can also be used as a classic way to hold up display shelves. Because they are so ornate, corbels will stand out on cabinets and really make them look customized.
Decorative legs and feet
Dress up your base cabinets by flanking your sink, stove, or island with decorative legs and feet that look like the legs found on dining room tables. Both legs and feet will make your base cabinets look like freestanding furniture. They also work to immediately add some flair to the bottom cabinets, which are often overlooked.
Adding End panels
What happens when base or top cabinetry ends without butting into a wall? Take your cabinet look to the next level by adding end panels. You may also choose panels in the same style as your cabinet doors for a seamless look.
Read more: A Quick Look at Crown Molding in Bathrooms
Valances
No, we're not talking about window treatments. Valances are decorative architectural elements that help cover necessary but unattractive items like electrical lighting or exhaust fans, and kind of look like mantles.
Valances are popular these days because they help to integrate architectural elements that match or complement your new cabinets and serve as stunning focal points.
Note that cabinets will likely not be adorned with crown molding or base molding when you buy them. That's where you – or your contractor/architect/interior designer comes in. The fun is in the details. Types of molding, corbels, valances, are all there for you to choose from so that you can create a unique, personalized kitchen.
Read more: A Concise Guide for Painting Laminate Cabinets
Types of Molding and Architectural Elements for Kitchen Makeovers
was last modified:
April 21st, 2022
by
Recommended