A boho, gypsy, or bohemian bedroom — whatever you call it, this eclectic design trend is one that speaks to the creative side in all of us. The bedroom is the most personal space in the house. It's where you go to rest, recharge, and recuperate at the end of every day. Since your bedroom is where you lay your head to dream every night, what better place to unleash your imagination and create your perfect bohemian retreat.
To define bohemian design is to try to label something that is as varied and individualized as the person embracing it. Boho design is free-spirited, artistic, and whimsical. It can work with everything from shabby chic interiors to more minimalist design preferences. There are really no hard-and-fast rules to follow when creating your boho bedroom, but there are a few tips and tricks that can help you achieve your bohemian bedroom vision.
Color
When designing for your bedroom you may want to stick with color palettes that are more calming — think blues and greens — but don't be afraid to go off the beaten path because, when it comes to boho design, there is no such thing as the wrong color. Color is where this particular trend allows you to really let your inner artist play with different combinations. Rich gold tones and bright green tones will invoke a jeweled jungle feel, while deep umbers and muted reds will add sensuality and depth. If exotic and vibrant colors aren't your thing, go for muted neutral tones like the soft grays in weathered wood. Let your imagination be your guide and really trust your intuition.
Read more: Room paint colors can affect your mood
Patterns
Mixing and matching patterns is typically a design faux pas, but not when it comes to a bohemian look! If stripes and dots are your thing, go ahead and include both in your approach. Just remember to choose patterns that complement each other rather than distract the eye — some patterns just do not mix well — otherwise, you might end up with a look that is jarring rather than soothing.
Lighting
The more prevalent design element in boho design approaches is soft indirect lighting. Twinkle lights strung creatively, filigree lamps, and colored globes will all help achieve this ethereal light effect. Draping your windows with sheer fabric or curtains will mute the natural light while adding more visual texture to your bohemian bedroom.
Read more: Indirect lighting ideas to make your home inviting stylish
Textiles and Fabric
Using textiles and fabrics in your boho design look helps to evoke warmth and depth. By using textiles in less conventional ways — think alternatives for headboards and room dividers — you can really let your imagination go wild. You can go for a global look by incorporating textiles and fabrics from around the world or support local artisans by choosing fabric arts from your own backyard.
The choices are practically limitless. Remember to think outside the box when it comes to creating your bohemian bedroom.
Who said rugs belong on the floor? Many Moroccan and Oriental rugs have beautiful designs that are practically wasted underfoot. Why not use them as wall hangings instead!
Scour secondhand stores and craft markets for handmade quilts and use them as wall decor.
Drape billowy fabric from the ceiling.
Use fiber mats as a headboard.
Use a kimono or sari wrap as a decorative element to add visual interest to the room
Furniture Pieces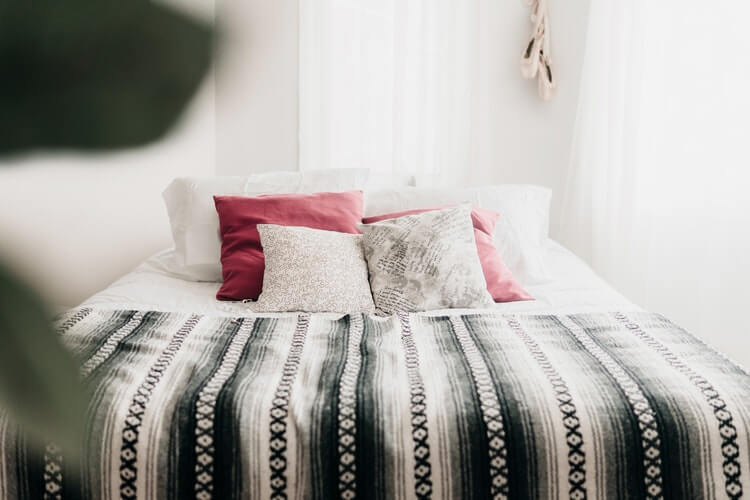 Photo by Andrik Langfield on unsplash
We spend one-third of our lives sleeping, so what we sleep on should be a priority. Think of your bed as an oasis. What would make you want to stay in and lounge around? Use your bed as a focal point for the room and choose bed prints that add interest. Create a cozy vibe by adding throw pillows in different fabric textures like satin or velvet.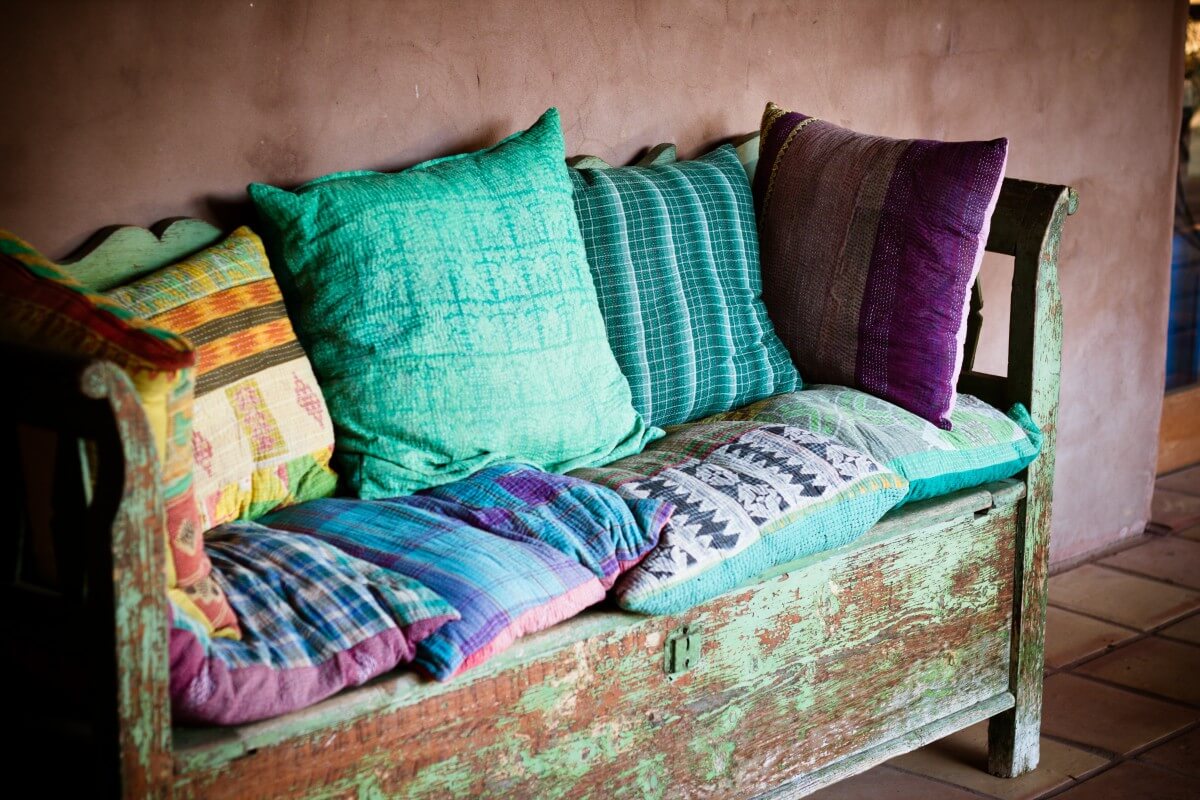 pxhere
Choose furniture pieces that tell a story. Don't be afraid to mix and match either! Bedside tables don't have to match to be a pair. Add textural interest by incorporating distressed wood dressers. Stack wood boxes together to create eclectic shelving to display your books or art.
Art and Books
Show off your book collection by incorporating it into your design. You can use books as a decorative element or even as the furniture itself! Stack books and place a small lamp on top and create a functional flexible nightstand. Or use your books to display small pieces of art or pictures at different heights.
Add color and interest to your decor by incorporating art. Flea markets and art fairs are great places to find the perfect decorative touches for your bedroom. Choose pieces that speak to you and inspire you.
Plants
Plants help purify the air, so it's generally a good idea to have one or two in the bedroom anyway. But you can create a bohemian jungle getaway by adding easy-to-grow plants like pothos, snake plants, and Chinese evergreen. Plants will add natural beauty and improve your mood — and your sleep.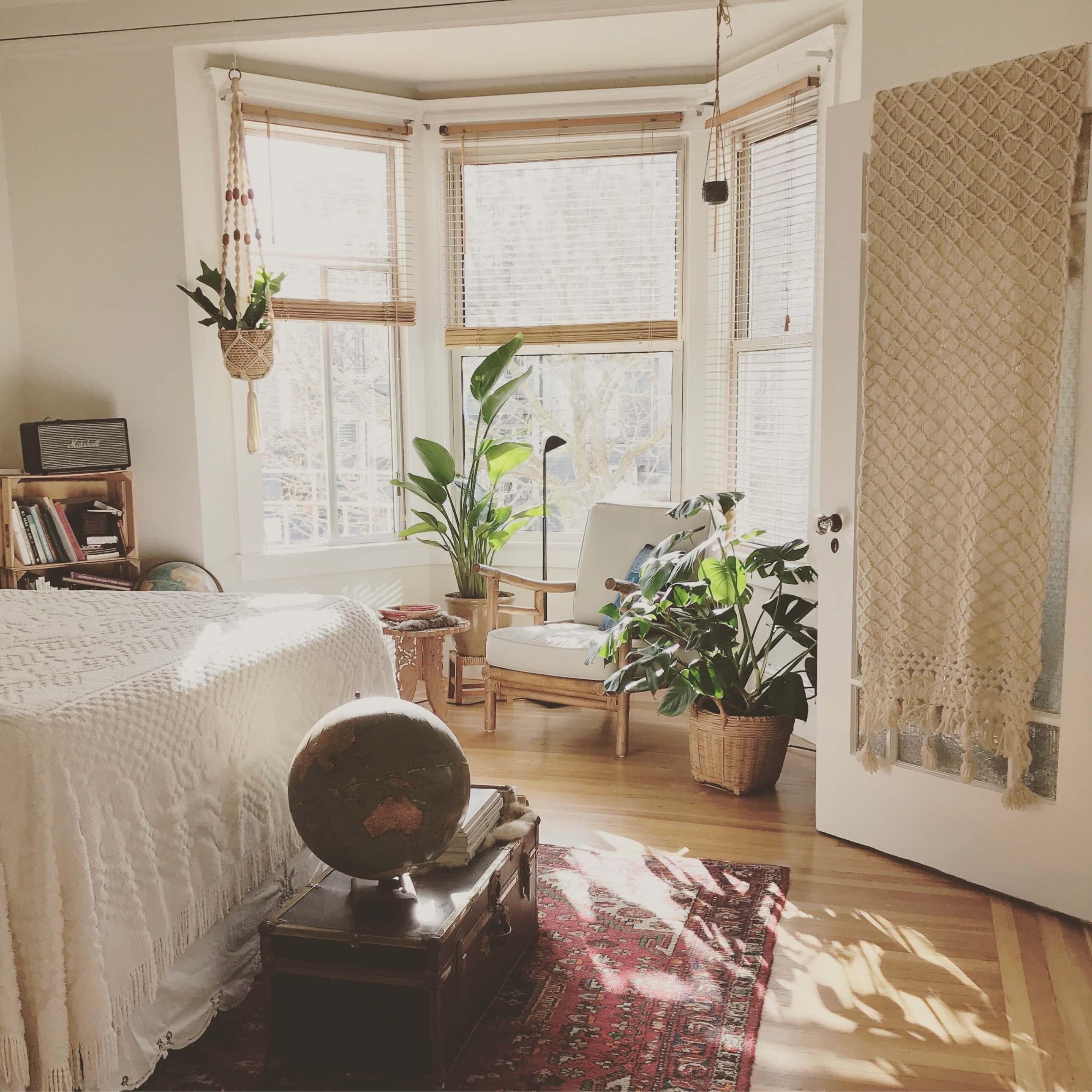 Photo by Timothy Buck on unsplash
Creating a Bohemian Bedroom by Releasing Your Inner Artist
was last modified:
May 18th, 2022
by
Recommended