Easy and Useful Deck Repair Steps and Maintenance Tips
Spring is here and it's the perfect weather to spend time outside on your deck for some peace and tranquility. It's also the right time to care for your deck that has been exposed to the harsh elements of the winter season gone by. The good news is, a deck repair and its maintenance is not the nightmare that most homeowners envision it to be.
The first step you need to take after the advent of spring is to make sure that your deck is safe and in top shape.
If upon an annual inspection, your deck shows signs of water damage, wood rot, termite damage, gaps between the deck boards, any popped out nails or loose stairs and rails, or any other evidence of structural weakness — it's definitely time to hire a professional deck repair contractor or fix the problem yourself.
On average, deck repair cost ranges between $100 and $500 for simple repairs. Extensive deck repair costs may go as high as $2,500.
Keep in mind that if you're just replacing some deck boards and maybe railing, posts, and stairs then a permit is not required. But if you're replacing anything structural such as deck joists then you should get a permit. It's best to check your local building code to be certain.
Wondering about decking materials? Take a look at our Guide on Composite Decking Materials and Prices
Do not delay or the problem will get worse and the subsequent deck repair more tedious. If there's serious rot or water damage, you may have to think of tearing down the entire structure and building a replacement deck!
Planning to install a new deck? Try our free installation cost estimator; it's easy and convenient to use!
However, if your deck just needs some repair work like refastening a plank, repairing a damaged joist, making wood replacements with a similar type of pressure-treated lumber — this deck repair guide will help you.
Deck repair steps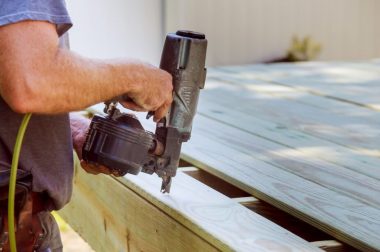 Photo by Freepik
Here are some basic steps for repairing a damaged joist:
Step 1: Remove nails and screws
Start by removing nails or screws from the damaged decking board. You may use a pry bar, screwdriver, or drill. In case of any difficulty removing the fasteners, you can chop the board with a chisel or saw and then pry up the slivers.
Step 2: Inspect the joists and remove rotted wood
A hammer and chisel can be helpful tools in removing any rotted portions of joists. If you see soft, discolored joists, use wood putty on the area.
Read more: Repair rotted deck joist
Step 3: Apply a layer of sealer
Next, apply a thick coat of clear sealer on the joist that's damaged. Let it dry completely before applying a second coat of sealer. Cut out a reinforcing joist from the pressure-treated lumber.
Step 4: Reinforce the joist
Apply a coat of a clear sealer on the reinforcing joist too. Let it dry. Keep both the damaged joist and the reinforcing joist tightly together. Attach them with galvanized nails. Drive the nails every two feet with 3 1/2-inch galvanized deck screws.
Further inspiration on deck design? Take a look at 10 Great Deck Ideas That Will Make You Stay Outdoors
Step 5: Secure the reinforcing joist
Next, attach this reinforcing joist to your deck's ledger and header joist with nails or screws.
Step 6: Prepare the replacement deck board
Use a circular saw to cut out the replacement deck boards from the lumber. You can apply a solution of baking soda and warm water with a scrub brush on the new decking to give it a seasoned look. Let it dry completely.
Step 7: Apply a wood stain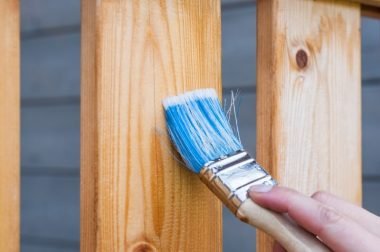 Photo by Pxhere CC0
A wood stain would help you match the new deck board with the rest of the deck. Make sure you apply the stain on both sides of the board and the edges.
Step 8: Attach the new decking
Attach the new decking to the joists using galvanized deck screws or nails. Ensure that there's no gap between the boards and that the new decking attaches to the existing decking seamlessly.
Is your deck ready? What About some deck lighting ideas? Take a look at our guide.
Some quick deck maintenance tips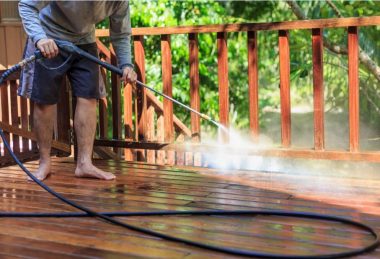 Photo by Freepik
Here are a few simple ways of maintaining your deck:
Remove and replace any popped nails or screws.

Repair or replace loose railings immediately to avoid hazards.

Rinse your wood deck regularly with a mild detergent in water to clean everyday dirt. You may even get it pressure washed.

Remove deck stains or tree saps by rinsing the deck with mineral spirits.

Wash your deck with a bleach-and-water solution to remove mildew.

Apply stain (specially formulated for decks) every 1-2 years.

Do not apply clear finishes (varnish or shellac) to wood decks. They may peel or deteriorate in direct sun and moisture.
Your deck braves natural elements such as direct sun rays, rains, snow, or wind. It's only fair that you give it the care it deserves. Always remember, a beautiful deck is a great addition to your home. Keep it in good shape.
Read more: How Much Does It Cost to Build a Deck?
Easy and Useful Deck Repair Steps and Maintenance Tips
was last modified:
November 17th, 2022
by
Recommended