One of the ways to make your room catch the eye is to add beautiful wall hangings. Wall hangings are anything that you put on your wall that hangs down creatively and aesthetically. A fantastic wall hanging décor brings a new artistic feel to your home. Wall hangings come in various styles; DIY wall hanging ideas help you redesign your home atmosphere. Wall hangings can be very fancy or can have a simple design. Every wall hanging is a great way to bring back life to your home, and maintain your unique style at the same time.
The fastest and least expensive way to add color and accent to your walls is to adorn your walls with your favorite wall hangings. There are numerous excellent DIY wall hanging ideas perfect for every home. The expression DIY Wall Art can refer to various things. Scout the possibilities and unearth the opportunities that best suit your home.
Hand pick the idea and the materials you consider to use and ascertain if that wall hanging will ornament your walls. Most of the DIY wall hanging designs are simple and easy, yet full of life and ideal for every home.
Gallery wall
There are multiple amazing ways to ornament an empty wall. A bare wall is like a black canvas which can tell a story and one of the most favored techniques is creating a gallery wall. There are unlimited ways to arrange pictures on your wall. Creating a striking gallery wall using dissimilar sized frames and incorporating them into a wall collage can be inspiring. Tell a story with your pictures and revamp your empty wall into a work of art.
You don't need to hang images to create a gallery wall. You can utilize a fireplace or a bookcase to layer artwork. Constitute fun fringes to your photos for a frameless gallery wall that feels connected. Choose pictures from all stages of your life for a gallery wall that expands with your family. Family photos with cheery yellow backgrounds are a great choice for a colorful gallery wall. For an inspirational and a heartwarming presentation, you can print out a couple of your favorite quotes and circumscribe them with photos of family and friends.
If you are using pictures with neutral colors in your gallery wall, contrast them with a bold black, gold or a brown frame. You can mix up pictures with large graphic prints for a contemporary feel. Gallery walls are the best opportunities we get to show who we are and what we love in our spaces.
Read more: Feng shui living room 5 simple steps to balancing energy
DIY floating flowers and leaves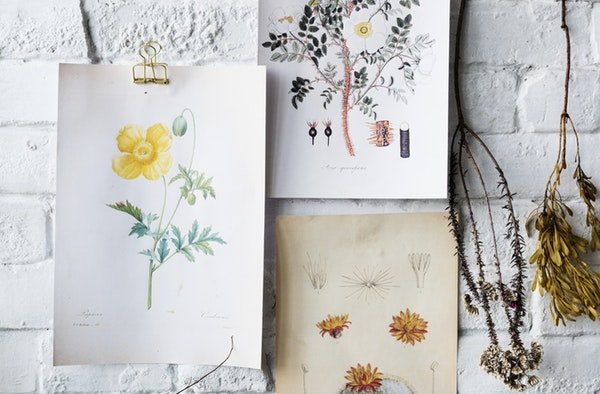 Orchestrated in black tape and frozen under glass, an organization of dried, pressed flowers and leaves are a two-facet interpretation of classic specimen boxes. Clear glasses showcase the most intricate delineate, which seem to be suspended in the air. A random placement of petals and foliage takes an organic composition, while a planned installation is more graphic. Display the pieces by formulating a variety of sizes of frames of foliage layered in a group so you can see a dimensional effect through the layers of glass.
Whenever you see fresh flowers, you are just a little bit happier. Pressing flowers is an easy way to sustain their beauty. This DIY is all about preserving your flowers in an artistic and a creative way. Whether it's an extra special bouquet you want to preserve or just a way to have flowers and foliage everywhere, this DIY frames will blossom your home forever.
Read more: Creating perfect bohemian bedroom setting inner artist free
DIY fabric wall art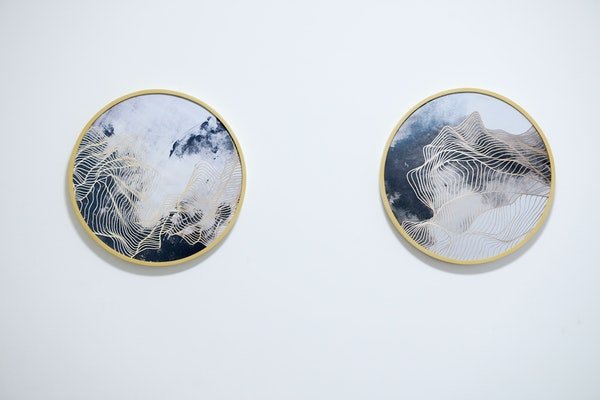 When it comes to DIY art, the fabric is one of the most versatile mediums. It is the most economical and spectacular way to adorn your walls with colors, pattern, and texture. Every time we talk about fabric, we mostly think about curtains, linens and upholstery's whereas there is a great deal of DIY ways to transform a fundamental piece of fabric into phenomenal wall art.
Wrapping a fabric around a canvas is as easy as it gets. Take an appealing pattern and wrap it around a simple art canvas. Since the shape and form are already there, all you have to do is use some pins, staples or glue to keep the pattern intact.
If you want to cover a wall, you can choose a favorable fabric and create your own geometric print on fabric, and there, you have got a great piece of art. You can have fun with colors and shapes because everything works. You could use a fabric instead of wallpaper. Although the fabric is not always the most economical option, it mostly comes at a lesser price than wallpaper. You can just use a fabric and some liquid starch which will feature just as much impact as wallpaper. This formula is friendlier to folks who rent out a living space or someone who doesn't want a long-term commitment with wallpaper.
You can show your creativity through what you choose to display in your home. Whether you need some art to hang on the walls in your bathroom, living room, teen's room, dorm or apartment, there are umpteen, untold awesome DIY wall décor ideas for you to choose from. Inexpensive and easy ideas, for those who have a budget, cracking ones that don't take tons of time and some creative arts and craft ideas for the indigenous artwork you can make yourself.
Read more: Home art room
Decorate Your House with These DIY Wall Hanging Ideas
was last modified:
May 18th, 2022
by
Recommended